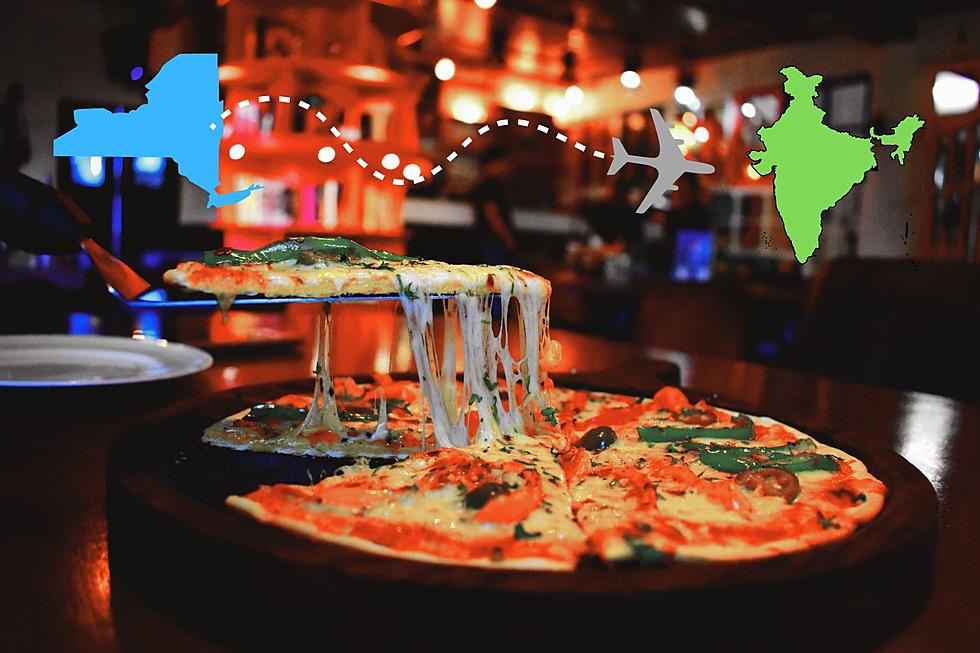 Local Award Winning Pizza from NY Makes it All the Way to India!
Raman Choudhary via Unsplash (Canva)
Since the first ever recorded pizza delivery way back in 1889, food palettes across the globe have continued to be blessed with the cheesy and saucy goodness that comes only with a pizza pie. One local pizzeria has such good food that a young boy from India who visited back in 2019 was craving it recently, and a relative visiting the area promised he'd bring him some back. Let's just say he delivered on his promise... Literally!
DeFazio's Pizza is one of the best pizza places around the Capital Region, hands down. If you take a look at their menus, it's obvious that their meals are authentic Italian food. They have two locations in the Capital Region at the moment-- one in Troy and one in Albany. Check out their menus below:
Troy Location
264 & 266 4th Street, Troy, NY 12180
Phone Number(s):
Import Store: (518) 274-8866
Pizzeria: (518) 271-1111
Hours:
Monday - Friday: 11:00am-10:00pm
Saturday: 9:00am-10:00pm
Sunday: CLOSED
Albany Location
75 Livingston Avenue, Albany, NY 12207
Phone Number:
Hours:
Tuesday - Thursday: 4:00pm-9:00pm
Friday: 4:00pm - 9:30pm
Saturday: 3:30pm-9:30pm
Sunday - Monday: CLOSED
It's no secret that DeFazio's goes above and beyond to make sure their customers are happy. After all, Rocco DeFazio ensured their pizza pie would made it across the Atlantic Ocean. While it probably didn't make it there in 30 minutes or less, it sure made a young man's day!
The Capital Region's Best Pizza Joints [RANKED]
Whether it is an 8 cut or a slice on the go, New York and the Capital Region are known for having a multitude of great pizza joints. Here are the 5 best in greater Albany according to GNA Listeners.
What's on the Menu at Farmer's Daughter's Drive In?
Warning: Maximum deliciousness ahead, proceed with caution. The following pictures may induce feelings of hunger and a disappointment in the boring lunch you brought to work today.
Where To Celebrate 4/20 in Upstate New York
I think it's high time we celebrate 4/20 in Upstate NY. Here are some events happening in the area on 4/20 that'll make you say "Yes we cannabis!".