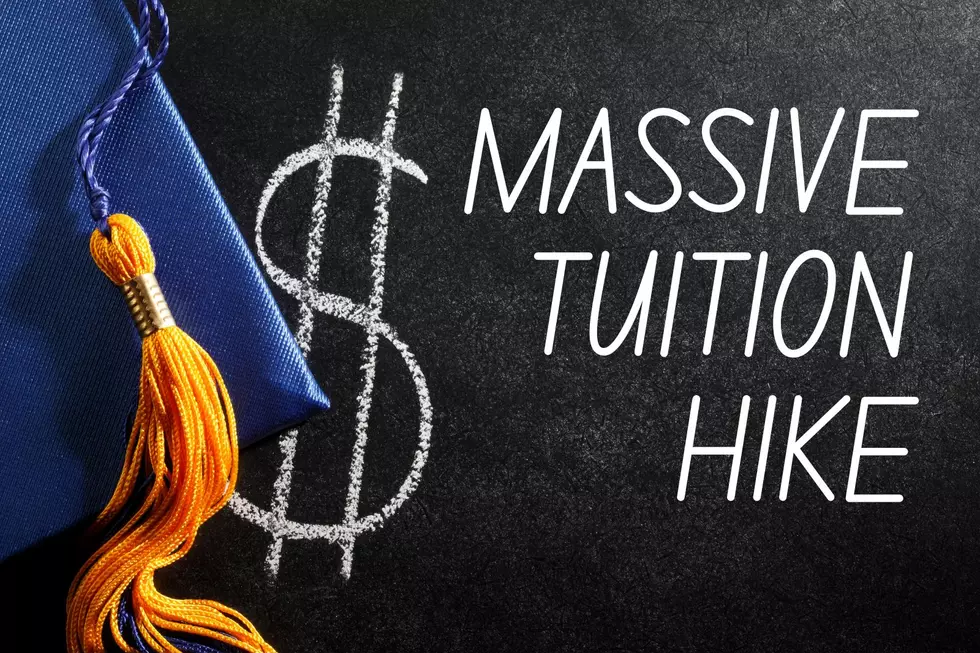 Hochul May Force 30% Tuition Hike At One Capital Region College
Canva
Rampant inflation and declining enrollment has put New York's colleges and universities in financial distress. Students are struggling to pay ever-rising costs while schools face budget crises each year.
Now Governor Hochul has opened a door to help fix funding that students aren't going to like. Under her new state budget proposal, four New York universities struggling for survival could face a shocking 30% tuition increase.
The four schools facing hikes are SUNY's research universities - UAlbany, Binghamton, Buffalo, and Stony Brook. The additional cost would mean in-state undergraduate students would pay around an extra three thousand dollars per year. This would essentially add an extra year's cost to New Yorkers seeking their diplomas over the course of a four year degree.
The 30% tuition increase would be spread over five years - 6% per year. For comparison, Gov. Hochul's budget says other SUNY schools could raise their tuition this fall, but by a much lower 3%.
Syracuse Post-Standard reports NY Assembly Higher Education Chair Pat Fahy is pushing for more state aid, as opposed to students footing the bill. Other states typically put a higher percentage of funding into their public research universities. The last time UAlbany raised tuition for in-state students was pre-COVID, in 2019.
UAlbany tuition and fees are currently around $10,000 per year. This is around the same rate as SUNY's other three research universities. UAlbany has an operating budget around $346 million, but faces a $15 million yearly deficit.
There are still two steps between students and the higher cost. First, state legislature would need to finalize Governor Hochul's budget proposal. Then SUNY's Board of Trustees will vote in favor or against each individual college's tuition increase.
These Are New York's 14 Most Expensive Colleges For 2022-2023
The
Business Journals
calculated total yearly cost for higher learning across America. Their total cost figures no financial aid, no in-state discounts for public universities, and the cost of books, room, board, and general living expenses.
By far, New York is the country's the most expensive state for college, with more schools in the top 60 than any other state. We have 14: one in the top five, and three more in the top 20. Massachusetts finished second with 10 colleges in the most expensive 60. This is probably not a distinction to be particularly proud of, but as inflation continues this trend isn't likely to slow down over the next year.
New York's 15 Biggest Party Schools Ranked For 2022
This ranking comes from the US college aggregate website
Niche
. Started in 2002, Niche provides comprehensive reviews and information for colleges on pretty much anything you'd want to search. They used student reviews and other data to pull this together, so we're standing by it. Now let's get this party started!