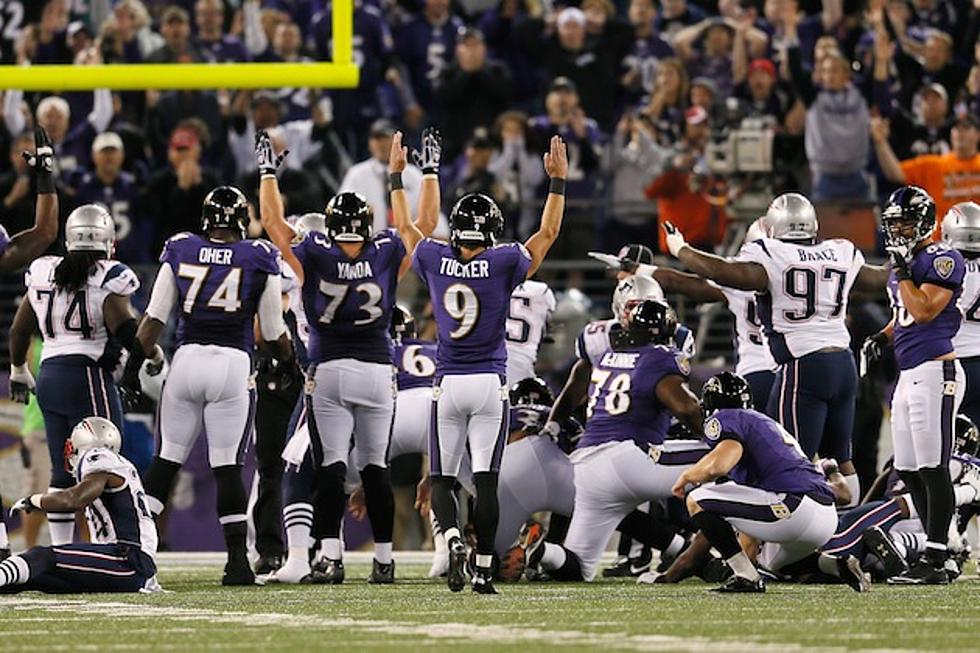 NFL 2012 Season — Week Three Recap
Rob Carr, Getty Images
Three overtime games and several last-second finishes highlighted the NFL action from Week 3. Here's a recap of all of Sunday's games:
Baltimore 31 — New England 30
Justin Tucker kicked a 27-yard field goal on the last play of the game to lift the Baltimore Ravens over the New England Patriots, 31-30, in Baltimore on Sunday night. Joe Flacco threw for 382 yards and three touchdowns for Baltimore (2-1), which partially avenged its loss in last season's AFC title game.
New England (1-2) led 20-14 at halftime and 30-21 late in the fourth quarter, before the Ravens rallied for the victory. Ravens' receiver Torrey Smith, who suited up less than 18 hours after learning of the death of his brother, Tevin Jones, in a motorcycle accident, caught six passes for 127 yards and two scores. Baltimore's Ray Rice added 101 rushing yards and a touchdown.
Tom Brady passed for 335 yards and a touchdown for the Patriots. New England receiver Wes Welker had eight catches for 142 yards, while teammate Brandon Lloyd had nine receptions for 108 yards.
Oakland 34 — Pittsburgh 31
Sebastian Janikowski kicked a 43-yard field goal as time expired, and the Oakland Raiders beat the Pittsburgh Steelers, 34-31, in Oakland on Sunday. Oakland (1-2) scored the final 13 points of the game after wide receiver Darrius Heyward-Bey was knocked unconscious by a helmet-to-helmet hit by Steelers' safety Ryan Mundy. Heyward-Bey was taken to the hospital, and Mundy was not penalized.
Carson Palmer passed for 209 yards, three touchdowns and an interception for the Raiders, while teammate Darren McFadden carried 18 times for 113 yards, including a 64-yard touchdown run in the first quarter. Ben Roethlisberger threw for 384 yards and four touchdowns for Pittsburgh (1-2). Steelers' receiver Mike Wallace caught eight passes for 123 yards and a score.
Minnesota 24 — San Francisco 13
Christian Ponder connected with tight end Kyle Rudolph for two touchdowns and ran for another score, as the Minnesota Vikings beat the San Francisco 49ers, 24-13, on Sunday in Minneapolis. Despite being a decided underdog, Minnesota (2-1) dominated the game, leading 17-3 at the half thanks to Ponder. As San Francisco (2-1) attempted to get back into the contest in the fourth quarter, the Vikings' defense forced three turnovers and two punts by the 49ers' offense.
Adrian Peterson carried 25 times for 86 yards for Minnesota, while teammate Percy Harvin caught nine passes for 89 yards. San Francisco quarterback Alex Smith threw for 204 yards and a touchdown. Smith fumbled once and had his interception-free streak end at 249 straight passes.
Kansas City 27 — New Orleans 24 (OT)
Ryan Succop's 31-yard field goal, his sixth of the game, allowed the Kansas City Chiefs to beat the New Orleans Saints, 27-24, in overtime in New Orleans on Sunday. Succop's 43-yard field goal with 3 seconds to play in regulation sent the game into overtime for Kansas City (1-2), which trailed 24-6 with five minutes left in the third quarter.
Chiefs' running back Jamaal Charles had 233 yards rushing, including a 91-yard touchdown run, and another 55 yards receiving. Drew Brees passed for 240 yards and three touchdowns for New Orleans (0-3), but he was ineffective in overtime.
Tennessee 44 — Detroit 41 (OT)
Rob Bironas kicked a 26-yard field goal in overtime, as the Tennessee Titans beat the Detroit Lions, 44-41, in Nashville on Sunday. After Bironas' kick, the Titans stopped Lions' reserve quarterback Shaun Hill on a fourth-and-1 inside the 10-yard-line to win the chaotic, high-scoring game.
Tennessee (1-2) led 20-9 at halftime, but Detroit (1-2) scored 18 straight points to lead 27-20. The Titans answered with 21 points of their own, only to have the Lions score two touchdowns in the final 18 seconds of regulation to tie the game. Tennessee scored three touchdowns on returns in the game, including a punt, kick-off and fumble return.
Jake Locker completed 29 of 42 passes for 378 yards and two scores for the Titans, while teammate Nate Washington caught three passes for 112 yards and a touchdown. Calvin Johnson had 10 receptions for 164 yards and a score for Detroit, while teammate Mikel LeShoure ran for 100 yards and a touchdown on 26 carries. Lions' quarterback Matthew Stafford passed for 278 yards and a touchdown before leaving with a leg injury with under two minutes to play.
N.Y. Jets 23 — Miami 20 (OT)
Nick Folk kicked a 33-yard field goal on his second attempt after a Miami timeout nullified a miss, and the New York Jets beat the Miami Dolphins, 23-20, in overtime in Miami on Sunday. On the Dolphins' previous possession, kicker Dan Carpenter missed a 48-yard field-goal attempt that would have given Miami (1-2) the victory.
Jets' quarterback Mark Sanchez overcame early struggles to pass for 306 yards and a touchdown for New York (2-1). Santonio Holmes caught nine passes for 147 yards for the Jets. Miami running back Reggie Bush left the game with a left knee injury. His replacement, Daniel Thomas, had 69 yards and a touchdown on 19 carries.
Cincinnati 38 — Washington 31
Andy Dalton passed for 328 yards and three touchdowns, as the Cincinnati Bengals beat the Washington Redskins, 38-31, in Landover, Md. on Sunday. Cincinnati (2-1) jumped out to a 24-7 first-half lead, but Washington (1-2) clawed back to tie the game at 24 behind quarterback Robert Griffin III. Dalton then led the Bengals on two late scoring drives to secure the win.
Griffin passed for 221 yards and a score and ran for 85 yards and another touchdown. Fred Davis had seven receptions for 90 yards for Washington. A.J. Green caught nine passes for 183 yards and a touchdown for the Bengals.
Jacksonville 22 — Indianapolis 17
Blaine Gabbert threw an 80-yard touchdown pass to Cecil Shorts with 45 seconds to play, as the Jacksonville Jaguars beat the Indianapolis Colts, 22-17, in Indianapolis on Sunday. Colts' kicker Adam Vinatieri hit a 37-yard field goal with 56 seconds remaining that seemed to be the game-winner for Indianapolis (1-2), before Gabbert's connection with Shorts gave the victory to Jacksonville (1-2).
Jaguars' running back Maurice Jones-Drew ran for 177 yards and a touchdown. Andrew Luck threw for 313 yards and two touchdowns for the Colts, while teammate T.Y. Hilton caught four passes for 113 yards and a score.
Houston 31 — Denver 25
Matt Schaub threw four touchdown passes, and the Houston Texans beat the Denver Broncos, 31-25, in Denver on Sunday. Schaub completed 17 of 30 passes for 290 yards, as Houston (3-0) remained undefeated. After leading early, Denver (1-2) fell behind by as much as 20 points, but quarterback Peyton Manning could not complete the rally.
Manning finished with 323 yards and two touchdowns for the Broncos, who had receiver Eric Decker catch eight passes for 136 yards. Texans' running back Arian Foster carried 25 times for 105 yards.
Chicago 23 — St. Louis 6
Major Wright's 45-yard interception return for a touchdown helped the Chicago Bears over the St. Louis Rams, 23-6, in Chicago on Sunday. St. Louis (1-2), managed just 160 yards of offense, as quarterback Sam Bradford was sacked six times by Chicago (2-1). Michael Bush ran for 55 yards and a score for the Bears.
Buffalo 24 — Cleveland 14
Ryan Fitzpatrick threw for 208 yards and three touchdown passes, as the Buffalo Bills beat the Cleveland Browns, 24-14, in Cleveland on Sunday. Buffalo (2-1) lost running back C.J. Spiller, the NFL's leading rusher, to a shoulder injury in the first quarter. His replacement, Tashard Choice, rolled up 91 yards on 20 carries. Cleveland (0-3) has now lost nine straight games dating back to 2011.
Dallas 16 — Tampa Bay 10
Dan Bailey kicked three field goals, and the Dallas Cowboys beat the Tampa Bay Buccaneers, 16-10, in Dallas on Sunday. Dallas (2-1) scored twice in the first half as a result of Tampa Bay (1-2) turnovers. The Cowboys' defense was the most dominant force in the game, holding Tampa Bay to 166 total yards. Cowboys' quarterback Tony Romo passed for 283 yards, but had three turnovers, including an interception that helped set up the lone Buccaneers' touchdown. Dallas receiver Miles Austin caught five passes for 107 yards.
Arizona 27 — Philadelphia 6
Kevin Kolb threw for 222 yards and two touchdowns, and the Arizona Cardinals beat the Philadelphia Eagles, 27-6, in Glendale, Ariz. on Sunday. Arizona (3-0) sacked Eagles' quarterback Michael Vick five times on the game. The Cardinals led 24-0 at halftime, and Philadelphia (2-1) was unable to rally. Receiver Damaris Johnson led the Eagles' offense with 84 receiving yards on five receptions. Larry Fitzgerald caught nine passes for 114 yards and a touchdown for Arizona.
Atlanta 27 — San Diego 3
Matt Ryan completed 30 of 40 passes for 275 yards, and the Atlanta Falcons routed the San Diego Chargers, 27-3, in San Diego on Sunday. Safety Thomas DeCoud had two interceptions and a fumble recovery for Atlanta (3-0). San Diego (2-1) trailed by 20 points at halftime and never presented a threat to the Falcons. Tight end Tony Gonzalez had nine catches for 91 yards and a score for Atlanta.