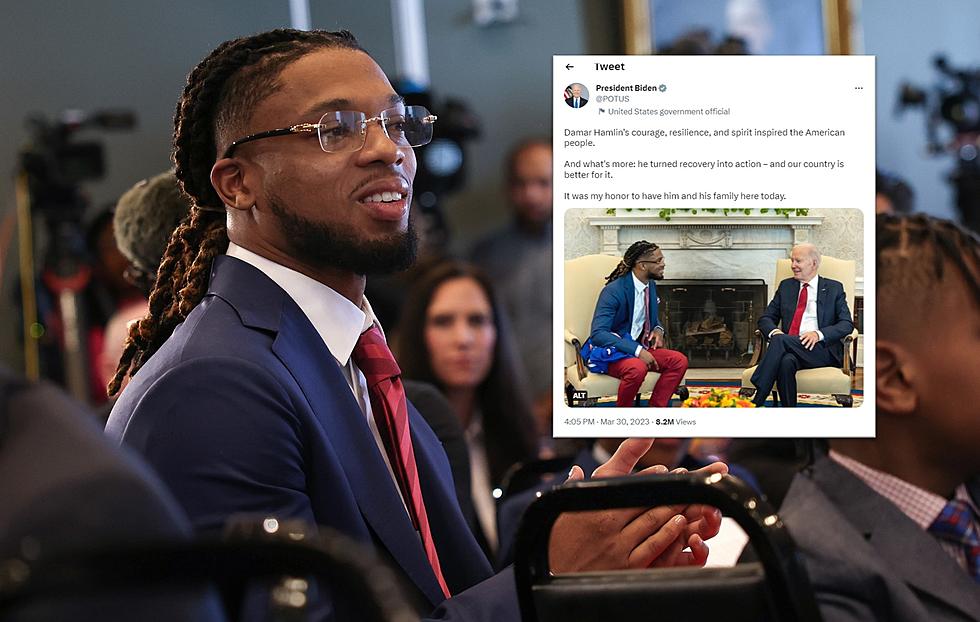 President Biden Praises Buffalo's Hamlin for 'Courage' in White House Meet
Getty Images / Twitter (@POTUS)
The journey of Damar Hamlin in 2023 has been nothing short of remarkable.
The day after New Year's Day 2023, on Monday, January 2nd, Hamlin went into cardiac arrest after making a tackle for his team, the Buffalo Bills, against the Cincinnati Bengals. Football fans and decent human beings alike waited with baited breath as Hamlin regained consciousness, and soon began his recovery.
After completing his hospital stay, Hamlin re-entered the public eye, and since that time, has been an agent of change in society, an effort that was lauded during a recent trip to Washington DC.
---
President Joe Biden Praises Damar Hamlin for Courage During Meeting
As part of his trip to Washington D.C. this week, Buffalo Bills' cornerback Damar Hamlin had the opportunity to sit-down with President Joe Biden in the Oval Office of The White House. Biden and Hamlin spoke about his courageous journey and much more during their meeting. ESPN shared more details about the meeting in their story, linked here.
The two were photographed together, with President Biden posting this tweet:
Hamlin quote-tweeted the President (there's a sentence you don't say often), and posted his own heartfelt message in response:
It's an extremely special moment for anyone who has the opportunity to meet with the President of the United States, and Hamlin earned his right to have this honor bestowed upon him. Since his near-death experience in Cincinnati, Hamlin has spear-headed numerous fundraising initiatives and charitable causes, using his new-found platform for the betterment of those around him.
The meeting between Hamlin and POTUS happened on Thursday, the day after Hamlin met with Senate Majority Leader Chuck Schumer and Rep. Sheila Cherfilus-McCormick. You can see photos of Hamlin and Schumer in the photo gallery included below.
This was not simply a meeting used to exchange pleasantries, either. As stated by ESPN, Hamlin met with D.C. politicians to help promote the bipartisan legislation Access to AEDs, which would increase the availability of automated external defibrillators, and related training, on school campuses.
Hamlin is working hard to build a better future for as many communities as he can, and in the process, is inspiring thousands of football fans to help him do the same.
Biden Praises Buffalo's Hamlin for 'Courage' in White House Meet
Buffalo Bills' CB Damar Hamlin visited Washington D.C. this week, and spent time with President Joe Biden at The White House, who lauded him for his courage.
NFL Players, Coaches Rally Around Buffalo's Damar Hamlin in Emotional Weekend
In the first NFL game action since Damar Hamlin went into cardiac arrest, players and coaches leaguewide donned t-shirts to show support for the Buffalo player.