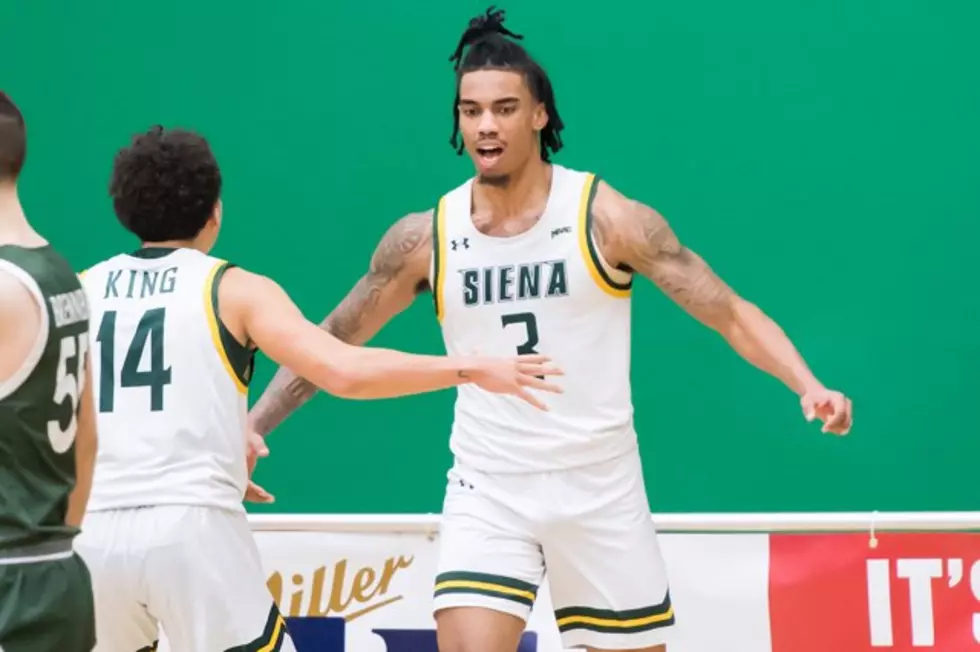 Siena Star Will Declare For NBA Draft
Start Celebrating
Siena Senior Guard/Forward and Reigning MAAC Player of the Year Manny Camper has decided to end his college career and declare for the upcoming NBA Draft. Dreams of Camper returning for one more year and potentially leading the Saints to a MAAC Tournament Championship and playing in the "Big Dance" are over. Now the dream of seeing Manny Camper play professional ball begins.
Camper had the option to return this season thanks to the NCAA granting student-athletes an extra season because of time lost during the COVID-19 pandemic. Camper won many MAAC awards during his college career and was even featured on SportsCenter Top Plays this year.
Manny Camper and Siena head coach Carmen Maciariello comments about the decision were quoted in the Times Union
"I just felt like I had a great four years here," Camper said in phone interview. "It didn't end how we wanted it to and end up in the dance (the NCAA Tournament), but I was able to accomplish a lot here. Last year, being MAAC first team and expanding on that and becoming Player of the Year this year and regular-season championships the past two years. I just feel like I've accomplished a lot here. Most importantly, I'm healthy, so this is the perfect time to try to accomplish my dreams and goals."
"He played four years of college basketball and he's going to graduate probably over a 3.0 (grade-point average)," Maciariello said. "Every year he got better and no need to stay in college when you want to go chase your dream. I can't wait for him to do it. I'm excited for Manny and proud to have been his (head) coach for two years."
What I hear there are two stand-up guys with a lot of mutual respect for each other. For purely selfish reasons as a fan of Capital Region sports, I'd love to see Manny Camper take advantage of that extra year of eligibility and play one more year but I think this is the right call. Camper entered the draft last year then decided to return to Siena for his senior year. So he knows the way it works and will be able to make the most of it. No telling if Camper will be able to get drafted but I can almost guarantee he'll catch some eyes.
Good luck and thanks for all the great play Manny Camper from everyone here at 104.5 The Team ESPN Radio.
LOOK: 15 Discontinued McDonald's Menu Items