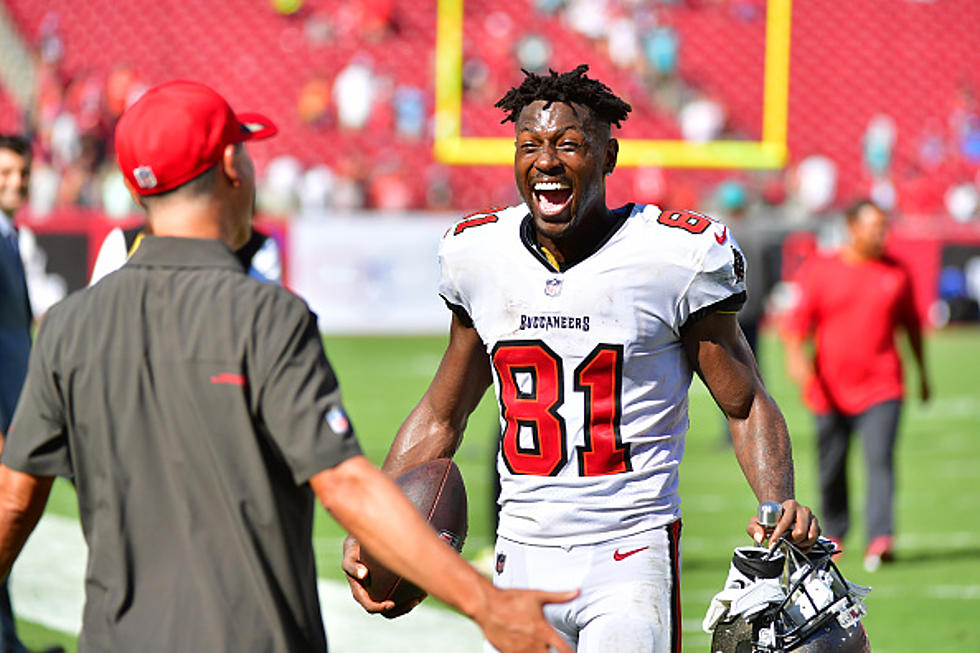 Antonio Brown Says He'll Play For Albany Empire In Weeks
Getty Images
2023 has been a season of drama for the Albany Empire. However, the team's new lightning-rod owner may be making the best decision of his reign; getting on the field and playing.
If you want to draw more fans, win games and put popular players on the field. Former NFL star and current Albany Empire owner, Antonio Brown and his seven Pro Bowls definitely fit into that second category.
As first reported by 104.5 The Team midday-host and NewsChannel 13 sports director Rodger Wyland, Brown told Wyland that he may return to the field as soon as May 27th at the MVP Arena. According to Abigail Rubel of timesunion.com, Empire head coach Tom Menas asked the 4-time All Pro if he would consider suiting up back in April. The head coach is pretty excited that Brown took him up on the offer.
Menas talked to Abigail Rubel about Brown's impact on the team, "His presence alone will impact the game, whether he gets the ball in the pass or doesn't get the ball in the pass. Any guy would want to be on the field with him. This will make stories for every one of the players in that game that get to play with AB. It'd be pretty incredible."
Antonio Brown last played in the NFL for Tampa Bay in 2021. His departure from the team lives in infamy. However, Brown is a one-time high level NFL talent, that is only 34 years old. There are many other factors that go into Antonio Brown joining any team. With that said, any National Arena League would take Brown tomorrow. All of them. It will be interesting to say the least.
SPAC Confirmed: These Artists Will Play Saratoga In 2023
25 dates have been confirmed and are either on sale or about to go on sale for the 2023 season at Saratoga Performing Arts Center. Here is your complete guide.
For Sale: Tour The Riggi's Rustic Yet Sophisticated $31 Million Lake Placid Camp
This could quite possibly be the most beautiful Adirondack camp you have ever seen!
The Saratoga Springs socialites listed their stunning Lake Placid compound for $31 Million. According to the
Zillow listing
, this amazing spread sits on over 46 pristine Adirondack acres and features 9 bedrooms, 10 bathrooms. There is 8,500 square feet of delightful living space across a variety of 5 buildings including the main home, a tree house, 2 guest residences, and a sweet Airstream trailer decked out as a "she shed." This camp is private and gated, and only minutes from Lake Placid Village. You can even see the Lake Placid Olympic ski jump from the property!
Rent Taylor Swift's Former New York Home
Rent the West Village townhouse that superstar Taylor Swift once called home and was the inspiration for the songs 'Cornelia Street' and 'King of My Heart'. Currently listed by Jennifer Rahilly for
Corcoran
.