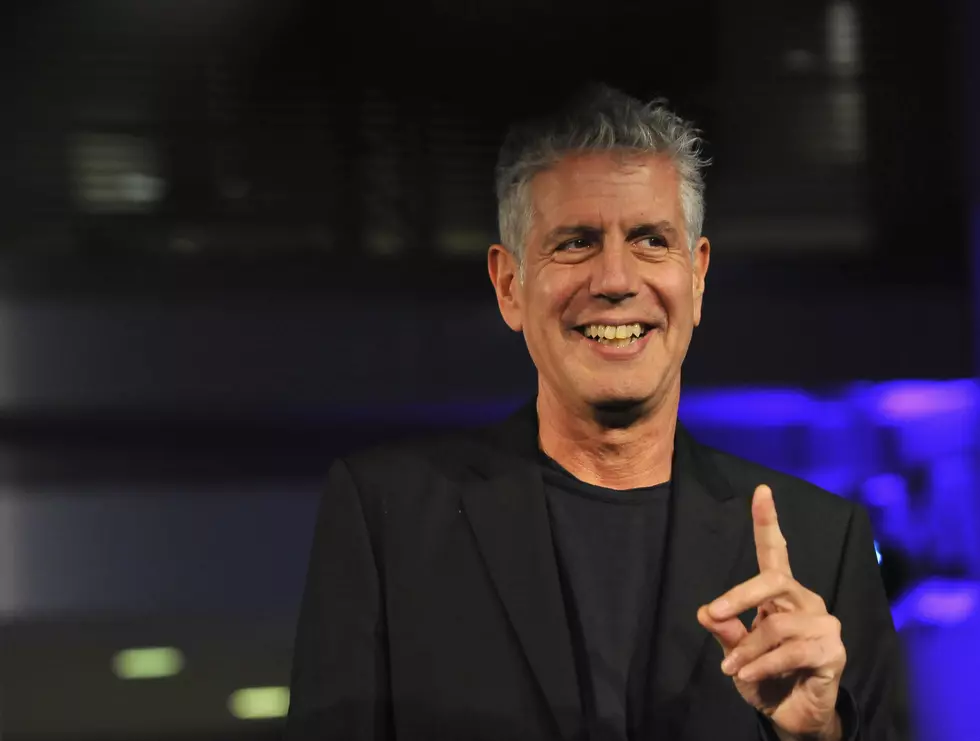 How To Eat Like Anthony Bourdain Here in the Capital Region
Larry French/Getty Images
June 25 would have been Anthony Bourdain's 66th birthday. Maybe you know him as the "Don't Order Fish on Mondays" guy from Kitchen Confidential. Maybe you traveled the world through his lens on No Reservations and CNN's superb Parts Unknown. Maybe you only know the headlines around his death in 2018.
Since 2018, June 25 is a date for foodies, travelers, and all of us still chasing Tony's cool to celebrate Bourdain Day. It's a reminder of what he stood for: actively seeking out meaningful, personal connection.
His wit, irreverence, and deeply held opinions made him easily outspoken in his field. He talked about food carts with the same awe as he could for Michelin starred restaurants. One of my favorite Bourdain moments was his late-night encounter with Southern greasy spoon staple, Waffle House.
Fiercely proud of his NYC heritage, there are dozens of Bourdain approved restaurants within a few hours of Albany. You could also visit Provincetown, Massachusetts, where Bourdain scored his first restaurant job: a dishwasher; when one called out sick at his roommate's work.
Bourdain only visited the Capital Region twice – both on book tours. 2008 and 2009. Besides that, his relationship with the area existed only in the frame of his low-grade feud with Glens Falls native Rachel Ray. While you can't eat where he ate around Albany, you can eat and drink like him any day. Here's how:
Savor Master-Crafted Sushi
Ideally, my last meal would be at Sukiyabashi Jiro, a tiny sushi bar below street level in Tokyo.
Bourdain loved a great roll, and had infinite respect for Jiro Ono – considered the world's finest sushi craftsman. At 96, Jiro has been hand picking his ingredients and rolling his sushi solo for decades – and you can find a similar chef in Latham.
Behind the counter of fresh fish at Yoshi Sushi, you'll find the restaurant's namesake. Yoshi's been crafting rolls, nigiri, and other Japanese delights for 47 years. It's a joy to sit in the restaurant, mostly quiet except for table conversations and a lone radio, and watch him work. Slowly, but steadily cranking out some of the best sushi I've ever had. Every piece is its own work of art.
Have a Deli Breakfast
As a NYC-native, Anthony Bourdain loved delis. He would send Barney Greengrass gift baskets to celebrate anything, but preferably a job well done. His favorite breakfast was Greengrass' scrambled eggs with Nova Scotia lox and caramelized onions with a bialy basket.
There are so many great delis in the Capital Region, but I'm partial to Gershon's in Schenectady. They've been on Union Street for more than six decades and they do a mean Nova Scotia lox omelet for breakfast. Have them add onions, get a nice cup of coffee and I dare you to not enjoy the day that follows.
Slurp Some Spicy Noodles
People are put on earth for various purposes; I was put on earth to do this. Eat noodles right here.
One of Bourdain's favorite places he ever traveled was Vietnam. He viewed it through the lens of films like Apocalypse Now but also the individuals he met on every trip. He loved the magic of a food market. With vendors and chefs cooking out of stalls and shouting and making people happy with noodles. Once you get a steaming hot bowl, you stoop over the available seating and tuck in, elbow to elbow.
There's a similar place tucked into a Latham shopping center where you can get a delicious bowl of pho. Charlie's StreetFood in the Galleria 7 Market is, admittedly, not easy to find, but it was definitely worth looking for. Stop in for Korean and Vietnamese fusion and the affable Charlie whipping up bowls of wonderous broth and noodle rapture right in front of you.
Go to a Dive Bar
Bourdain loved a good dive bar. Mac's Club Deuce in Miami, the now-defunct Siberia Bar in NYC. Somewhere for a simple drink with real people. Somewhere he could go and not worry about anything else and unwind after a day. Bourdain typically enjoyed a cold beer, but also had a soft spot for the Negroni – a bitter gin cocktail with Italian Campari and sweet vermouth. In his words,
Drink heavily with locals whenever possible.
I've become partial to Troy's Eldorado Bar. It's probably the neon sign in the window. I'm a sucker for neon. But it feels like home, the drinks are cold enough, and the music's good. That's all you need.
Make a Connection
Have a meaningful conversation with a stranger. Cook for your neighbor. Have playtime with your kid. Call a friend you haven't talked to in a while. Show love and respect. Try something new and daring and reach out to wring everything you can out of life. Eat local. Tip your server heavily. And go ahead and order fish on Monday. He said it was okay now.
We still miss you, Tony.
These New Yorkers Have Been Permanently Banned From Russia
As of May 2022, these celebrities and politicians with New York ties can no longer pass Russia's borders for promoting "Russophobia" per the Kremlin.