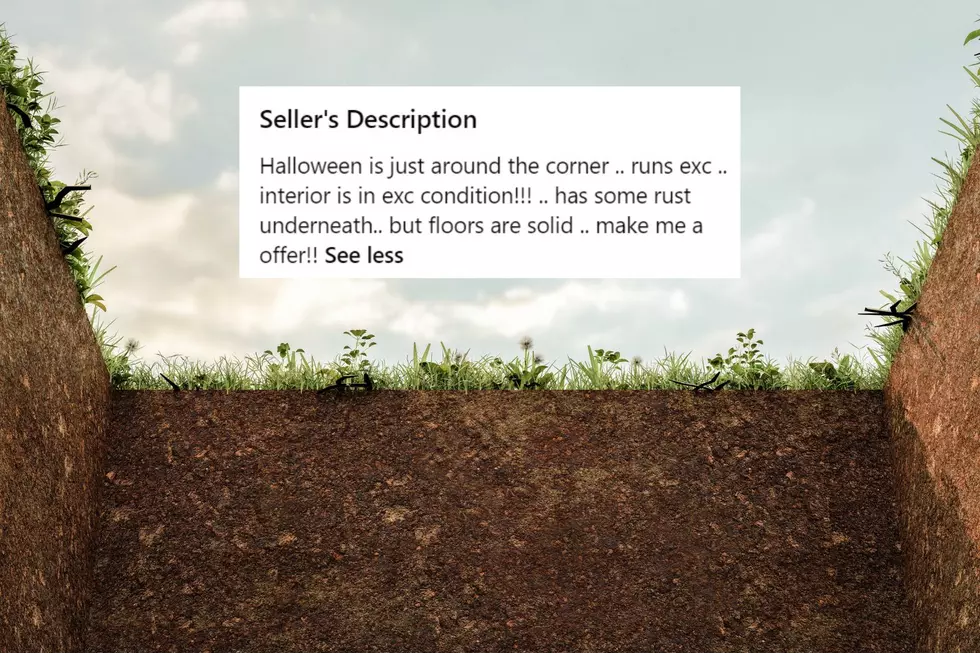 Upstate NYs Ultimate Halloween Decoration Is For Sale On Facebook
Canva/Nikki May via Facebook Marketplace
There are some things in life that are much harder to sell second-hand. Mattresses. Cosmetics. Swimsuits. And for good reason. But automobiles usually don't have that problem. Unless it's a rusted-out frame with no engine, odds are somebody will buy your used car.
There's apparently one vehicle that defies that concept, though. Now one Upstate New York Facebook Marketplace seller is getting creative and showing how it's not the product, it's how you pitch it – just in time for Halloween.
Move Over 12-Foot Skeleton
With spooky season at hand, maybe you're looking for something different to show your love of the macabre. Do I have just the car for you. Picture yourself pulling up to the haunted house in this 1996 Cadillac Fleetwood Hearse.
There's not a lot of a market for used hearses. Just funeral directors on a budget and Vincent Price devotees. Fortunately this seller in Latham, NY nails her target demographic with this pitch on the Facebook Marketplace post:
Halloween is just around the corner .. runs exc .. interior is in exc condition!!! .. has some rust underneath.. but floors are solid .. make me a offer!!
Now while it targets the season, it doesn't really give a lot of detail about the hearse either, so let me pick up where she left off:
Pros
Low mileage for a 26-year-old car (58,623)
You know it's only been driven carefully and slowly
Leather interior
LOADS of cargo room
Real attention getter
This baby gets 26mpg highway
Cons
Is a hearse
Traffic slows around you out of respect for the dearly departed
Hard to pick up dates in (not impossible, though!)
Check it out for yourself! (If you get it, let me know so we can ride around and mess with people.)
Is This Hearse For Sale On Upstate NY Facebook Marketplace Your New Halloween Showpiece?
If you want the most unique Halloween decoration in the neighborhood, here it is by way of Nikki May on Facebook Marketplace.
The Top 10 Most Popular Types of Halloween Candy in America
America's favorite types of Halloween candy range from candy corn to M&Ms. Here are America's favorite kinds of Halloween candy, starting with number 10 working our way to the number one most popular type of Halloween candy.
13 Spooky-But-Not Scary Halloween Movies
These films are perfect for people who love Halloween but don't love super scary movies.