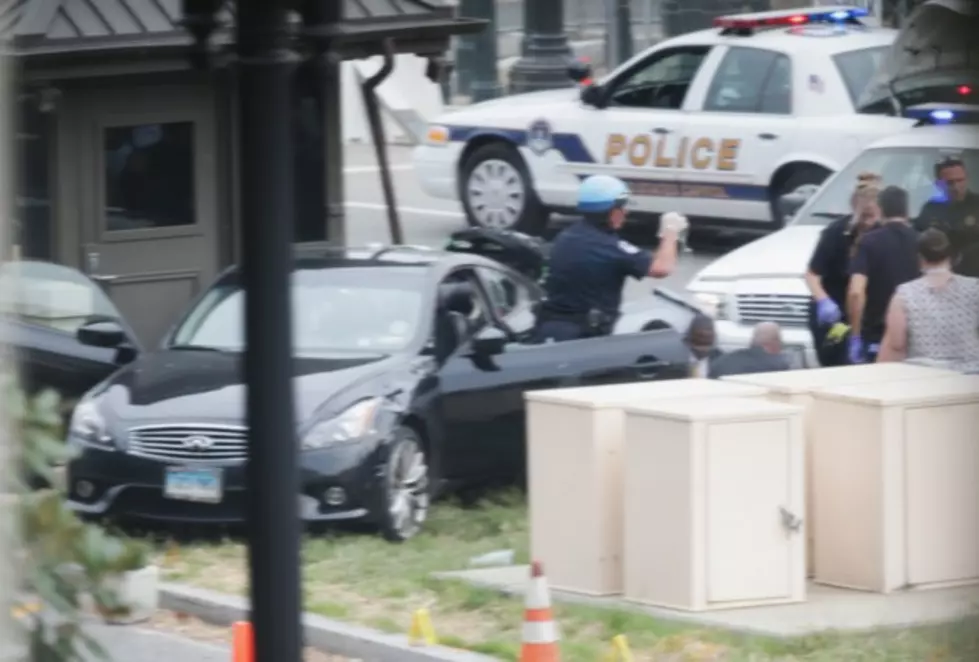 U.S. Capitol Locked Down Briefly After Multiple Gunshots; Suspect Shot and Killed [PHOTOS] [UPDATED]
Alex Wong/Getty images
UPDATE 6:30 P.M. EST: Officials have confirmed that the woman who led police on a car chase from the White House toward the Capitol was indeed killed at the scene. Her name has not yet been released.
UPDATE 5:30 P.M. EST: Earlier reports that the suspect was killed may be inaccurate. ABC is reporting that the suspect is a 34-year-old woman from Stamford, Connecticut, with mental-health issues, and that she was in fact shot and killed at the scene. However, The Wall Street Journal says that she was "gravely injured." CNN reports that the woman was shot several times, but does not say whether she is still alive or not.
UPDATE 3:20 P.M. EST: The lockdowns at Capitol Hill and the White House have been lifted. Capitol police appear to have shot and killed a woman in a black sedan (see above), the same woman who drove into the White House gates before trying to escape in her car. She then tried to drive through a barricade at 2nd Street and Constitution Avenue, which is when police opened fire. A child was also in the car at the time, though the child was unharmed.
Police say the situation has been stabilized.
Here are some photos from the various scenes this afternoon:
UPDATE 3:00 P.M. EST: Multiple reports suggest that the incident began when a woman in a car tried to ram through the northeast gate of the White House. Secret Service pursued her as she drove away toward the Capitol, apparently injuring one police officer on the way.
The White House was also placed on lockdown:
The United States Capitol was placed on lockdown and all personnel in House office buildings asked to shelter in place as police investigate a possible active-shooter situation.
It is still unclear exactly what happened, and police have not issued any further information as of 2:45 p.m. EST, but it appears that several gunshots were fired just outside the building.
tweeted
the following from where she is at the Capitol:
The following advisory was sent to all Capitol workers:
SHELTER IN PLACE. Gunshots have been reported on Capitol Hill requiring all occupants in all House Office Buildings to shelter in place. Close, lock and stay away from external doors and windows. Take annunciators, Go Kits and escape hoods; and move to the innermost part of the office away from external doors or windows. If you are not in your office, take shelter in the nearest office, check in with your OEC and wait for USCP to clear the incident. No one will be permitted to enter or exit the building until directed by USCP. All staff should monitor the situation. Further information will be provided as it becomes available.
We will update this post as any new information is released.