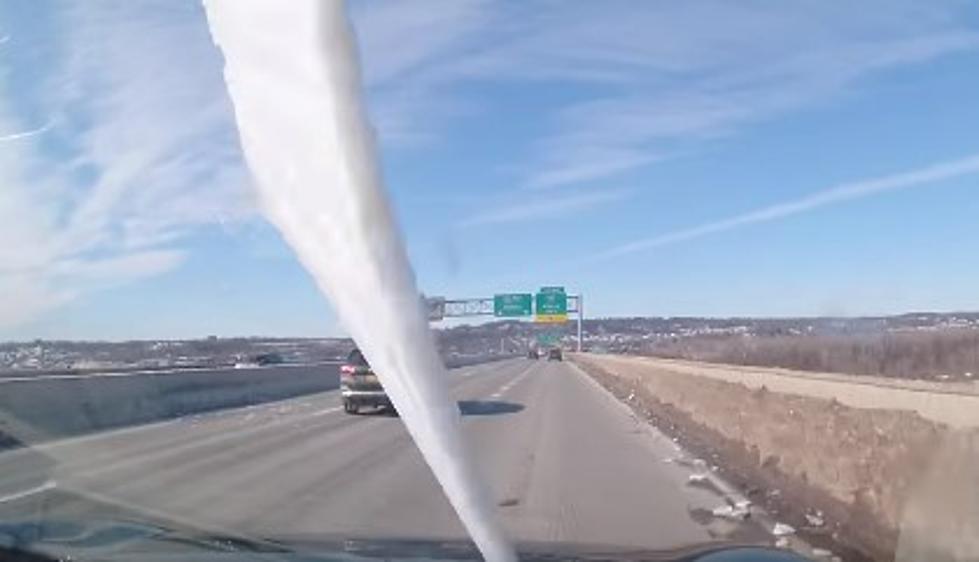 Ice From Passing Car Smashes Windshield on I-90 [VIDEO]
Facebook Video
Pretty damn scary moment for this Capital Region driver. The dashcam was rolling when this car was driving over the Patroon Island Bridge on Sunday, when a massive piece of ice came flying off another car into the windshield.
Just before 1pm Sunday, the car was driving over the Patroon Island Bridge on I-90 when an SUV is seen passing on the left at approximately 55 mph. Just as as it passes, a massive sheet of ice is blown off the roof of the car, slamming into this drivers windshield. They were able to calmly slow down and pull over.
According to the driver, the other car did not stop, but it's hard to tell if the passing car even knew it happened. The driver said there was glass everywhere but luckily nobody was hurt. Just looking at the impact shows how really really bad this could have been. Not to mention, it happened on a bridge where it's difficult to pull over anyway.
On Friday, the Capital Region was hit with a messy mix of ice and snow, much of it still on our vehicles even days later. The moral of this story, let's take an extra moment to make sure there aren't any massive chunks of ice lingering on our car that could potentially kill someone. Also, don't be the person who doesn't brush the snow off their car and just drives down the Northway letting it blow all over everybody else behind you.
New York Winter Emergency Car Kit