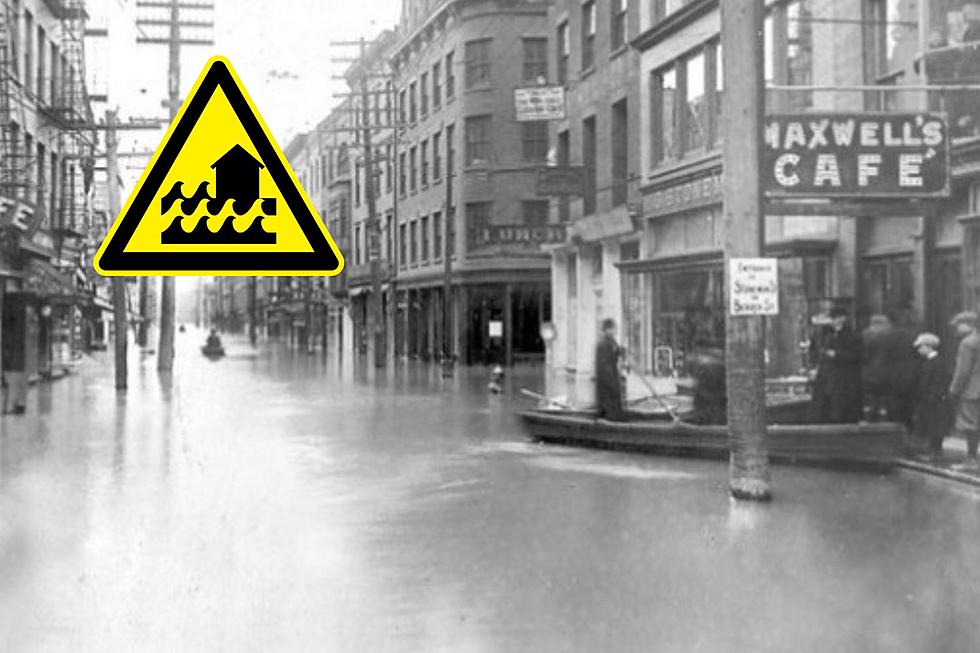 Take a Look Back in New York History at the Great Flood of 1913
Friends of Albany History via Facebook
As some already know, The Great Sacandaga Lake is a manmade lake, but do you know why it was made?
Its purpose began in 1913 when the country's second deadliest flood took thousands of lives across 15 states (Trudy E. Bell, nysarchivestrust.org), and left a quarter of a million homeless (Science Source Images via YouTube). While the flood led to great losses, it also led to the creation of the Sacandaga Lake, (which provides a runoff area for any excess water in the Hudson River, preventing flooding) among other societal advances.

What Caused the Flood?
According to Trudy E. Bell from nysarchivestrust.org, a strong, high-pressure storm hit the country on Good Friday in March of 1913. The storm brought torrential downpours and in Buffalo, record-breaking winds up to 90 mph! Apparently just North of Albany, 4-6 weeks worth of rain fell over the course of just 5 days. This, combined with New York's saturated soils unable to absorb any more, led to devastating flooding throughout the Capital Region, starting on Easter Sunday (March 23, 1913).
Runoff from saturated soil tripled the discharge of both the Hudson and Mohawk Rivers in forty-eight hours, giving them a combined flow equivalent to that of the Niagara River. -Trudy E. Bell, nysarchivestrust.org
Flooding Leads to... Fire?!
Water damage wasn't the only negative impact from the flood. Fires ignited as a result of the broken gas mains throughout towns like Troy, which ironically suffered more damages from fire than water. Firefighters had difficulty tending to flames because of the "raging floodwaters" (Trudy E. Bell, nysarchivestrust.org). People were suffering without electricity and heat, but widespread fire sure isn't the type of heat they were hoping for (AlbanyMuskrat, friendsofalbanyhistory.wordpress.com).

Things Get Worse...
By March 27th, the water levels had reached such record level highs (that still stand today), that the Albany Pump Station began barricading doors and tried sealing any cracks with caulk to avoid contamination. Sadly, the flood was too powerful and the Hudson River's water contaminated the water supply with raw sewage and anything else the flood swept up (Trudy E. Bell, nysarchivestrust.org).
This natural disaster halted the community's ability to communicate effectively, so not everyone knew about the boil water advisory Albany sent out. Prior to the flood, typhoid fever was rare in the Albany area, but within a few weeks of the flood, there were at least 180 documented cases of typhoid (Trudy E. Bell, nysarchivestrust.org).

Things Get Better!
Temporary chlorination plans were in place, which involved multiple rowboats going back and forth along the Reservoir dumping chlorine additives into the water until it became drinkable again (AlbanyMuskrat, friendsofalbanyhistory.wordpress.com). Chief Engineer of the NYS Health Department Theodore Horton gathered and published evidence of how chlorinating water can prevent waterborne diseases like typhoid.
He [Horton] provided concrete and invaluable proof of the benefit of drinking water chlorination... one of the greatest public health advancements of the 20th century. -AlbanyMuskrat via friendsofalbanyhistory.wordpress.com 
Check out these shocking photos from the Great Flood of 1913:
The Great Flood of 1913, Upstate NY
Take a look at some staggering photos from history depicting America's second deadliest flood.
This Historic Flooding And Damage In Rensselaer Country May Have Cause Toxic Waste Contamination
Strong Storms Damage Homes, Uproot Trees in Washington County
Powerful storms moved through parts of the Capital Region on Tuesday July 12, 2022. One town hit especially hard was the town of Fort Edward. Trees were uprooted, fell onto homes, and caused extensive damage in some places.
Some believe a tornado may have caused the damage, but the National Weather Service says it was a strong system of 'straight line winds'