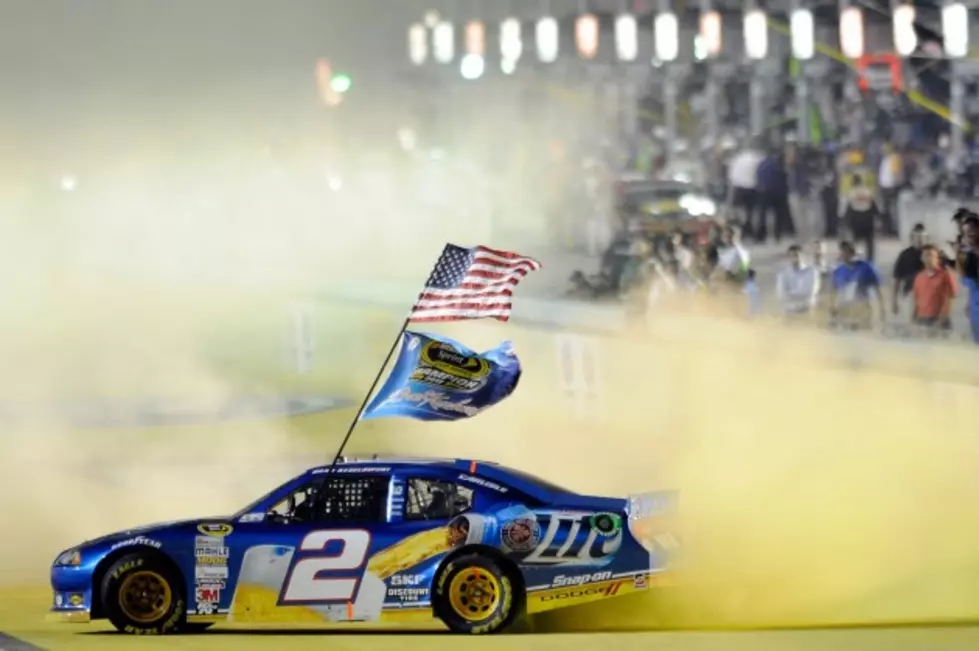 Jeff Gordon Wins At Homestead, Brad Keselowski Wins Championship
Getty Images
Sunday saw the final race of the 2012 NASCAR Sprint Cup season at the Homestead-Miami Speedway.  Jeff Gordon would take the checkered flag for the win,but Brad Keselowski would win the season championship.
Keselowski had a 20 point lead over Jimmie Johnson leading into the race and needed to finish 15th or better to clinch a win if Johnson led.. Things got even easier for Keselowski as Johnson would have problems in the pits on lap 214 as he was missing a lug nut and had to pit again. A few laps later he would lose a rear end  gear and get off the pace on the track. That would put him in the garage and Keselowski could just coast around the track to snag the title. Not only was this Keselowski's first championship but also the first for car owner Roger Penske
As far as the race itself went, Kyle Busch would dominate the race leading 191 laps. but would need to pit late for fuel and Jeff Gordon would take the lead and the race win. It was Gordon's first win at Homstead as well as the first win at the track for Hendrick Motorsports. A familiar name to Gordon from last week Clint Bowyer would come in second but there was no fight this week. Ryan Newman would finish third followed by Busch and Greg Biffle to round out the top 5. Keselowski would finish exactly where he needed to clinch in 15th. Johnson would finish 36th. With Johnson's poor finish, he actually finished third in the final Sprint Cup Standings.
Final Sprint Cup Standings
1. Brad Keselowski 2400 Points
11. Martin Truex Jr. 2299
12. Dale Earnhardt Jr. 2245
Now we wait 98 days and we will do it all over again with the 2013 Daytona 500 in February.