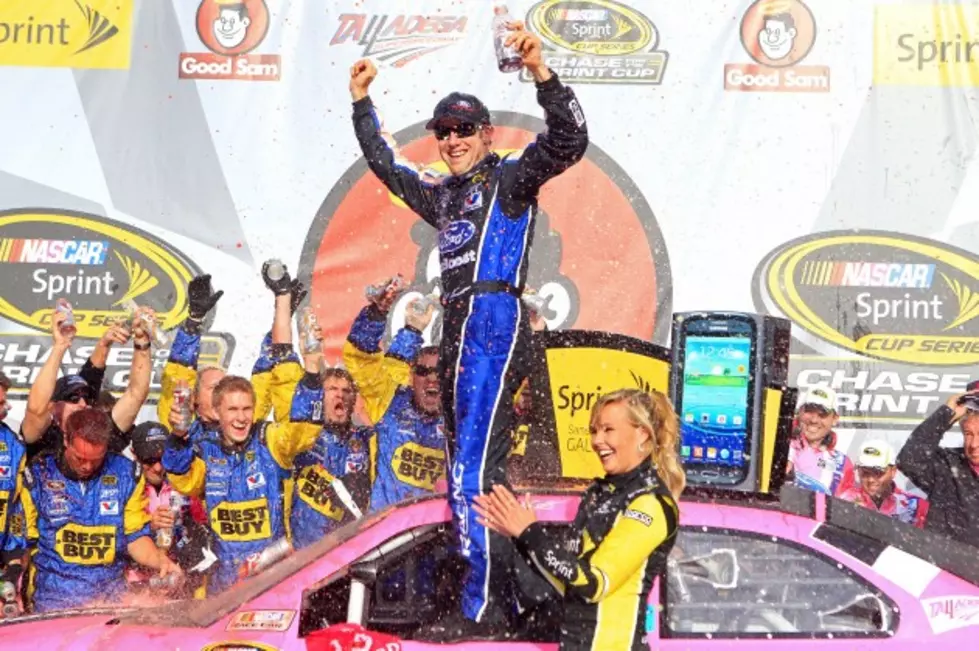 Matt Kenseth Wins In Wild Finish At Talladega
Getty Images
Sunday saw race 4 in the chase for the Sprint Cup Championship at the Talladega Superspeedway with the Good Sam Roadside Assistance 500. Matt Kenesth would take the checkered flag in what was a wild finish in the last lap.
There was no dominant racer as there was 17 different leaders and 46 different lead changes  The race saw minimal yellow flag but the 4th caution of the day happened With 5 laps to go Jamie McMurray would get loose and spin out. He would hit the grass and up the track. No other cars were involved. Because of the late caution, we would end the race with a green-white-checkered finish. The restart got fast and furious with all the lead lap cars jocking for position. That led to the typical Talladega "Big One". There was a huge crash that took up about 20 cars including Tony Stewart who was leading at the time, Dale Earnhardt Jr., Jimmie Johnson, Clint Bowyer, Kasey Kahne and various others. Matt Kenseth would avoid the wreck and cross the finish line. Jeff Gordon would finish 2nd, followed by Kyle Busch, David Ragan would finish fourth even though he received heavy damage in the wreck and Regan Smith rounded out the top 5.
Following the Race, Stewart was asked what happened and he took total responsibility saying "I screwed up".
Brad Keselowski remains the leader in the Chase standings. Gordon would move up 4 positions and Dale Jr. would lose 4 positions. The unofficial standings are now as follows:
1. Brad Keselowski 2179 Pts.
11. Dale Earnhardt. Jr. 2128
Next weekend will see racing under the lights with the Bank of America 400 at the Charlotte Motor Speedway on Saturday Night. Television coverage will start at 7p on ABC.