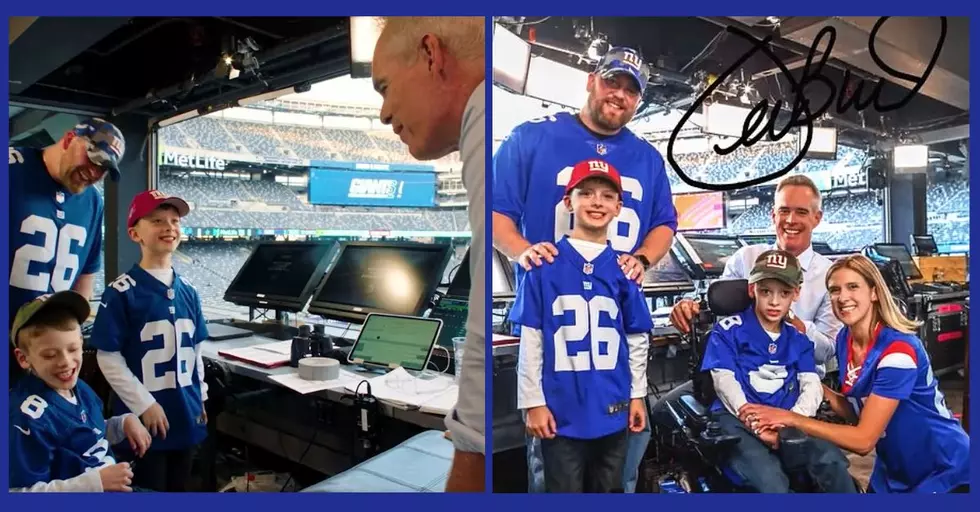 Oriskany Falls Twins Finally Meet Joe Buck Over 2 Years After Invite to MNF
Credit - NFL on ESPN via Facebook
Meet Joel and Jackson Yerkie of Oriskany Falls. The twin boys finally got to meet Joe Buck, a birthday gift they were given almost three years ago.
The twins received the gift of a lifetime when they turned 7; an invite to Yankee Stadium to sit in the broadcast booth with Joe Buck, Joel's favorite sportscaster. But they had to wait until after COVID. The wait was long but it was worth it.
Sports Announcer Obsession
Joel has cerebral palsy, but he's never let that stop him from enjoying sports to the fullest. He's the loudest cheerleader at his brother Jackson's baseball and football games. But it's the sports announcers Joel is obsessed with. "He's always been more focused than most of us are on who is announcing a sporting event," said Joel's dad Josh Yerkie.
"When the game comes on, he will immediately recite who the announcers are, and if it is Joe Buck, he will literally squeal with delight."
Joe Buck Reaches Out
Josh's mom Julie sent a video to Buck hoping he would say something about the boys on his podcast.
Joe Buck was so impressed he did better than that. He sent videos to the boys with a special invite. "I gotta meet you. We got to meet at Yankee Stadium. You gotta come to the booth."
Birthday Wish Finally Comes True
The wish was finally granted in 2022 when the family went to a Monday Night Football game. The entire experience with the Joe Buck and the family was filmed and shared Monday, January 16 on ESPN.
30 Heartwarming Acts of Kindness to Restore Your Faith in Humanity
Here are 30 heartwarming acts of kindness from Central New York angels that'll restore your faith in humanity.
19 Things You Need to Experience During a New York Winter Before You Die
There are plenty of things to do to enjoy a New York winter. Here's a list of experiences you need to try before you die.