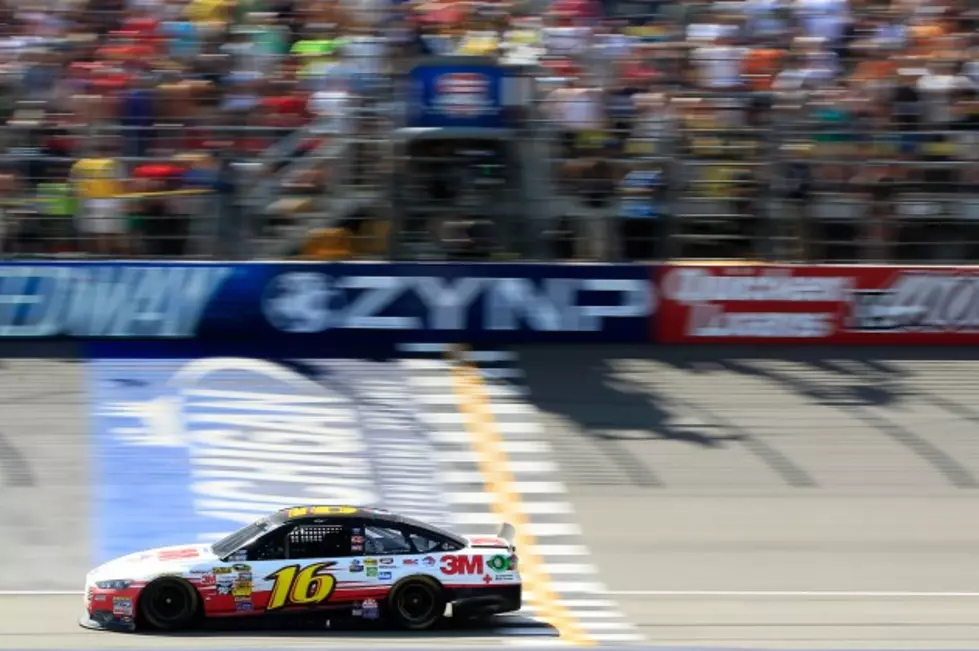 Sprint Cup Recap — Quicken Loans 400
Getty Images
In a role reversal from last week's race in Pocono, Greg Biffle held off a late charge from Jimmie Johnson to take home the victory Sunday at the Quicken Loans 400 at Michigan International Speedway.
But, he got a little help.
Johnson started 10th on the race's final restart, and had been reeling Biffle in throughout that final run. As he passed Kevin Harvick for 2nd place, the #48 loomed larger in the Biff's rearview mirror.  Johnson had cut the gap down to less than a second with 3 laps to go when a tire blew on the Lowe's Chevrolet, sending him into the outside wall and relegating him to a disappointing 28th place finish.
"The guy [Johnson] was 10th and was catching me with 10 to go," Biffle said.  "That's a fast race car.  We beat the #48 today and that says a lot.  He was really, really fast."
The hard-luck finish to Jimmie Johnson's day was the final slap in the face to Hendrick Motorsports' rough day in Michigan.  None of the team's 4 cars finished in the top 25.
Jeff Gordon got taken out on lap 6 after Bobby Labonte spun and collected the #24 car coming out of Turn 2.
Kasey Kahne was leading on lap 104 when his right front tire blew, sending him smashing into the Turn 1 wall and setting his Famers Insurance Chevrolet ablaze.
And Dale Earnhardt, Jr. had taken the lead, and seemed poised for another Michigan win before his engine expired on lap 131.
But for Biffle and Roush-Fenway Racing, winning at Michigan is commonplace.  The win was Biffle's fourth at MIS, and his second win in a row at the 2 mile speedway.  The win was also Ford Racing's 1000th NASCAR win.
"We expect to be at our best when we come to MIS," Owner Jack Roush said.  "I was a little nervous for a minute there, but I am glad it worked out and glad we could give Ford its 1000th win."
It was an all-in-all great day for Roush-Fenway, as polesitter Carl Edwards was able to slice off 20 points of Jimmie Johnson's commanding points lead with an 8th place finish.
But, have no fear, Jimmie Johnson has shown us time and time again that the #48 team rebounds about as well as anyone in the business.  Next week the series heads out west for the first road course race of the year in Sonoma, and I'll be surprised if Johnson isn't right back in the front.
Here's what else we learned in Michigan Sunday:
Tony Stewart is a factor again.  In the last 4 races, Stewart hasn't finished lower than 7th place and has gone from 21st to 10th in the standings.  That's a pretty major improvement.  Stewart has always been great on road courses, and could be headed towards win number 2 on the year next week in Sonoma.
Jeff Gordon needs to start finishing races.  This was Gordon's 4th DNF in 15 races this year.  With his 39th place finish Sunday, Gordon fell five places in the standings down to 16th position.  Without a win on the year, the #24 could be stuck on the outside of the chase looking in unless they get more consistent.