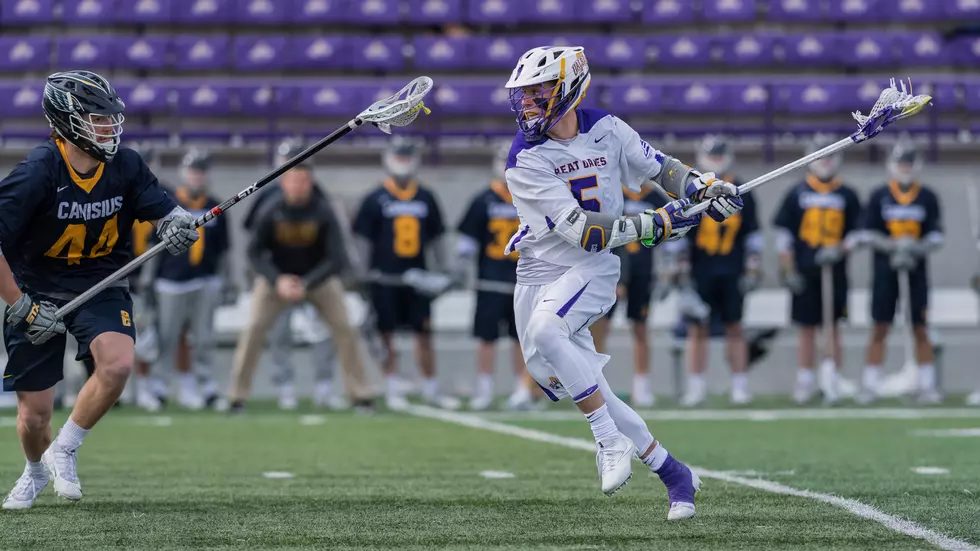 Two UAlbany Great Danes Finalists For The Tewaaraton Trophy
Photo - Bill Ziskin.
The UAlbany Lacrosse team has had some ups and downs this season. After a tremendous start and major win over Syracuse and Maryland injuries and teams consistently giving their all Albany has hit a small rough patch. The good news returns as Connor Fields and TD Ierlan have been named finalists for the Tewaaraton Trophy.
The Tewaaraton is the Lacrosse equivalent of Football's Heisman Trophy. The best player in the country. This is Connor Fields second year as a finalist. If Fields or Ierlan win they join Lyle and Miles Thompson who shared the award in 2014 and Lyle Thompson who won the trophy alone in 2015.
Tewaaraton Foundation's top-25 list for this year's award. Fields is a nominee for the third consecutive year, while Ierlan is a nominee for the first time.

From the 25 nominees, five finalists will be selected May 10, and this year's winner of the award will be announced May 31.

Fields, Ierlan and freshman Tehoka Nanticoke were on this year's watch list for the award from UAlbany. A year ago, Fields was a finalist for the award.

This season, Fields ranks fourth in the country in points per game at 6.0. Fields has had much of the second half of his season hampered by a sprained right MCL, which has robbed him of two entire games and large chunks of three other games. Still, Fields leads the Great Danes with 66 points on the season.

Meanwhile, Ierlan is No. 1 in the nation in faceoff winning percentage at 81.6 percent and ground balls per game at 13.5.