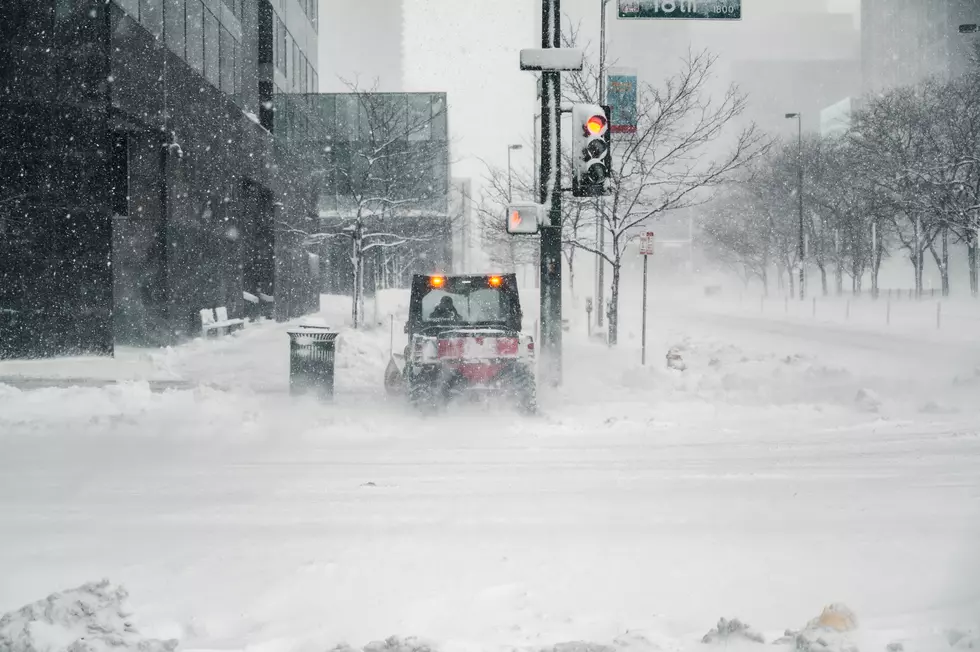 Upstate New York Could See Up To A Foot Of Snow With Second Storm Of The Week
Unsplash / Colin Lloyd
For the second time in three days, those in Upstate New York and the surrounding areas are bracing themselves for more winter weather.
After dealing with 6-to-12 inches of snow in the Capital Region on Monday, our area is set to be hit with another winter storm, bringing with it snow, ice and wind gusts north of 25 miles-per-hour.
The meteorology team over at WNYT News Channel 13 have been tracking the latest winter weather updates, and have shared the most recent details on what you can expect in your area. Here are the latest updates on the winter storm expected on Wednesday, January 25th, and what you should know in order to stay safe on the roads.
---
Northern Berkshire; Southern Berkshire County (MA)
Total accumulation is expected to be between 4-and-9 inches, with the possibility for ice forming later in the day. The majority of the damage will come from Wednesday afternoon through late Wednesday evening, meaning your commute home in the area will likely be affected.
---
Western Greene; Western Ulster Counties
In a similar fashion to Berkshire County in MA, this area has the chance to get between 4-and-9 inches of snow, with the possibility for ice forming, as well. This precipitation will start earlier in the day on Wednesday, possibly impacting your morning commute, as well as your ride home.
Winds will whip up to 35 MPH throughout the day.
---
Hamilton; Northern Fulton; Northern Herkimer; Northern Saratoga; Northern Warren; Southeast Warren; Southern Fulton Counties
This group of counties is in for a bigger accumulation on Wednesday, with 6-to-12 inches of snow expected in the forecast. There's also a possibility of up to a tenth-of-an-inch of ice forming on top of the snow.
The weather will begin during your commute home on Wednesday, but may remain in the area through the evening on Thursday, making your morning commute the next day difficult, as welll.
Similar winds (up to 35 MPH) are expected.
---
Bennington; Eastern Windham; Western Windham Counties
These areas in Vermont are set to experience another significant snow fall total, with 6-to-12 inches of snow expected in the forecast, and a possibility of up to a tenth-of-an-inch of ice forming on top of the snow.
This snowfall the southern Adirondacks and Glens Falls in New York, as well as the areas in southern Vermont mentioned above. All of these areas are at risk of facing winds up to 35 MPH, and are predicted to deal with this weather from Wednesday afternoon, through Thursday evening.
---
Chemung, Tioga, Broome and Delaware Counties
Snow totals of 3-to-5 inches are expected from 7AM on Wednesday through 1AM on Thursday, changing from snow to a wintery mix throughout the day. Winds will be gusting from 25 to 30 MPH during parts of the day, making it a precarious situation for your commute to, and from, work on the 25th.
---
A few more updates to share, as of a 5:38PM update to the forecast from WNYT:
Eastern Albany; Eastern Rensselaer; Eastern Schenectady; Montgomery; Northern Washington; Schoharie; Southern Herkimer; Southern Saratoga; Southern Washington; Western Albany; Western Rensselaer; Western Schenectady: 2-5 inches, up to a tenth of an inch of ice from Wednesday at 10AM through Thursday at 1AM
Eastern Columbia; Eastern Dutchess; Eastern Greene; Eastern Ulster; Western Columbia; Western Dutchess: 2-4 inches, slight ice accumulation, and winds up to 40 MPH from 7AM Wednesday through 10PM Wednesday
Southern Fulton County: 3-6 inches snow, slight ice accumulation from Wednesday at 10AM through Thursday at 1AM
How Much Did We Get? See Capital Region Snowfall Totals: Jan. 23, 2023
January 22 - 23, 2023 brought us our first good-sized snowfall of the new year bringing upwards of a foot to parts of the Capital Region.
New York Upstate
complied a comprehensive list of snowfall totals from throughout Upstate New York, and here are accumulation totals from cities and towns throughout the Capital Region.
Albany's Top 10 Snowiest Winters Of All Time [RANKED]
Another Upstate New York winter is upon us. And while it is popular for forecasters to predict a cold and snowy winter ahead, how much snow would it actually take to make it an all-time winter when it comes to big a big snowfall total for the season? In the average winter, the National Weather Service (NWS_
says
we get 59.2 inches of snow in Albany. We will have to crush that number this winter for the season ahead to make this
NWS
top 10 list of our snowiest Albany winters on record.