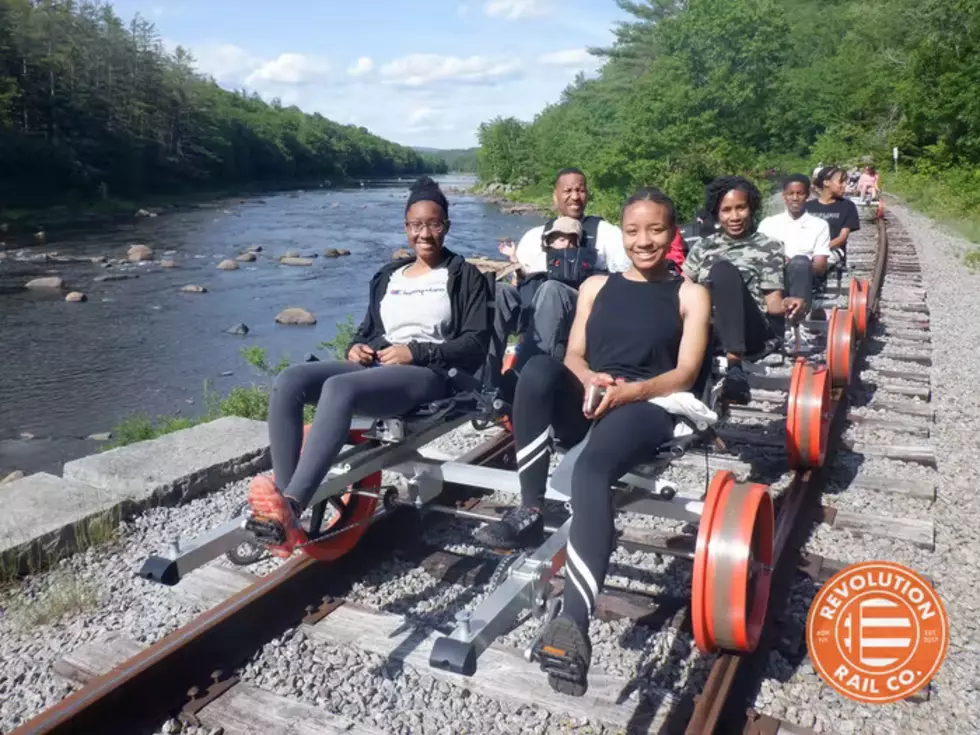 Adirondack Rail Line Once Used for Titanium Will Now Transport Family Fun
Credit Revolution Rail
A North Creek adventure excursion company is bringing new life to a historic stretch of rail in the Adirondack Forest Preserve.
Revolution Rail has purchased thirty miles of track from a federal bankruptcy court for $2.7 million to open a rail bike line on the Saratoga and North Creek Railway. Rail bikes are operationally similar to paddle boats, where two riders sit side by side and move forward by peddling together. The rail bikes will run alongside and over the Opalescent River near Tawahus.
The company almost lost their ownership opportunity in early March, after a New Mexico couple outbid them at public auction for $3.33 million. That LLC retracted that offer this month after issues with foreign investors made it impossible for them to follow through.
The Saratoga and North Creek line has had a colorful history since its construction in the 1940s. Originally built by the US government during WWII to transport titanium from a Newcomb mine, the tracks were considered crucial to the national defense. Since the mine was shuttered, a few companies have owned the lines for various purposes, including the storage of fuel transport cars, to the alarm of environmental groups in 2018. The New York Department of Environmental Conservation advocated permanent commercial disuse of the line.
Revolution Rail says they haven't ruled out reopening and servicing the mine themselves, provided they can find a buyer for the titanium and a way to run freight trucks at night that won't interfere with the rail-bikes.
Revolution Rail already offers rail biking in North Creek, as well as New Jersey and Colorado, and may expand into tubing excursions on the Opalescent. An opening date has not yet been set.
Incredible Craftmanship Inside This $4.25 Million Home on Arcady Bay in the Adirondacks
This four and a quarter-million-dollar estate has one hundred sixty feet of lake frontage and sits on Arcady Bay. There are five bedrooms with rustic and state-of-the-art amenities. The woodworking and craftsmanship throughout are gorgeous. Check out the boat dock and the spacious, lush landscaping. There is also a private beach, tennis, racquetball, basketball, and shuffleboard courts as part of the Arcady Bay Estates.