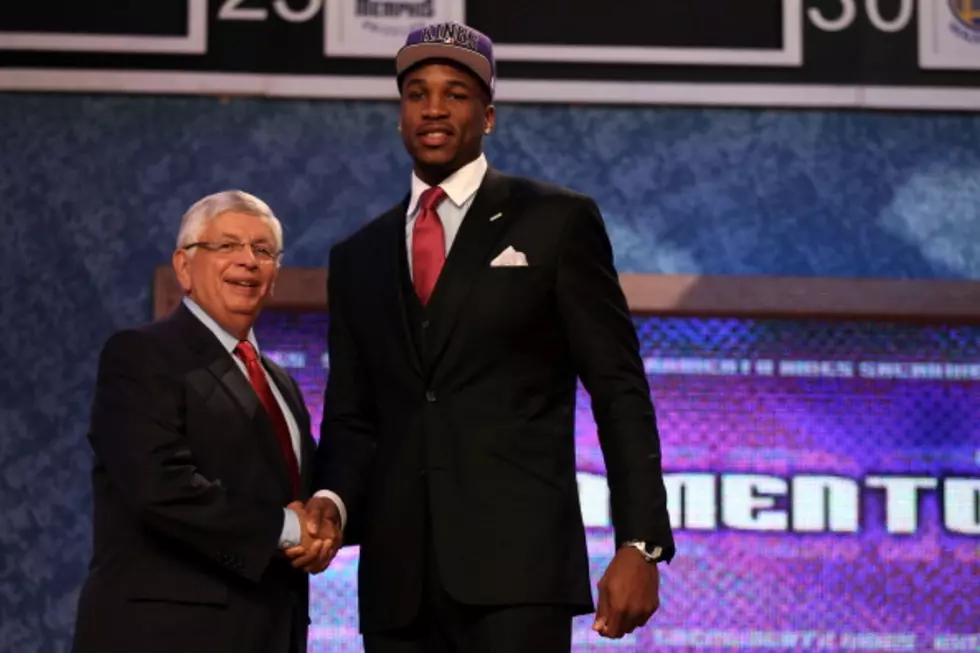 Rockets, Kings, And Suns Make Trades Before Deadline
Getty Images
The deadline for NBA trades is today at 3:00 p.m. and three teams started the possible frenzy with Tuesday night deals.
The Rockets, battling for a playoff position in the Western Conference, and also hoping to free up some money to make a possible run at Dwight Howard this off-season, were involved in two deals, one with Sacramento and the other with Phoenix.
Houston traded forward Patrick Patterson, center Cole Aldrich, guard Toney Douglas and some cash to Sacramento in exchange for Thomas Robinson, who was the fifth pick in the previous NBA draft but has done very little so far. Houston gets two additional forwards from the Kings in the deal as well in Tyler Honeycutt and Francisco Garcia and a second round draft pick coming from Phoenix. The Suns get from Houston forward Marcus Morris. Morris joins his twin brother in Phoenix as the Suns already have Markieff Morris on their roster.
Robinson has been a huge disappointment on a team that has defined disappointment again. He is averaging only 4.8 points per game and 4.7 rebounds in roughly 16 minutes of playing time per game. Robinson worked his stock up in the previous draft with a solid performance for Kansas in 2012 NCAA tournament.
Patterson started 48 games for the Rockets this season and was fourth on the team in scoring averaging over 11 points per game. Douglas was acquired from the Knicks this past off season as the primary backup to Jeremy Lin. Aldrich came to Houston via trade from Oklahoma City in the deal that also brought the Rockets James Harden.
The Rockets have been thought to want to make a run at Dwight Howard who remains the top player rumored to be on the move this deadline. However, Lakers GM Mitch Kupchak claims Howard is going nowhere. The Howard saga is now three years old. The Rockets made many moves last off-season in an attempt to go after Howard when he was with Orlando but Howard rejected the Rockets interest at that time.
As for the local hoopsters, the Nets are shopping as always and the name Josh Smith keeps popping up. Smith seems to be in his final hours with the Atlanta Hawks.
In the meantime, many Knicks fans want the whole team traded after their dismal performance Wednesday night against the Pacers. Indiana scored 74 points in the first half on their way to a dismantling of the Knicks 125-91.