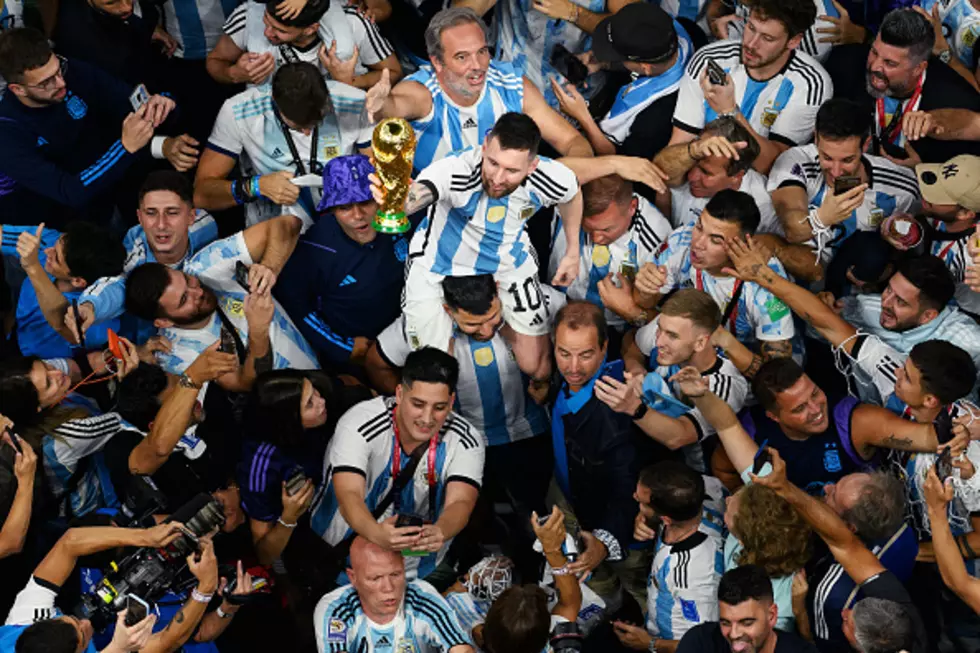 FIFA-Gate Lawyers In New York Fed Court: Bribes Were "Expected"
Getty Images
Corruption isn't anything new to the professional soccer world's governing body. The FIFA World Cup is the biggest sporting event on earth. The Super Bowl generally draws about 100 million viewers world wide each year. The FIFA World Cup in 2018 welcomed 3.57 BILLION viewers, maybe more in 2022. Break it down any way that you would like, the two events aren't even close. Those kind of viewership ratings convert to big advertising dollars. On Tuesday, two-high ranking media officials went on trial to face federal wire-fraud and money-laundering charges in Brooklyn Federal Court. The charges are in connection with the 2015 FIFA corruption scandal.
According to Ana Gratzer and Leonard Greene of nydailynews.com, federal prosecutors opened their case against two former 21st Century Fox executives, Hernan Lopez and Carlos Martinez. The prosecution claims that the duo teamed with a Buenos Aires-based company, Full Play Group SA, "to secure lucrative broadcasting rights for South America's top club tournament, and for inside information about bidding for U.S. broadcast rights for the 2018 and 2022 World Cups."
Federal prosecutor Victor Zapana told jurors in opening statements, "This case is about the corruption of international soccer. Everyone won except the game of soccer. This system of bribes lasted for years through generations of leaders because money corrupts." The attorney representing Full Play Group SA, Mayling Blanco agreed with prosecutors and even added that illicit payments were "expected, asked for and even demanded" by South American soccer officials.
According to nydailynews.com, Blanco claimed that his clients were just playing by established rules. "It's a long-standing practice to ask for payments. They have conducted business this way for generations and generations." In other words, FIFA officials have been corrupt for a long time. The trial continues in Brooklyn Federal Court this week.
Say what you want about the NFL, but at least NFL officers aren't being dragged into Federal Court to face bribery and corruption charges, weeks after the conclusion of the sports once-every-four-year extravaganza. This will be an interesting case to watch.
Famous Godfather Car Found!
The crew from the YouTube Channel
Hagerty
have made some amazing barn find discoveries. On this trip they causally stumbled upon the 1941 Lincoln Continental used in the filming of The Godfather in 1972.
The Interior of This New York Home Looks Like A Video Game
The interior of this New York home might not be for everyone but everyone wants to see it.
Breathtaking Views of Lake George! $5.5 Mil 3-Story Mansion w/ Floor to Ceiling Windows
This three-story mansion is a 7100 sq ft custom home on Lake George. There are granite floors throughout along with 7 bedrooms all with views of Lake George. Gorgeous floor-to-ceiling windows from all rooms allow for breathtaking views of Lake George. There are over 100 feet of direct lakefront complete with a sandy beach. There is a custom stone patio, propane firepit, boathouse, and deck. Check it out!