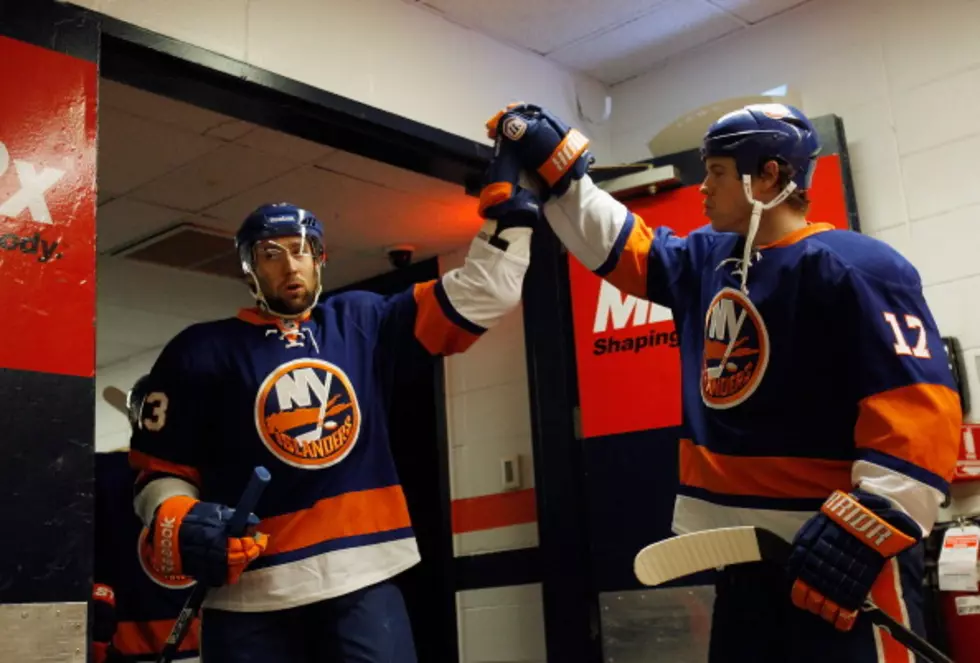 COVID Shorthands First Place Islanders; Win 9th Straight
Getty Images
The New York Islanders had played since the beginning of the season in January without being shorthanded by the NHL's COVID 19 protocols.  That ended Sunday, as center, JG Pageau and defenseman, Noah Dobson missed the late matinee with the New Jersey Devils.  Subtracting two key players this season is not easy.  New York has played 11 games in 18 days, which in hockey is a grueling schedule.  
Islanders head coach, Barry Trotz has a simple philosophy coaching his team; next man up.  No excuses.  Be prepared.  It seems to be working.
Islanders' rookie left-winger, Kiefer Bellows, who came off the taxi squad on Saturday to replace injured captain, Andres Lee, scored his 3rd goal in the past two games.  Well, Bellows didn't exactly shoot the puck, it deflected off of his shoulder.  The puck was shot by another Islander replacement, defenseman, Sebastian Aho.  Aho found out he was playing minutes before the start of the game.  He hasn't been in an NHL game since March of 2018. The two newcomers put the depleted Islanders on the board 1-0 in the first period. 
The Devils played the first place Islanders to a 2-2 tie in regulation and overtime was a 5 minute battle of survival for New York.  New Jersey appeared to have won the contest 27 seconds into the overtime period on a goal by P.K. Subban, except that the Devils were offsides.  After killing a late penalty, the Islanders took the Devils to a shootout.  That's when Isles rookie Oliver Wahlstrom netted his first shootout goal to give New York it's 9th straight victory.
New York's 3-2 victory was their 9th straight and their points streak hit 12 games.  Needless to say, the first place Islanders are red hot.  They are the only NHL team that has not lost at home this season.  New York Islanders beat writer, Newsday's Andrew Gross, was on Sunday Sports Buzz, here on 104.5 FM, The Team, yesterday.  Gross believes that this team could end the 38 year Stanley Cup drought on Long Island.  We'll talk more about Islanders, Rangers, Devils and Sabres hockey on the Levack show this week, each day at 5:30pm, only right here on 104.5 FM, The Team and the FREE 1045theteam app.
How Many in America: From Guns to Ghost Towns
Can you take a guess as to how many public schools are in the U.S.? Do you have any clue as to how many billionaires might be residing there? Read on to find out—and learn a thing or two about each of these selection's cultural significance and legacy along the way.