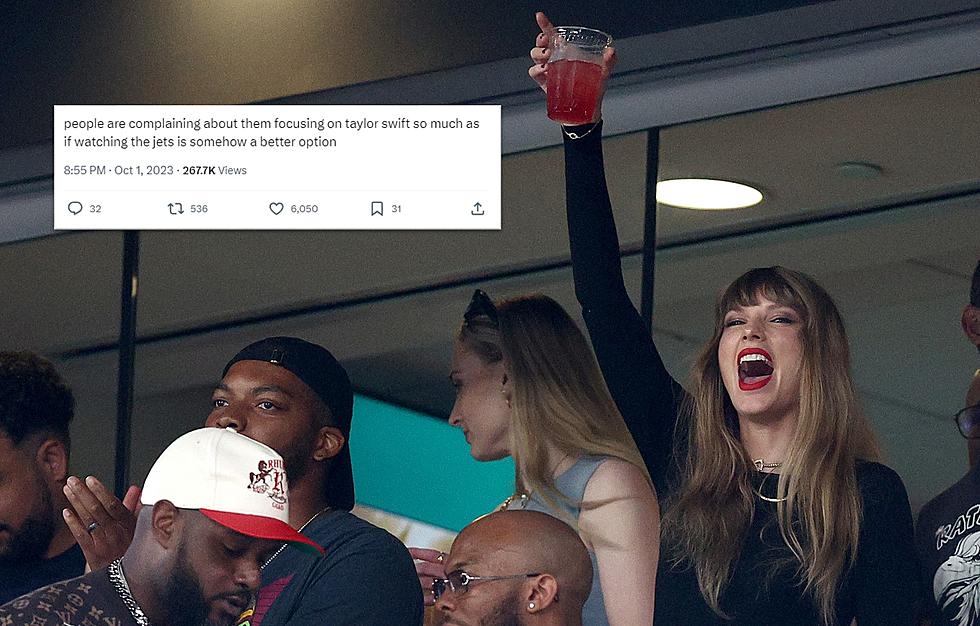 'Welcome to New York': Hilarious Responses to Taylor Swift at Jets' Game
Getty Images / Twitter
According to our sources, there was a football game happening in the background of Taylor Swift's appearance at MetLife Stadium yesterday evening.
Yes, of course I am joking, but if you were watching the game broadcast on NBC, or following along on social media, didn't it feel that way? The Travis Kelce-Taylor Swift rumored romance was the primary focus of last night's Sunday Night Football festivities, something that hardcore football fans were not pleased by.
Naturally, those fans jumped on X, the social media platform formerly known as Twitter, and voiced their (hilarious) frustrations to the masses.
---
Read Our Favorite Responses to the Taylor Swift MetLife Stadium Appearance
For those that have just emerged from the rock they're living under to read this article, pop music icon Taylor Swift was in-attendance for last night's Sunday Night Football game between the New York Jets and Kansas City Chiefs.
This appearance came after roughly two weeks of speculation that Swift had begun dating Chiefs' star, Travis Kelce.
Swift was seen multiple times in a box at MetLife Stadium, bumping elbows with fellow celebrities Ryan Reynolds, Blake Lively and Hugh Jackman throughout the game. As the game wore on, and Swift continued to be the focal point of the broadcast, some fans grew tired of it.
Those emotions then spilled into posts on X, like these:
Look, I can understand both sides of this argument. Yes, Swift's presence at the game took focus away from the game itself, a game which happened to be far more competitive than most fans expected.
On the other hand, however, Taylor Swift's mere presence in a football stadium is a huge public relations win for the NFL, the Chiefs and Jets, and NBC. If they don't focus on her and her cohort of celebrity friends, they wouldn't be doing their jobs.
At the end of the day, it's all very entertaining for most people who are watching it unfold, and sports are, by nature, a form of entertainment.
Ten Times New York Football Teams Played for the Super Bowl
The Giants, Jets and Bills have all made it to the NFL's highest peak, but not every team was good enough to win. Here are ten times NY teams played for the Super Bowl.
Gallery Credit: Dan Bahl