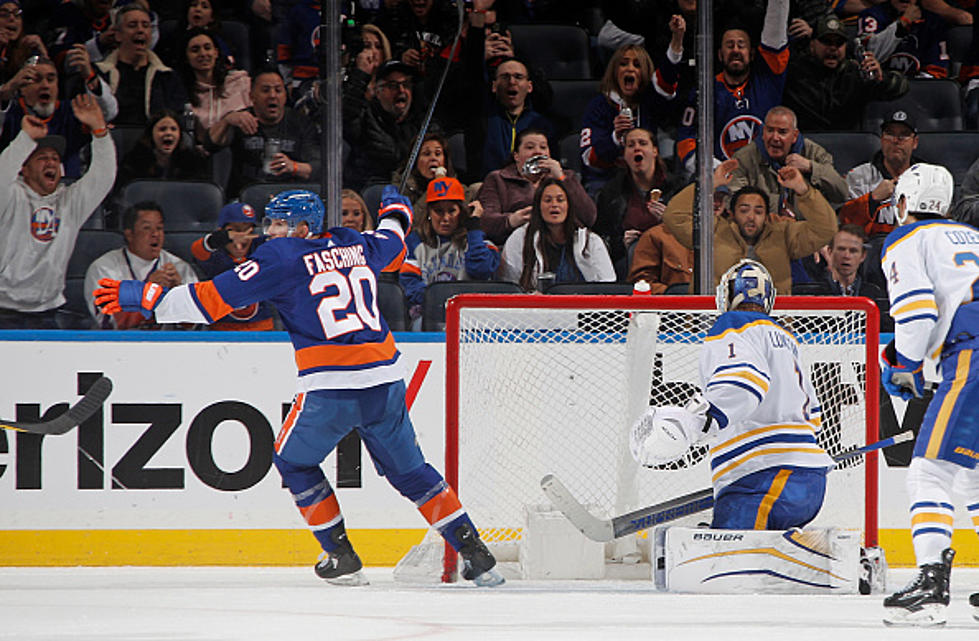 Buffalo Sabres Lose Game on Horrible Goal Call [VIDEO]
Getty Images
The Buffalo Sabres playoff chances are shrinking fast.
The Sabres lost a heartbreaker to the New York Islanders on Tuesday night, 3-2, which means the Islanders now have a six-point lead in the standings with Buffalo having three games in-hand.
The Islanders controlled most of the game but the Sabres had their moments and it looked like the game could go into overtime while both teams were tied in the third period.
However, Sabres fans are extremely angry after a controversial goal proved to be the difference.
After Kyle Okposo tied the game, the Islanders seemingly went back ahead 3-2 with a goal by former Sabre, Hudson Fasching.
The goal was quickly disallowed by the on-ice official, deeming Fasching used a kicking motion to redirect the puck into the net. After watching the replays, it looked like Fasching did use a kicking motion, whether or not those were his intentions -- the result was the same either way.
However, Toronto's NHL war room overturned the call on the ice and awarded Fasching and the Islanders the goal, which proved to be the game-winner.
The ESPN broadcast didn't make any sense in their explanation. How is that not a kicking motion? Even worse, how was there enough evidence to overturn the kicking motion call on the ice?
If I'm head coach Don Granato, I am livid. That call could very well decide who makes the playoffs and who doesn't in the Eastern Conference this season -- it was that important of a call.
Top 10 Most Underrated Buffalo Sabres of All-Time
22 Famous Buffalo Sports Phrases Every Die-Hard Bills and Sabres Fan Knows
Being a sports fan in Buffalo is sometimes like knowing a different language. Here are 22 of our favorite Buffalo sports phrases you already know if you're a huge fan! And if you're new here, here's how to catch up.