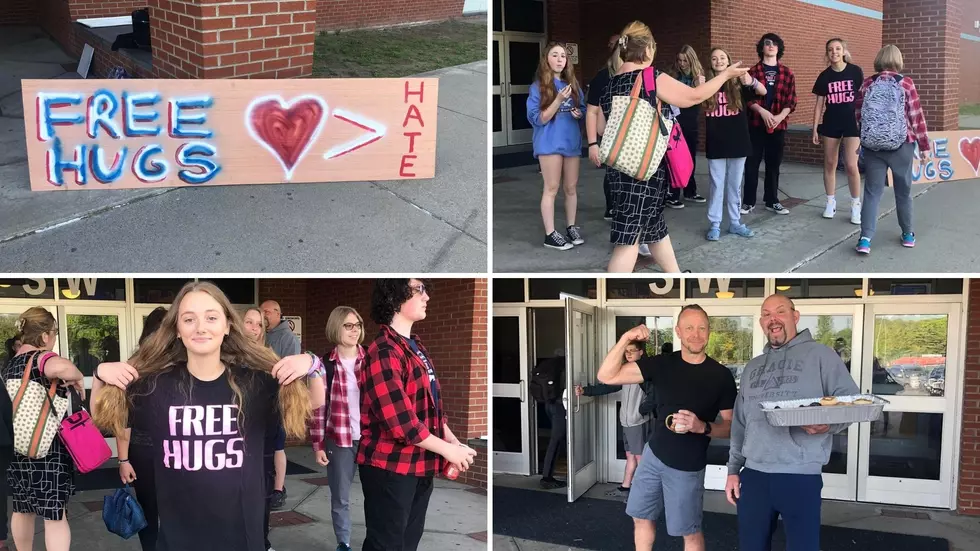 I Love What They Did this Morning at South Glens Falls High School
Photo: SGFHS Facebook
I'd like to start this post by saying "Thank You" to all of the teachers, faculty, staff, administrators, and law enforcement here in the Capital Region, please know that we all appreciate you.
To put it plainly, this can't be easy, and while this post may highlight one school, it's indicative of the kinds of things MANY in our community do - and did.
It's impossible for me to wrap my head around how difficult it is to put on that brave face and attempt to be a beacon of light and strength for our youth when far too many news stories center around acts of pure evil in our nation's schools.
You all are on the front line and through it all, you show up each and every day, accepting the challenges of your job.   So again, thank you.
In the wake of the horrific Texas school shooting tragedy on Tuesday, many schools here in Upstate New York beefed up the visible presence of security in an effort to provide safety and reassurance to faculty, staff, students, and communities.
And not lost on many of our great Upstate New York schools Wednesday morning was the presence of something else students needed; a warm greeting.
I love what they did at South Glens Falls High School Wednesday morning. A simple gesture spearheaded by a teacher, coach, and anti-bullying advocate Jason Spector.
On Wednesday morning, the SGFHS Facebook page showed images of Coach Spector, along with some of his colleagues, giving out Free Hugs and breakfast to students - many of them heartbroken and rattled from the previous day's news.
A simple and kind gesture, and one that shouldn't be overlooked.  Because in the wake of the Texas school shooting - and every other senseless tragedy that seems to be the norm these days - police presence is one way to reassure our community that something like that couldn't happen here, but sometimes we just need a little humanity too.
Well done, Coach and staff!
Robb Elementary School Shooting in Uvalde, Texas May 24, 2022
At least 19 were killed in the worst school shooting in the United States in almost a decade.