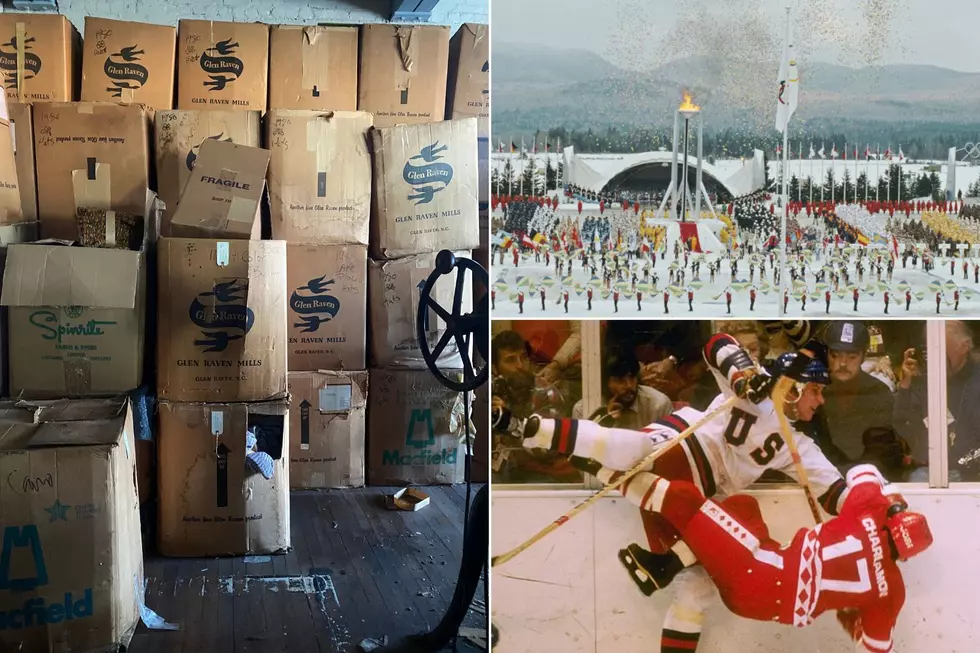 Rare NY Olympic History Found In Upstate Warehouse After 42 Years
Tom Roberts/Getty Images/Canva
Ask any New Yorker about the 1980 Lake Placid Olympic Games and you'll likely find a deep sense of pride. It was an iconic chapter of American sports history, after all. (And the "Miracle on Ice" sentiment has certainly come back around in a major way in the past year.) Now you can own a rare piece of Lake Placid Olympic history that waited 42 years in an Upstate warehouse for the right person.
I spoke with that person - Catskills creative company Homestedt's co-founder Tom Roberts. 6 years ago, after leaving New York City, Tom and his wife Anna started Homestedt in Livingston Manor as a nature retreat and B&B. Experimenting with anything that caught their interest led the Roberts into a two-pronged business – retail and design.
As head of the retail arm, Tom is always scouring for the overlooked. The goods Homestedt sells are made or sourced in the Catskills, Upstate, or from the UK or Scandinavia – where Tom and Anna are from, respectively. In the store you'll find Upstate-made blankets and knit gloves all the way to genuine British wool sweaters made exclusively for Homestedt.
In his hunt for the unique, Tom was discussing a custom order with an Upstate mill. Tom says, "It's an old school operation. It's tangible." But they ran into supply chain shortages and were low on the yarn Homestedt needed. In lieu of the yarn, the mill owner sent Tom an invitation to their archive warehouse: "Come up here, take a look around, see what we've got."
"The idea I had, and the reality wasn't far from it, was that last scene in Raiders of the Lost Ark with the wooden crates. Huge warehouse, metal and glass windows, taking a freight elevator and then there's this sea of boxes," Tom says. While picking through box after box of goods, he made a historic find.
"I just kind of stumbled across this box and this little pile of these Lake Placid hats and scarves."
"The man who runs the operation, He saw me looking at them and said, 'Oh, do you like those?' Are you kidding? They're incredible. What's the story? 'We made those for the 1980 Winter Olympics.' So you're still making them? 'No, no. Those are the stock that we made, and they've been in storage for 42 years.'"
The knitwear is not officially sanctioned merchandise, and that might make it even more rare – a true Upstate original from a time before the Olympics heavily policed unlicensed goods. Tom says he didn't put the hats and scarves in the shop immediately after getting home; "I felt they were so special. I needed to build the story around them and make people understand how special this was."
The hats have been slightly modified since Tom got his hands on them. "They needed a little pom-pom," he says, laughing. He tracked down a small supplier in England who worked with him in developing a perfect matching black pom for the top.
If you visit the Homestedt store in Livingston Manor, you'll find the hats and scarves have their own full display, featuring 1980 Lake Placid memorabilia Tom bought off Ebay. That first weekend, the historic hats and scarves started selling. Tom was not alone in his feeling about how special this find was.
Right before Christmas, the hats were featured on the Instagram of popular travel blog Escape Brooklyn. "Then things really took off," Tom says. Homestedt wasn't just flooded with orders, they were flooded with stories. "I rented an apartment up there and I was working on the ticket desk." "I was helping out as a steward." "I'm getting this for my sister. She competed that year."
After decades of indecision over the hats, Tom says the mill is thrilled with the reaction. "They seem really excited about the way we presented them. They're just really excited." You can purchase the hats and scarves on the Homestedt site or at their store in Livingston Manor, but when this gold-medal-find is gone, it's gone forever.
"A lot of people find it hard to believe that it's even possible that they've been there for 42 years. But I saw it. I can confirm it."
Images from the 1980 Olympics in Lake Placid, NY
Here are some images from the week of February 13th-24th, 1980 in Lake Placid New York, home of the XIII Olympic Winter Games.
LOOK: 25 fascinating vintage photos of the first Winter Olympic Games
The first-ever Winter Olympics were held in Chamonix, France, showcasing a variety of sports and athletes.
Stacker
assembled a collection of photos from those first Games.