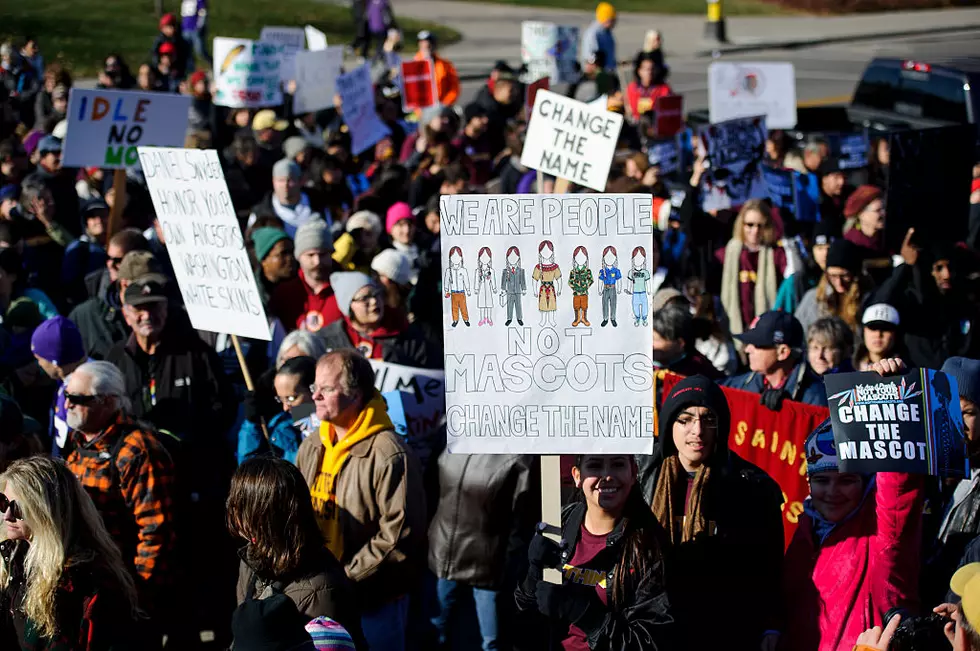 NY Says 12 Capital Region Schools Must Change "Hostile" Mascots
Getty Images
The New York State Education Department first issued a memo on Native American mascots more than two decades ago. Then Commissioner Richard Mills said that in the, "state interest in providing a safe and supportive learning environment for every child," he recommended, "to end the use of Native American mascots as soon as practical."
While some districts did retire their mascots and names following that recommendation, several dozen schools retained their long-standing logos. Around 60 New York school districts currently use a Native American mascot. That's about to change.
They're Not Asking, They're Telling
The recommendation is now an order. A November 17 memo from current NYSED Senior Deputy Commissioner James N. Baldwin will require districts to change any Native American symbols or depictions used for schools and teams or face strict consequences.
Baldwin's memo cited the Cambridge Central School District's recent controversy around its "Indians" mascot. In June 2021, the school board decided they would retire the logo and mascot. In July 2021, the change was reversed after a new board member was elected.
What happens if a school doesn't comply?
According to the memo:
Should a district fail to affirmatively commit to replacing its Native American team name, logo, and/or imagery by the end of the 2022-23 school year, it may be in willful violation of the Dignity Act. The penalties for such a violation include the removal of school officers and the withholding of State Aid.
Here's which Capital Region schools will be affected by the new rule, according to the Times Union:
Ravena-Coeymans-Selkirk – Name (Indians) and Logo (spear and feather)
Waterford-Halfmoon – Logo (native American logo)
Averill Park – Name (Warriors) and Logo (spear and feather)
Hoosic Valley – Name (Indians) and Logo (Man In Feather Headdress)
Glens Falls – Name and Logo (Indians)
Mohonasen Central – may have to change logo featuring three Native Americans from separate tribes representing the Mohonasen
Corinth – Name (Tomahawks)
Stillwater – Name (Warriors) and Logo (Man In Feather Headdress)
There will be clarification from NYSED about which team names will be allowed as long as other references are changed. This could affect Niskayuna (Silver Warriors), Lake George (Warriors), South Colonie (Raiders), and Mechanicville (Red Raiders). The last three of these districts already eliminated Native American imagery from their schools and teams.
25 Capital Region School Districts with Top ELA Test Proficiency
Parents want the best for their kids, and when it comes to the best schools for learning English and Language Arts, these 25 Capital Region schools are the best.
How Do Capital Region High Schools Rank in the State of New York?
U.S. News has released their rankings of high schools in the United States, and when broken down by state, here is where Capital Region high schools rank.