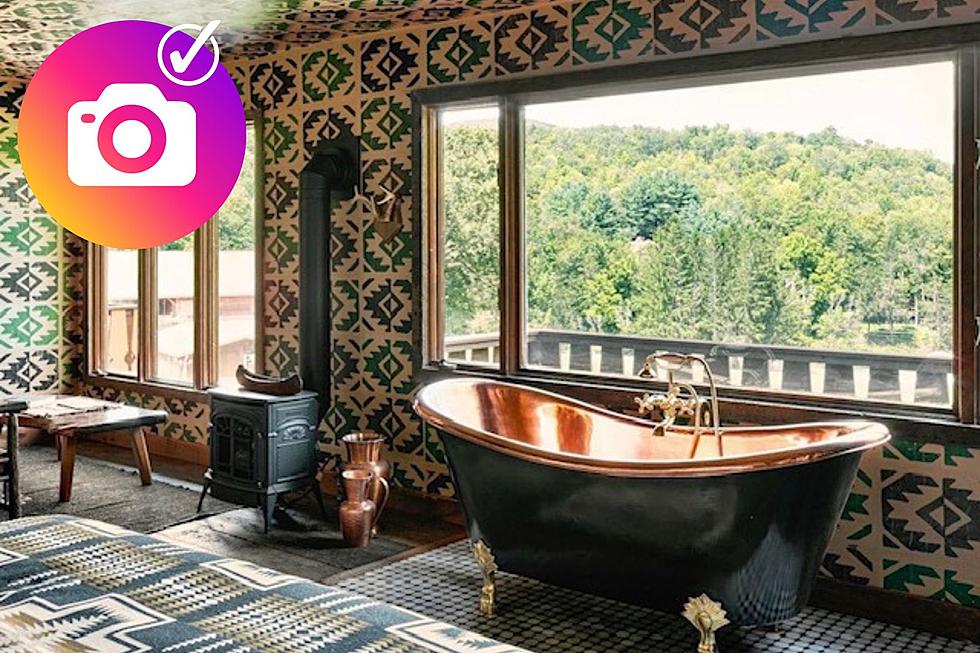 One of The Most Instagram-Worthy Stays in the Catskills
Canva, Instagram, Urban Cowboy Lodge
Have you ever wanted to get away but not go too far? Staycations are ideal to enjoy a mini escape but have the convenience and comfort of not going too far from your home.
While vacations are relaxing, can lower stress and allow you to see the world and meet new people, at times we find ourselves not able to plan a long vacation. Thankfully, the Hudson Valley is filled with an endless amount of activities, resorts, entertainment and overall, staycations.
If you're feeling as if you need to get even further away from the Hudson Valley, New York state can be enjoyed downstate or upstate and more.
When Was The Last Time That You Took A Staycation?
The Roxbury Motel is an ideal staycation located in Roxbury, NY. They have Fantasy Suites that allow their guests to choose a room that makes you feel as if you are in a different world. From a Wizard of Oz themed to a I Dream of Genie themed space, the options are unique, exciting and provide something for everyone. There is also a waterfall on site called Stratton Falls and a peaceful setting.
Those who visit can stay on site and enjoy the luxuries available.
Another popular staycation in New York state and within the Hudson Valley includes Mohonk Mountain House in New Paltz, NY.
Mohonk Mountain House shared information about it's popular resort.
The Smiley family founded Mohonk Mountain House in 1869. This was done with the intention to provide guests with the chance to escape and enjoy nature. There has never been and still is not any television on site which encourages guests to join in on activities.
Mohonk Mountain House has 40,000 acres of nature and forest to make it feel like a true escape from it all. Their resort is also a National Historic Landmark that is known for its award winning spa.
One Of The Most Instagram- Worthy Stays Exists In The Catskills
The Catskills are also known as the Catskill Mountains. I LOVE NEW YORK shared,
"The Catskill Mountains are also famous for its thousands of miles of diverse hiking and mountain biking trails, some of New York's best ski resorts, opportunities for rock climbing, and abundance of lakes, ponds, creeks, and streams for paddling adventures, swimming, fishing and beginning new adventures."
The Catskill Mountains are a treat to not only Hudson Valley residents but out of state visitors too.
Urban Cowboy Lodge Is Located In The Catskills
 

 

 

View this post on Instagram

 

Saddle up friends, it's time to vacation in our own surrounding community. This unique lodge can easily draw attention on social media with its aesthetic pleasing pictures. 
Urban Cowboy Lodge shared that they have 28 rooms that are "uniquely designed" in a total of five buildings. Their pictures highlight views from their clawfoot bathtubs overlooking the beauty of the Catskills.
The Alpine, The Walden, The Cabin and The Chalet are some of the many stay options available at Urban Cowboy Lodge.
Urban Cowboy Lodge also has suites available with private decks to continue to soak up the Hudson Valley staycation. Four floors with 6 bedroom penthouse suites are available for anyone who wants to spend time in their Main Lodge.
What Does Urban Cowboy Lodge Have Available On Site In Big Indian, NY?
View this post on Instagram
Along with their 28 rooms, the option of staying in suites or renting a penthouse, the options vary at the Urban Cowboy Lodge. Their beautiful swimming hole reminds guests to soak up the beauty of the Hudson Valley The Public House at The Urban Cowboy Lodge is open for dinner Thursday-Monday from 5pm-9pm. Their executive chef, Jon Adair created the menu which changes by the season and uses local ingredients for the meals. The Urban Cowboy Lodge bar is open for drinks Thursday-Monday from 1pm-10pm and their Parlor is open Thursday-Sunday from 2pm-9pm.
Can Guests Explore The Land At The Urban Cowboy Lodge?
View this post on Instagram

The Urban Cowboy Lodge is located on 68 acres in Big Indian, NY. Surrounded by woods and wilderness, this location is ideal if your staycation wants to be peaceful, tranquil and calm.
The Urban Cowboy Lodge is also surrounded by the Catskills National Park; they do not have cell phone service. Instead, guests can explore trails, see the Esopus Creek and enjoy mother nature.
Urban Cowboy Lodge also hosts events. 
Where is your favorite staycation spot in the Hudson Valley? Would you ever visit Urban Cowboy Lodge in Big Indian, NY? Tell us more below.
Urban Cowboy Lodge
37 Alpine Rd, Big Indian, NY 12410
6 Places To Cool Off With Summer Mocktails In The Hudson Valley
The most refreshing way to take a break from the heat and find relaxation may be at your local tea shop or locally owned restaurant, sip sip hooray!
Escape To This Enchanting Hudson Valley Treehouse
When searching for something different, fun and peaceful to experience in the Hudson Valley, guests don't have to look far.
A Hudson Valley treecastle provides a space unlike any other Airbnb.