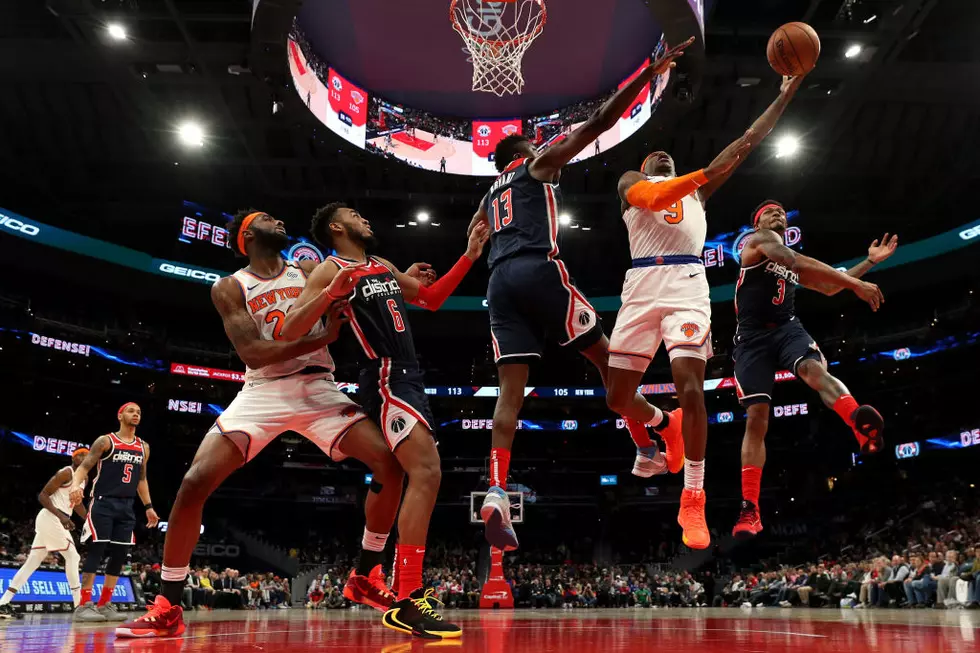 New York Knicks go into 2020-21 season with lowest win total odds of any NBA team
Getty Images
This content was produced in partnership with Gambler.Media.
It has been a long, suffering road for fans of the New York Knicks.
And now, to make it worse, they have to deal with a team from one of the other boroughs that might be the best team in the NBA Eastern Conference.
Sports books have started to release their over/under win totals for the upcoming 2020-21 season, which will begin on December 22. Instead of the regular 82-game campaign, teams are going to play (or at least that is the plan) 72 games in this slightly shortened season.
So 36 wins would be a .500 record.
Right now, the Knicks are picked with the co-lowest total number, 22.5, along with the Cleveland Cavaliers. In fact, four of the five lowest totals (Detroit Pistons, 23.5 and Charlotte Hornets, 25.5) are from the Eastern Conference; just Oklahoma City (23.5) is in the bottom five from the Western Conference.
If the Knicks won 23 games, to just get the over, their record would end 23-49, which is abysmal: but right now, it might be worth it to take the under with New York. The Knicks went 21-45 in the shortened season, but is there any reason to think this team is much better, especially against the division teams: New York was 2-11 against Atlantic Division foes in 2019-20.
But all hope is not lost for New York teams: the Brooklyn Nets are on the rise.
After going 35-37 last season, the Nets over/under has jumped all the way to 45.5 (46-26), thanks in large part to some guy named Kevin Durant. Brooklyn is one of the teams that is near the top of the odds to win both the Eastern Conference (+250) and the NBA title (+600), even with or just behind the Milwaukee Bucks.
The over total looks very tempting for the Nets.
Here are some other teams worth betting, depending on the odds you get in New York or NJ at BetMGM.
Milwaukee Bucks over 50.5:
The Bucks went 56-17 last season, and that is with a 3-7 run to end the season after the seedings were all but set. So this team is predicted to be five wins worse, with the addition of Jrue Holiday? I know the top of the Eastern Conference will be a battle every night, but I don't see the Bucks regressing that much without an injury.
Denver Nuggets over 44.5:
Denver went 46-27 last season without some key players in the bubble, and now have superstar Jamal Murray and Michael Porter Jr. raring to go with the other players in a lineup that go to the Western Conference Finals. This could be the best bet of the bunch.
If you or anyone you know has a gambling problem, call 1-800-GAMBLER.
CHECK IT OUT: 100 sports records and the stories behind them