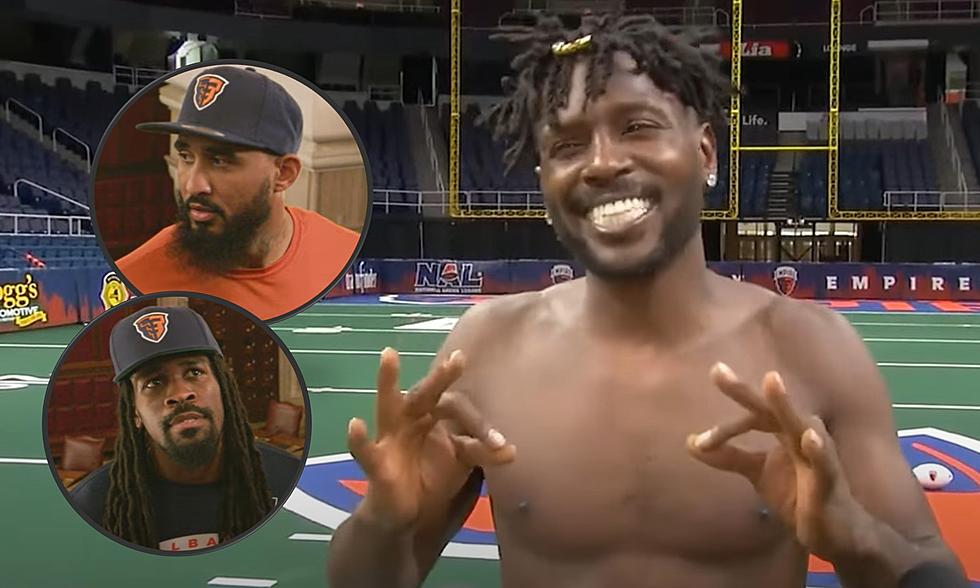 Report: Disgraced Upstate NY Football Owner Used Gun in Player Threat
YouTube
It has been a bit of time since the last headlines involving the Albany Empire had surfaced. That was the case until Tuesday, when the once-renowned indoor football brand was dragged through the mud once again, thanks to a story involving the team's owner, Antonio Brown.
After months of consistent headlines involving players not being paid, on-and-off-field arguments and a carousel of disgruntled head coaches, the team is once again getting national media attention, and this story may top them all.
---
Report: Antonio Brown Threatened Three Albany Empire Players with a Gun
A story from The New York Post cited concerning information shared in an ESPN feature on former NFL wide receiver Antonio Brown's tenure as owner of the Albany Empire.
Among the plethora of negative stories told within the feature - including getting kicked out of the National Arena League - there was an even more concerning nugget of information that was shared: Antonio Brown once threatened three of his own players with the potential use of a gun.
Unfortunately, this story began with the untimely passing of Moqut "Mo" Ruffins, an offensive tackle who played the final two seasons of his football career with the (original) Albany Empire in 2018 and 2019. Ruffins passed away on August 16, 2022.
A social media post was made as a tribute to Ruffins following his death, but the post was unexpectedly deleted, at which time three Empire players - Dwayne Hollis, Darius Prince and an unnamed third player - approached Antonio Brown in an attempt to learn why the post was taken down.
Here's what Darius Prince told ESPN about what happened next:
"AB looked at Ryan [Larkin] and was like, 'Hey, man, you still got the AR [rifle] in the car? Go get it,' " Prince told ESPN. "Then I was like, I'm not going to allow this dude to walk out of here after you just threatened us. … After he said that, things did calm down and we had a conversation. But the fact is that he threatened us by telling his assistant to grab his AR." - Darius Prince via ESPN and The New York Post
---
Believe me, I do not enjoy writing about this topic one bit, and I'm sure you do not enjoy reading about it, either. What unfolded with the Albany Empire this season was beyond a disaster. It's a travesty, and is now a joke that is told at the national sports level, with "Capital Region sports" typically acting as the butt of the joke.
There is still a shot that this situation can lead to a positive outcome. There are plenty of parties in the Capital Region who are interested in owning an indoor football team in Albany. Though the reign of the Albany Empire is likely over for good, the reign of Albany football doesn't necessarily have to be.
It will take a lot of work, but there is a unique opportunity for one, or multiple, people to create a new legacy for indoor football in Albany. I'm rooting for that wholeheartedly, as if that happens, maybe this entire situation can be put behind us, once and for all.
Ten Times Capital Region Sports Teams Won Their League's Title
Sports fans in the Capital Region have been lucky enough to see a few championships over the years. Do you remember these ten stories of teams winning titles?
Ten Incredible Photos from the NFL Career of Antonio Brown
Check out these ten incredible photos from a decade-plus in the NFL for wide receiver, Antonio Brown.