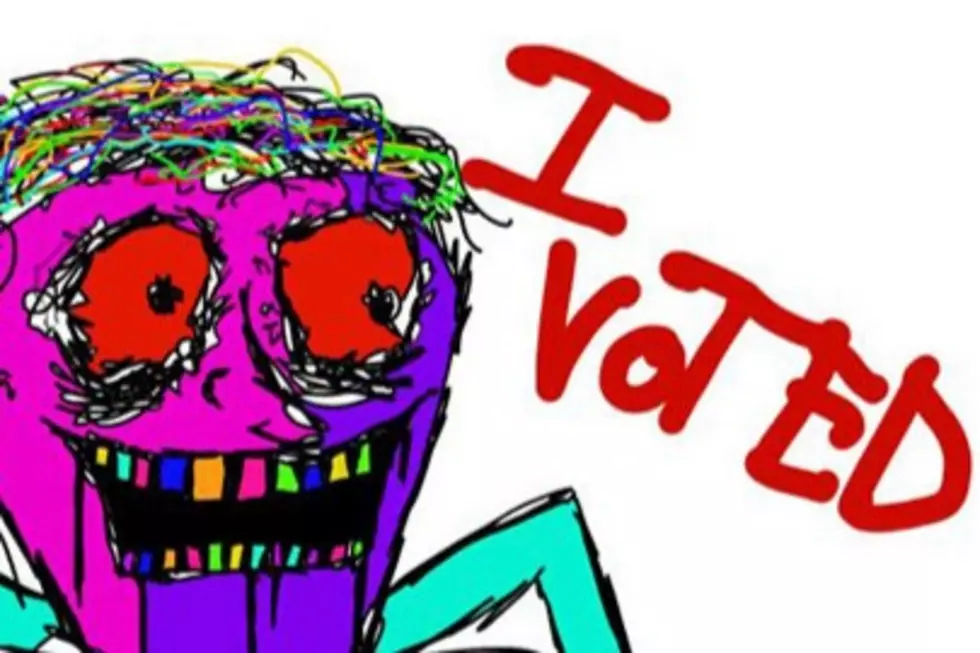 What Led An Upstate County To Pick A Deranged "I Voted" Sticker?
Hudson Rowen/Ulster County Board of Elections
As a state, New York has often hosted symbols of this nation throughout history. Troy has Uncle Sam, who portrays the States' readiness and preparation. NYC has the Statue of Liberty, a representative of our country's golden opportunity. Now a new "I Voted" sticker in Upstate New York is being praised for showing the American political machine as it feels right now.
Ready? Don't say I didn't warn you.
Wait, what??
As humanity sometimes fails to learn, leaving decisions up to the internet is a surefire way to get the oddest result possible. We're talking about the mob who sent Pitbull to America's most remote Wal-Mart and voted to name a British scientific research ship Boaty McBoatFace.
This new "I Voted" sticker, courtesy of 14-year-old Hudson Rowen, was a part of Ulster County's 2nd Annual I Voted Sticker Contest. The very first entry, it ended up becoming a viral sensation on Twitter and featured across the world in the New York Times and Britain's The Guardian. At final tally, Hudson's creation racked up more than 228,200 votes. (The population of Ulster County is 178,371.)
Only a year old, this was a bizarre twist for the contest - designed to get kids interested in the election system before they're old enough to vote. For comparison's sake, here is last year's winning design from New Paltz High School student Giuliana DiBenedetto.
Hudson's avant-garde style stole the show from his more traditional competitors, whose designs are now in a run-off to be used as Ulster County's stickers for New York's second primary this month. The democracy-pushing-terror-man-spider will be used for the general election in November.
Personally? I love it and I'm jealous I can't vote in Ulster County. Over the last decade, it feels like the American political cycle has become a monster, demanding spectacle and constant attention. Why not have an actual monster represent the process? I don't know if a sticker has ever been the reason for a higher voter turnout, but this may be the year.
These Are the Top 15 Global First Dance Wedding Songs
Discover the top 15 first dance songs used at wedding around the world, below (as of March 2022).
Celebrities Who Ran Into Serious Tax Troubles
Below, you'll find 21 famous celebrities who ended up owing anywhere from hundreds of thousands to millions of dollars to the IRS in taxes.
Check Out the Best-Selling Album From the Year You Graduated High School
Do you remember the top album from the year you graduated high school?
Stacker
analyzed
Billboard
data to determine just that, looking at the best-selling album from every year going all the way back to 1956. Sales data is included only from 1992 onward when Nielsen's SoundScan began gathering computerized figures.
Going in chronological order from 1956 to 2020, we present the best-selling album from the year you graduated high school.