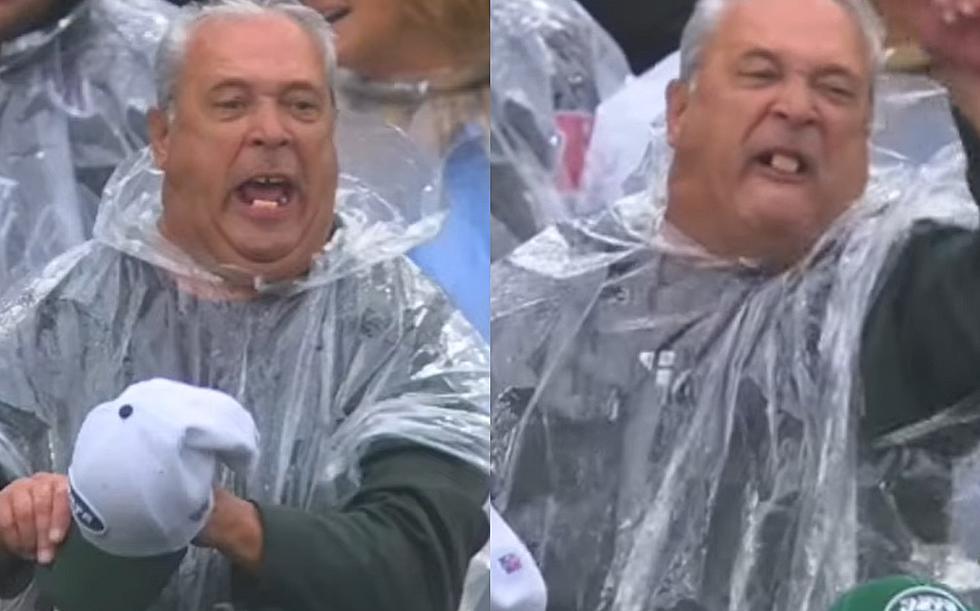 WATCH: Viral Video Shows New York Jets' Fan 'Losing It', Literally!
YouTube
New York Jets' fans were collectively not a happy bunch at MetLife Stadium on Sunday afternoon.
As Tropical Storm Ophelia made its way up the east coast, fans of Gang Green who bought tickets to the game were faced with two miserable scenarios at once: sit in the pouring rain, and watch Zach Wilson play quarterback. Both experiences were brutal to watch, and both left fans shaking, though one was from the cold, and the other was from rage.
One enraged Jets' fan was caught on-camera in the stands as he was absolutely losing it, and unfortunately, that phrase gained a second, more literal meaning moments later.
---
New York Jets' Fan Caught On-Camera Screaming at Team; Loses Teeth Mid-Yell
Ironically enough, the most popular video clip from last weekend's New York Jets-New England Patriots' game had little to do with the play on the field. Rather, the video clip showed one angry fan of the New York Jets, who got caught on-camera giving the team a piece of his mind while watching his favorite team lose...again.
Then, this happened:
The timing of the clip could not have been more unfortunate for this individual, who was simply voicing something that thousands of Jets' fans were probably screaming into their televisions at the same time.
To this man's credit, however, he quickly fixed his issue, and went right back to jeering his team. You can't fake that level of passion.
Here were a few of our favorite responses from other users on X, the platform formerly known as Twitter:
Sources say that this man's teeth travelled more yards, and got closer to the end zone, than any of Zach Wilson's passes.
Thank you, thank you. I'll be here all week.
The Ultimate Rankings! Which Franchise Do Albany, NY Fans Love Most?
The results are in on one of the Capital Region's biggest sports debates: which sports franchise do Albany fans love the most? We finally have answers.
Ten Infamous New York Sports Rivalries That Fans Love to Hate
New York's professional sports teams are magnets for historic rivalries, and these ten infamous rivalries will always get fans riled up in the stands.