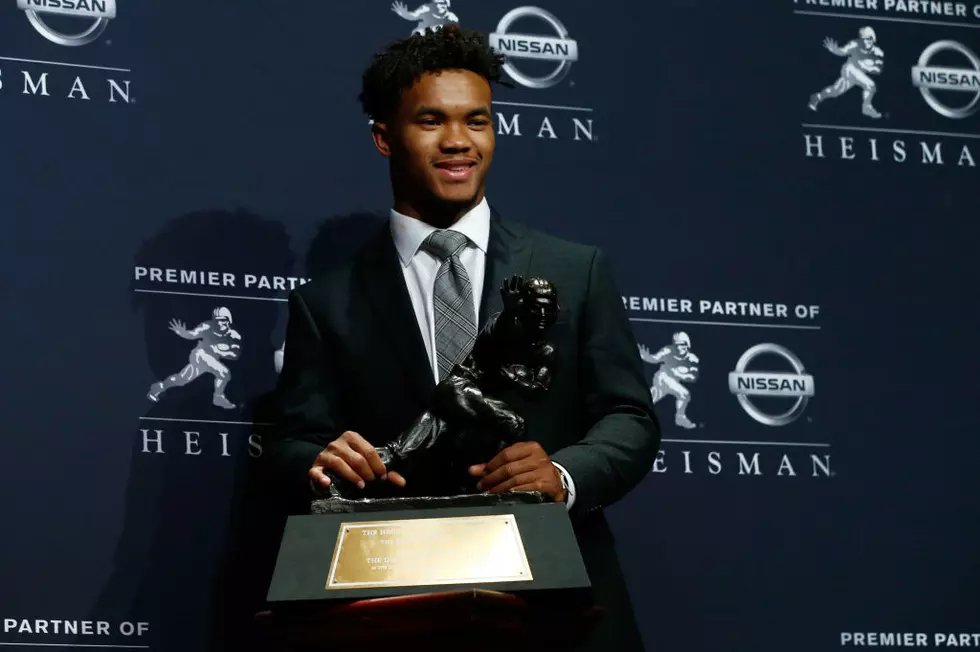 Will The New York Giants Draft Kyler Murray?
Getty Images
The on going debate of "Will the Giants draft their QB in this draft?" kicks up a notch now that Kyler Murray is all in on the NFL. The Giants currently have the 6th overall pick in the 2019 NFL Draft. With two potential QB's going in the top ten picks would the Giants consider taking the undersized signal caller?
Vegas is setting odds on when Murray will be drafted and on who might take him. The original lines allow you to bet on whether Murray will go in the top ten picks, if he'll be the first overall pick and which team will select him. The Giants are currently tied for second with the Arizona Cardinals at 5/1 to select Kyler Murray.
Kyler Murray 2019 NFL Draft Position
Over   9½ Draft Position            +150     (3/2)
Under 9½ Draft Position            -200     (1/2)
2019 NFL Draft 1st Overall Pick
Nick Bosa                     1/2
Quinnen Williams          3/1
Kyler Murray                  5/1
Dwayne Haskins           12/1
Josh Allen                     14/1
Ed Oliver                       14/1
Will Nick Bosa be the 1st Pick in 2019 NFL Draft?
Who Will Draft Kyler Murray in the 2019 NFL Draft?
Miami Dolphins                         3/2
Arizona Cardinals                      5/1
Jacksonville Jaguars                 5/1
New York Giants                       5/1
Oakland Raiders                        6/1
Tampa Bay Buccaneers             12/1
Washington Redskins                12/1
Cincinnati Bengals                     14/1
Denver Broncos                        14/1
Pittsburgh Steelers                    14/1
Would you want Murray as your team's quarterback?