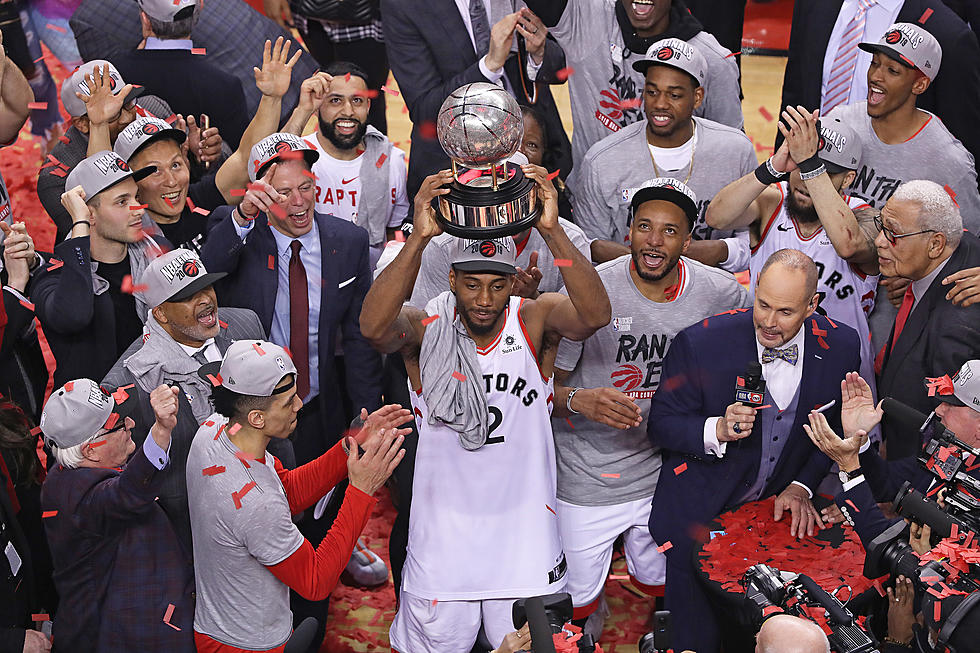 104.5 The Team NBA Season Preview
Claus Andersen/Getty Images
The 2019-2020 NBA season officially tipped off earlier this week. What teams will have the biggest impact this season? What player will win the MVP? Find out from 104.5 The Team's staff below.
Jeff Levack-Co-host Levack and Goz Mondays-Fridays 2-7pm 
Finals Lakers over Clippers
CHAMPS: 76ers over Lakers
Tom "Goz" Goslowski- Co-Host Levack and Goz Mondays-Fridays 2-7pm 
Eastern Conference Finals:  Milawaukee Bucks over Boston Celtics
Western Conference Finals: Houston Rockets over Golden State Warriors
Record prediction for Knicks, Nets and Hawks:
Finals Predictions: Bucks over Rockets
Eric Hannmann Host of Sittin Sportside 1030am-1130am Sundays 
Eastern Conference Finals:  Indiana Pacers over Philadelphia 76ers
Western Conference Finals: Denver Nuggets over Los Angeles Clippers
Record prediction for Knicks, Nets and Hawks:
Most Improved Player: Shai Gilgeous-Alexander
Finals Predictions: Denver Nuggets over Indiana Pacers
Randy King, producer 104.5 The Team 
Top 8 teams - Western Conference
Los Angeles Lakers
Denver Nuggets
Los Angeles Clippers
Golden State Warriors
Utah Jazz
Houston Rockets
Portland Trail Blazers
Sacramento Kings
Top 8 teams - Eastern Conference
Philadelphia 76ers
Milwaukee Bucks
Indiana Pacers
Boston Celtics
Orlando Magic
Brooklyn Nets
Toronto Raptors
Detroit Pistons
Western Conference Finals
#3 Los Angeles Clippers vs. #1 Los Angeles Lakers
Eastern Conference Finals
#4 Boston Celtics vs. #2 Milwaukee Bucks
New York Knicks Projected Record
                -25-57
Brooklyn Nets Projected Record
                -43-39
Atlanta Hawks Projected Record
-34-48
2019-2020 NBA MVP
-Stephen Curry
- This season, Curry gets thrust back into the MVP voting due to the responsibility that he will have to shoulder. In the last few seasons, he may have had a few votes taken away due to his teammate and other MVP candidate Kevin Durant stealing some of the spotlight.
With Durant now in Brooklyn and fellow splash brother Klay Thompson out for the season, Curry stands a good shot at the MVP due to the usage rate he will be issued with this season.
If the Warriors are able to earn a top-four seed in the highly competitive Western Conference and Curry finishes near or at the top of the league in scoring as well as shooting percentages from three, then he will join the elite club of three-time MVP winners like: LeBron James, Michael Jordan, Magic Johnson, Larry Bird, Kareem Abdul-Jabbar, among others.
2020 NBA Finals
#2 Milwaukee Bucks vs. #1 Los Angeles Lakers (LAL wins series 4-1)
Joey Haas, intern 104.5 The Team
Top 8 teams in the East in order: 
Conference Finals: Bucks vs Sixers 
Top 8 Teams in the West in order: 
Conference Finals: Clippers vs Rockets 
Knicks Record Prediction: 32-50 
Nets Record Prediction: 42-40
Hawks Record Prediction: 29-53
NBA MVP: LeBron James (AD will get hurt 🙁) 
Finals Prediction : Sixers vs Rockets