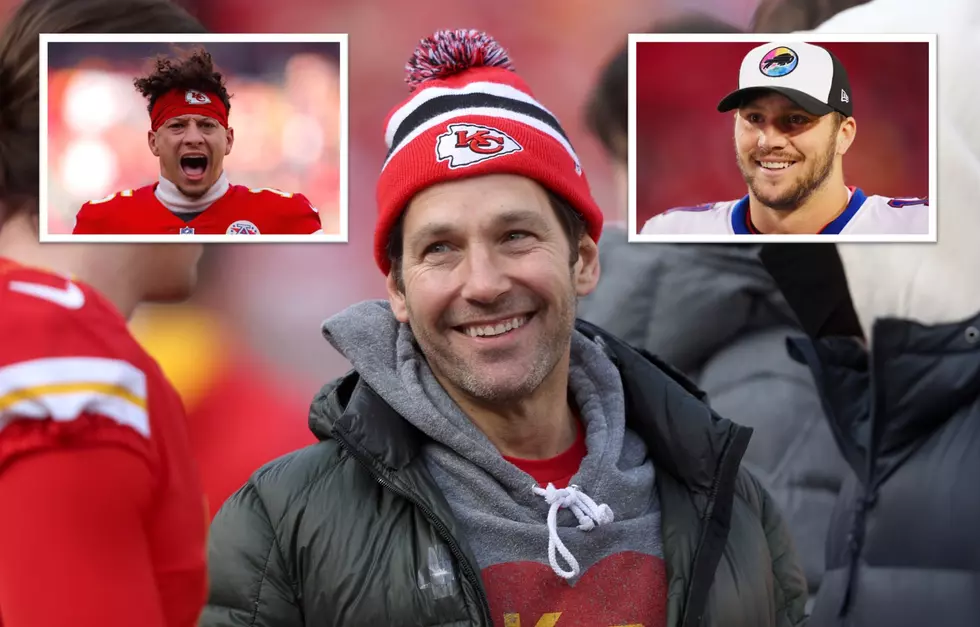 'Ant-Man' Star Professes Love for Upstate New York Team! Is He Cheating on Kansas City?
Getty Images
Actor Paul Rudd is one of the most likeable celebrities in Hollywood right now, but up until recently, football fans from Upstate New York may not have agreed with that statement.
Bills Mafia members have wanted to embrace their fandom for Paul Rudd, but one major blemish has kept them from doing that: he's a diehard Kansas City Chiefs' fan. It's a heartbreaking reputation for Rudd to have, but during a recent interview, he made comments about the Buffalo Bills that may change our mind.
Is Paul Rudd becoming a member of Bills Mafia?
---
Actor Paul Rudd Professes Love for Buffalo Bills, Shocking Chiefs Fans
A story from New York Upstate, penned by friend of The Drive with Charlie and Dan, Ryan Talbot, shared comments from actor Paul Rudd about the Buffalo Bills, and their passionate fanbase, that were made earlier this week.
Rudd was speaking with Yahoo Entertainment's Kevin Polowy, who as Talbot notes, is a massive Buffalo Bills' fan. Naturally, the conversation shifted to football, with Polowy asking Rudd about the Super Bowl and the NFL as a whole.
When the topic of the Buffalo Bills was broached, here's what Rudd had to say:
"What a great team. I genuinely do love the Bills. They're great. If it wasn't the Chiefs, I wanted to see the Bills. And that's legit. The Bills and the Chiefs played one of the greatest... That game last year was unreal." - Paul Rudd via Yahoo Entertainment
Finally, Upstate New York's passionate football community can love Paul Rudd again! I wasn't in the mood to boycott another Ant-Man movie, anyway.
Known for his outstanding performances in films like This is 40, Clueless and the Ant-Man franchise, Rudd is one of the top comedic actors currently working in the film industry. Outside of his acting career, Rudd has a separate connection with the Empire State, as he owns Samuel's Sweet Shop in Rhinebeck, New York.
Between his movies, his sweet shop and his likeable personality, there were countless reasons for football fans in the area to like Paul Rudd. His Chiefs' fandom was his one true character flaw, however, and that kept a number of people in the area from truly embracing him.
Now, is he going to renounce his Chiefs' fandom completely? No, he's not, and we still have to hold that against him. After all, the team did just win the Super Bowl, and Rudd was present at the game, wearing the Chiefs' hat and sweatshirt that you can see above.
Rome wasn't built in a day, and neither was Paul Rudd's Buffalo Bills' fandom. Progress has clearly been made, and given time, we may see the comedic actor jumping onto folding tables in Orchard Park after all.
Just give it some time, and watch Ant-Man 3 while you wait. We'll get there.
Seven Meals Created By Buffalo Bills' Private Chef That Went Viral
Darian Bryan is the personal chef for Buffalo Bills' stars like Stefon Diggs, and has gone viral multiple times for the wild meals he prepares before gameday.
Celebrities You Might Run Into In Upstate New York...Because They Live Here