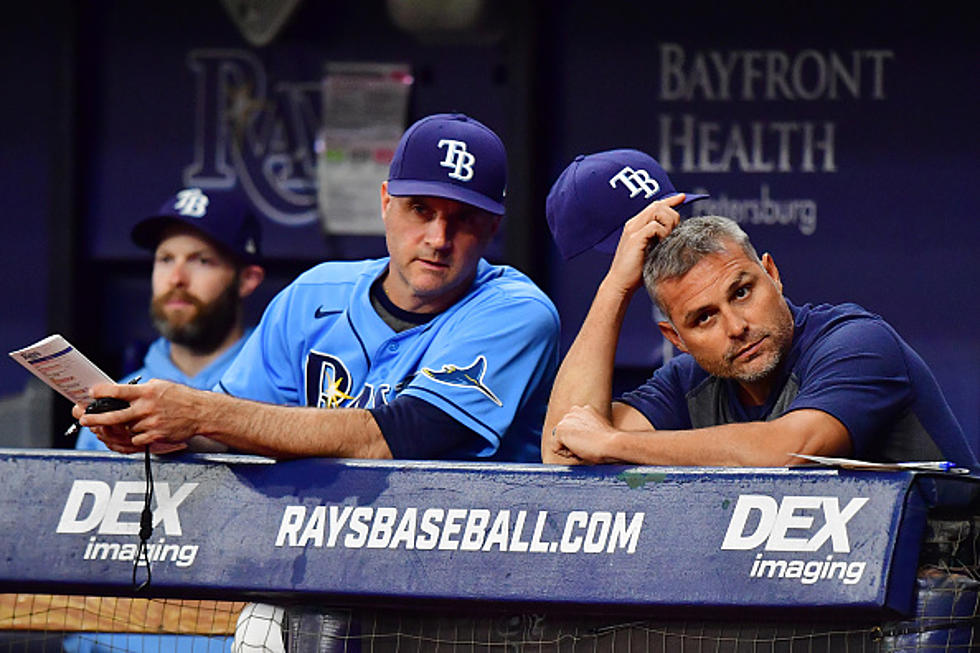 Bethlehem's Matt Quatraro Enjoying Tampa Bay Rays Historic Year
Getty Images
On Wednesday night the Tampa Bay Rays defeated the Houston Astros by a score of 7-0. The win gave the Rays their 98th victory of the season, the most in franchise history. Yankee fans may snarl, but there is no denying it is very easy for me to root for the Rays. The person that Tampa Bay manager Kevin Cash depends on the most is a 1992 graduate of Bethlehem High School and subsequent BCHS Hall of Famer, bench coach Matt Quatraro.
Matt coached and managed in the minor leagues before landing the position of minor league hitting coordinator with the Rays in 2010. After leaving for a short stint as Terry Francona's assistant hitting coach in Cleveland, Quatraro moved into another Major League role with Tampa Bay. Matt was named 3rd base coach for the team in 2017 and has been in the middle the American League Playoffs ever since.
Thursday Matt Quatraro joined The Drive with Charlie & Dan and talked about the Tampa Bay Rays roster make-up, the teams continued success using a unique low-cost model and what happens when you add a big personality like Nelson Cruz to your line-up. Quatraro even made Dan feel better, telling him that the Rays will give the Yankees all they have this weekend as Mr. Bahl's Red Sox take on the Washington Nationals.
A big thanks to Matt for hanging out with us prior to tonight's game in Houston. We will be sure to catch up with him after the season. Keep an eye on Matt Quatraro. He is one of the hot young potential managers that will be considered this year when teams are looking for new skippers. They don't get any better than Matt. Good luck to him and the Rays the rest of the way.
LOOK: The Most Famous Actor Born Every Year