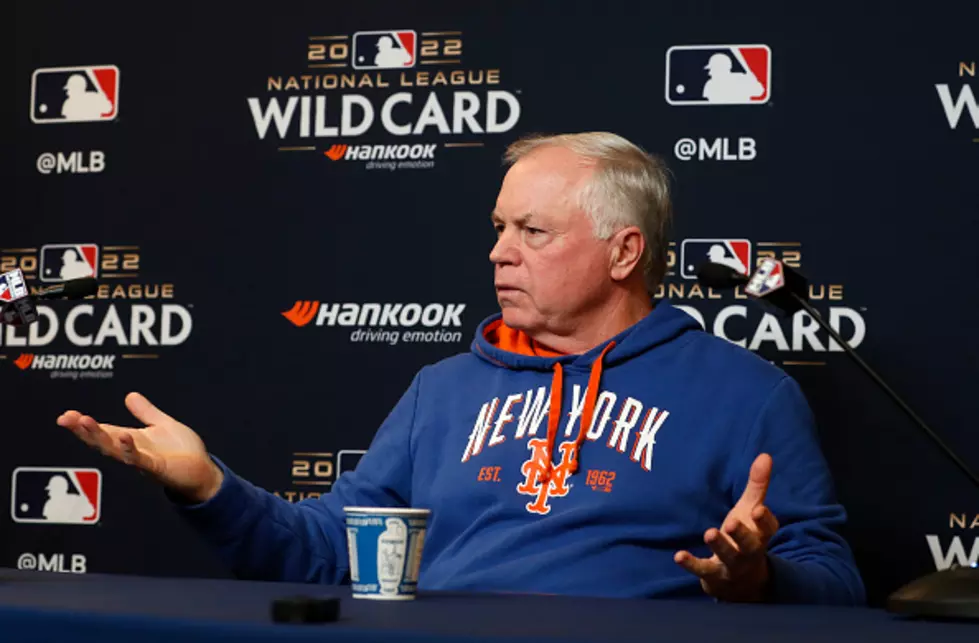 The Silver Fox! New York Mets Skipper Named MLB's Best Looking?
Getty Images
New York Mets manager Buck Showalter, despite not winning a World Series, has had a pretty good year. First, after being spurned by a canceled spring training appearance, Showalter gets to meet pop-star Shakira. (Who would have thought that would be a big deal for the the Mets skipper but it was.) Then, Buck's team rattles off 101 regular season wins, leading to Showalter being named National League Manager of the Year for the fourth time in his career. But the biggest and maybe most surprising honor of all came out this week. Buck appears to be the best looking manager in Major League Baseball. No, I'm not kidding.
According to researchers at Gambling.com, the New York Mets manager has been crowned the Most Handsome Manager in the MLB. Gambling.com admits that "beauty is subjective." So, their researchers used a popular beauty measurement app called Golden Ratio Face to help determine who were the best looking skippers in MLB dugouts. #2 on the list continued my bewilderment of the criteria used.
National League Champion Philadelphia Phillies manager, 59-year-old, Rob Thompson, who took over for the ousted Joe Girardi in the middle of the year, was named second best looking manager? This criteria seems to be a bit skewed. Actually, it is. According to their press release, Gambling.com set out to determine which MLB Managers "are aging like fine wines and whose side-line stresses and strains have taken their toll throughout their managerial careers." David Ross, the Cubs skipper, is two decades younger than Showalter and came in 4th place. However, that wasn't the biggest surprise result from the research, at least from a Capital Region standpoint.
This is where the findings really go off the rails and we don't agree. According to the Gambling.com research, Bethlehem High School's own Matt Quatraro, the new manager of the Kansas City Royals was named "Manager with A Face For Radio." According to the app, Quatraro came in last in the facial recognition data. Matt would rather have a World Series ring. Trust me. It's amazing what baseball fans will do for amusement in January but the information was fun. Oh, 73 year old Dusty Baker came in 6th...
Inside Pete Davidson's $1.29m NY Apartment He Said Was "Disgusting"
Pete is famously very pro-Staten-Island while many in the City are in a rush to forget the place exists. I don't think he's lost touch with his roots, but I don't blame him for wanting a new place now that he's got all that sweet, sweet Taco Bell money.
The condominium is pretty new – built in 2015. The listing flaunts "unparalleled metropolitan views of New York City," but I'm not seeing it. The photos make it look very close to the Staten Island Ferry terminal (or storage), so that's either very convenient or very noisy. Here's how I see it:
Pros:
· Ocean view balcony
· Open floor plan
· Natural light
· Kim Kardashian definitely spent the night here at least once
Cons:
· Staten Island Ferry traffic
· Absolutely ZERO character in the building
· Could possibly need a deep-clean, per previous occupant
Take a look for yourself and judge: disgusting, bland, or a comedy gold-mine?
The Capital Region Lost These Restaurants in 2022
From criminal charges, to health problems, to just moving on as life changes, here are some of the restaurants across the Capital Region that shut their doors in 2022.
2023-2024 Capital Region Concert Calendar
Updated regularly so keep checking back!