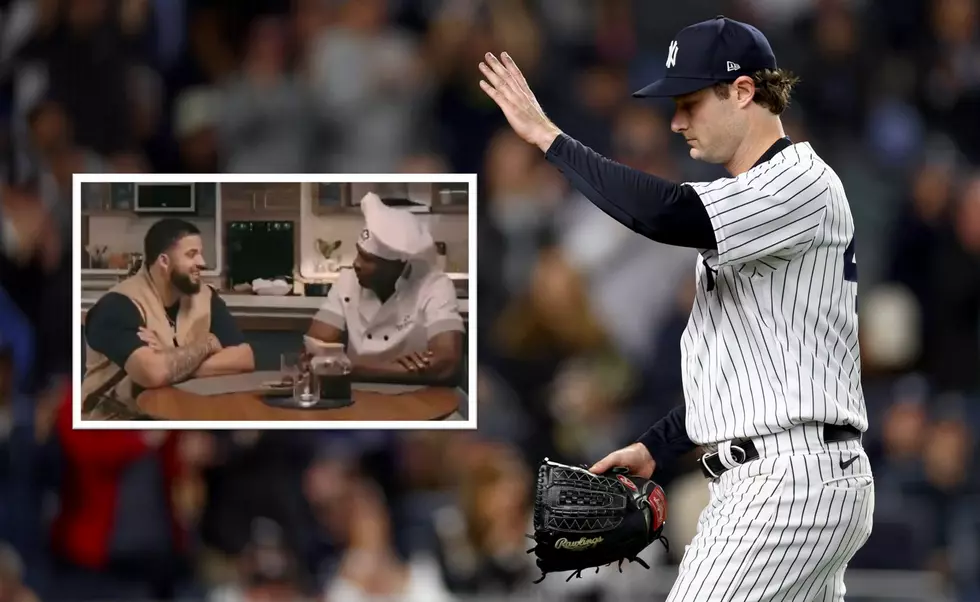 Big Mistake? Rival Pitcher Calls a New York Yankee the MLB's 'Worst Cheater'!
Getty Images / Twitter (@Jram2TBJ)
Alek Manoah hasn't made a ton of friends, outside of his teammates, during his brief MLB career.
Manoah is a young, budding star on-the-mound for the Toronto Blue Jays, and was stellar in 2022. He made a memorable appearance in the 2022 MLB All-Star Game, and finished third in Cy Young Award voting in just his second season in the big leagues.
He's also known as one of the more outspoken young characters that the game of baseball has to offer, and he had a lot to say about a prominent member of the New York Yankees in a recent offseason interview.
---
Blue Jays' Manoah Takes Aim at New York Yankees' Ace Over "Sticky Stuff"
A video began floating around Twitter on Monday evening, showing Alek Manoah seated at a kitchen table, next to someone wearing a chef's uniform. After doing a bit of research, it appears that Manoah was a guest on a Canadian podcast, How Hungry Are You?, from Sportsnet.
Manoah was asked his opinion about the biggest cheater in the history of baseball, and his answer promptly set the Empire State ablaze:
Manoah waited approximately four seconds, or four Mississippi's, to think about his answer before sharing Gerrit Cole's name. He smiled as he said it, knowing full-well what he was getting himself into by throwing Cole under the bus.
New York Yankees' fans shouldn't be shocked about this kind of behavior from Manoah. He was front-and-center during a scuffle with the Yankees at Yankee Stadium this past season:
This is a classic example of bulletin board material for the New York Yankees. It doesn't actually mean anything, but it's nice to keep in your team's metaphorical back pocket when you face the Blue Jays next season.
Odds are, certain members of the Yankees will be swinging just a bit harder when they face Manoah for the first time next season. Manoah went after Cole, one of your premier players, and there's only one true way to get the upper-hand.
It's on the scoreboard, of course.
Look, Manoah is a very confident, brash character, and quite honestly, the game of baseball needs more players who are willing to embrace their personality like he has. He was the star of the All-Star Game because of it, a performance that you can watch above.
Manoah is obviously playing a dangerous game by "poking the bear" that is Gerrit Cole and the New York Yankees. If it helps build the rivalry between the two teams, and makes Yankees-Blue Jays games into must-watch television, however, then he's actually done both teams a service by saying what he said.
That said, he'll have to back it up on the mound in 2023.
These Awards Go to the Best, and Worst, of the '22 NY Yankees
As the 2022 MLB regular season comes to a close, let's hand out some hardware. Here are ten NY Yankees' players who deserve recognition, for better or worse.
Disgrace! These Ten Scandals Rocked New York Sports' Teams
Sports scandals: they don't happen often, but when they do, they can rock a team, and its fans, to their cores. These ten New York sports scandals did just that.
Staying or Leaving? We Decide the Fate of These Ten NY Yankees' Free Agents
MLB Free Agency is here, and with all of the decisions the NY Yankees have to make, we're here to make a few for them. These players are staying, or leaving.