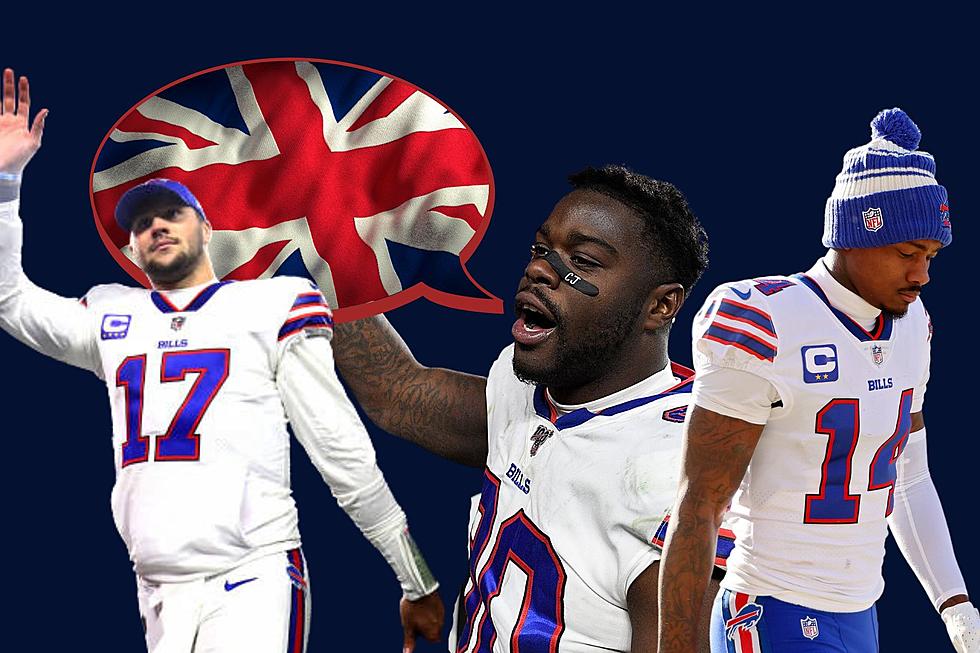 The Bills Players Show Off Their Best British Accents
(Canva)
The Buffalo Bills announced that they've got a game planned in London this season and they're getting ready for the trip already.
The Buffalo Bills announced a game in London
The official schedule for the Buffalo Bills doesn't come out until Thursday (5/11), but they have already cued us in on one game that will be on the list.  They announced today that they will be playing a game overseas in London on 10/8.
It will turn out to be a 9:30 am Eastern Time Zone start for The Bills as they take on the Jacksonville Jaguars.
The Bills try out their best British accents
As part of the big celebration, the social media team asked the Bills to repeat some lines as they came off the field.  The sign on the way to the locker room read:
In your best British accent say,
"Would you fancy a spot of tea?"

or

"We are bloody excited for our match at Tottenham Hotspur Stadium"
They actually weren't too bad at it.
They actually weren't too bad at it
It seems that most of them were on board.  They were able to get accents from players like Shaq Lawson, Spencer Brown, and even Josh Allen gave it a shot.  While most stuck pretty close to the script, some went off a little bit asking if it was "Tuesday" or as they said, "Chew-sday"
Center Mitch Morse knew right away that it wasn't probably going to work for him, so instead, he went to get the Director of Sports Performance, Joe Collins, who actually had a British accent.  Although, he didn't seem thrilled about the stadium that they would be playing at.
The Newest Buffalo Bills Jersey Numbers
Quiz: Did This Guy play for the Bills?
Bills Mafia's Wishlist For The New Buffalo Stadium
The Bills are building a new stadium and here is a wishlist from Bills Mafia.