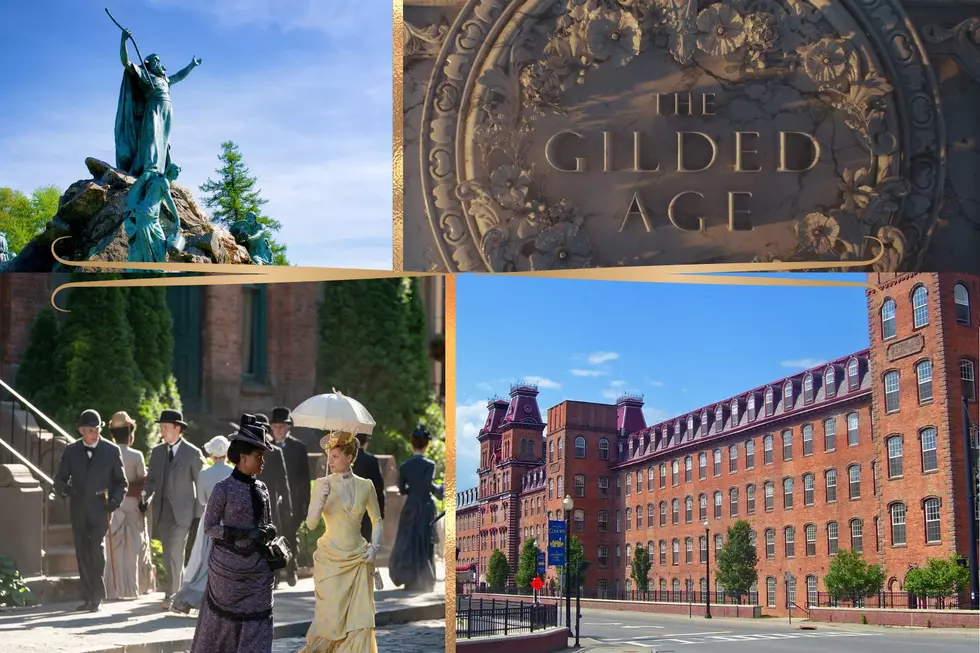 Here's Your Upstate Filming Location Guide for HBO's 'Gilded Age'
Canva/HBO
After months of location scouting, extra casting, and anticipation, HBO's The Gilded Age has officially begun filming its second season in Upstate New York. The period piece, from the creator of Downton Abbey, heavily used Troy as its backdrop for feuding socialites in 1880s NYC in season one.
As the show expands its sights for its sophomore year, it expands across the Capital Region - not just in Troy, but in Albany and Cohoes. All this month, you'll find road closures, film crews, and fans. Here's your location guide to our Gilded August.
Where Is Gilded Age Filming In Troy?
Like the last time the period piece filmed in Troy, expect lots of exterior street shots making the most of the city's historic beauty, especially around Washington Park. Crews have also been spotted moving equipment into 148 Second Street, near the Troy Public Library. Maybe this is for some rooftop filming. Gilded Age location scouts, with help from the Hart-Cluett Museum, spent May looking for the perfect building top to shoot the unveiling of the Brooklyn Bridge.
The culmination of the week in Troy is the filming on Friday at First United Presbyterian at 1917 Fifth Avenue. Be on the lookout for lots of flowers - the church is a stand-in for one in 1883 Philadelphia, on Easter Sunday no less.
Gilded Age's Troy Filming Schedule and Road Closures
Tuesday, August 2 – 7a-9p

Third St. between Liberty and Adams
Washington St. between Second and Fourth

Wednesday, August 3 – After 12p

Second St. between Division and Adams
Grand St. between Sixth and Fourth

Thursday, August 4 - 6a-9p

Second St. between Washington and Division
Grand St. between Fifth and Sixth

Friday, August 5

First United Presbyterian at 1917 Fifth Avenue
The City of Troy put out an official statement on the street closures and parking restrictions:
Motorists are asked to reduce speeds and observe all posted traffic detours. Residents and businesses on impacted streets have been directly notified of, and are reminded to observe, all posted parking restrictions

 
Where Is Gilded Age Filming in Albany?
The least is known about the production's use of Albany. According to a letter sent out by HeyDey Productions to local residents, Gilded Age will be using the following streets from Saturday, August 6 to Wednesday, August 8:
Henry Johnson Blvd. between State and Washington
State St. between Henry Johnson and Lark
Washington Park Rd. between State and Lancaster
Washington Park Rd. between Willett and Sprague
Willett St between State and Hudson
Lark St. between State and Lancaster
Lancaster St. between South Swan and Dove
The locations circle Washington Park, which could possibly be used as a stand in for Manhattan's Central Park.
Where Is Gilded Age Filming In Cohoes?
Thanks to a HeyDey meeting with the city traffic commission, the Times Union, and production notices, we known Cohoes will stand in for Pittsburgh during the last part of the month. Expect a more industrial feel, as Harmony Mills will be used for a steel factory with neighboring homes used for company housing.
Monday and Tuesday, August 22 & 23

Harmony Mills on North Mohawk Street

Monday, August 29

Gardner Street
Cohoes Music Hall
Welcome to all crew members and fans! (By the way, it's not a filming location, but after some extreme restoration wouldn't this Upstate home be perfect for living like a Russell?)
Buy This Upstate New York Home And You'll Be Transported To HBO's 'Gilded Age'
If you're a fan of "The Gilded Age" on HBO Max, you'll want to buy this abandoned home in Upstate New York.
The Best TV Shows That Only Lasted One Season
10 Popular TV Shows That Were Almost Cancelled Too Soon