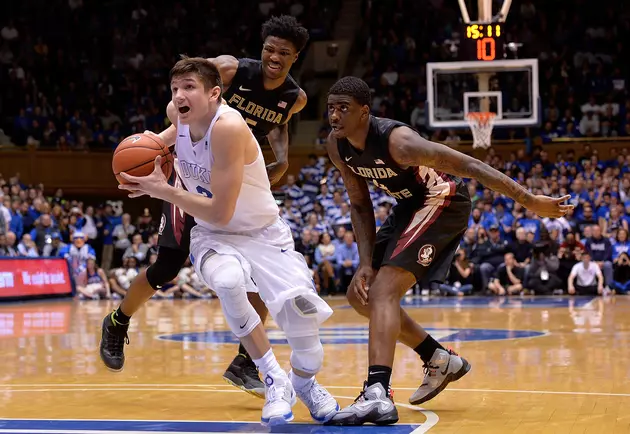 Grayson Allen Sportsmanship In Question
Credit: Grant Halverson/Getty Images Sport
Duke guard Grayson Allen is one of the most exciting players to watch in college basketball. However, he may not be one of the cleanest.
Last night against Florida State, Allen's sportsmanship came into question again. For the second time in less than a month, Allen was seen tripping another player on the court. With seconds left in their 80-65 win over the Seminole's, Allen was seen tripping Florida State guard Xavier Rathan-Mayes as he was running the designed inbound play. No foul was called on the play.
For this to now happen twice, we must take Allen's sportsmanship into question. Post-game, Allen was complaining that the opposition likes to get physical with him and teammate Brandon Ingram; that is true, mainly because the guard scores the majority of his points on drives to the basket.
The ACC is reviewing the incident and discipline could come for Allen since it's his second offense. On February 8th, Allen tripped Louisville guard Ray Spalding and recieved a flagrant foul.
Do you think Grayson Allen should be punished for tripping players on purpose?