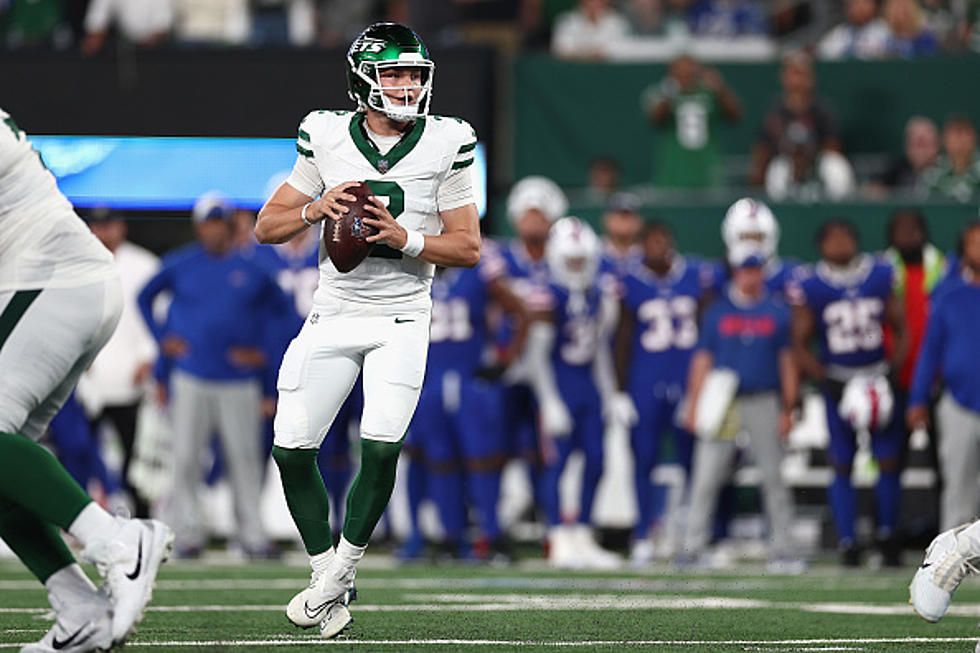 If Zach Can Do This, New York Jets Will Beat The Cowboys
Getty Images
Third year New York Jets quarterback is preparing for a much different Week 2 of the 2023 NFL season than anyone ever expected. That goes for head coach Robert Saleh and about 5 million Gang Green fans, as well.
As Wilson prepares to take on the fearsome Dallas Cowboys defense, the Jets coaching staff have to concentrate on one aspect this week: slowing the game down to control the ball.
As seen on Monday night, against a stifling Buffalo defense, the Jets have a formidable tandem in the backfield with running backs Breece Hall and Dalvin Cook. If Zach Wilson can learn how to get in control of his emotions and pace this offense, this New York team has a chance to beat the team that dismantled the other New York team 40-0 on Sunday night. It's not going to be easy but it is the best chance the Jets have. Here's why:
If the Jets can establish the running game, it will keep the Cowboys honest when pressuring the quarterback. Giants QB Daniel Jones had no time in the pocket. Dallas knew the Giants had to pass, if they had any chance of getting back into the game. So, the Cowboys were able to just dial it up and tee off on Big Blue's 5th year quarterback. If that happens to Wilson, Jets fans may want to think about alternative programming for later in the afternoon. The Jets have to take care of the football and not let turnovers turn into points, especially early. That game got away from the Giants quickly and the Cowboys defense is capable of doing that but so is the Jets defense. Saleh and company can learn a lot from their MetLife roommates' performance on Sunday.
The Giants failures will help Robert Saleh and Zach Wilson understand the unrelenting pressure that Micah Parsons, DeMarcus Lawrence and the rest of the Cowboys defense will bring. If they Jets can establish the running game and Zach Wilson can establish and complete some quick one-step-drop pass plays, it will turn down some of the heat that Wilson will experience and open up other opportunities for big-play guys like Garrett Wilson. Let's face it, Zach Wilson has not done well under duress but he did survive Monday night and should have more confidence going into Dallas on Sunday.
In addition, Zach has better coaching, weapons and should have better protection than last year. Wide receivers Alan Lazard and Randall Cobb have the experience to help Wilson 'slow the game down,' not to mention Aaron Rodgers on the sideline to breakdown plays after each series. It helps when you are in the huddle with guys that have 'been there and done that.' Dalvin Cook is one of those guys, too. Cook and Breece Hall provide a dynamic running back duo that is capable of ripping-off a big play, at any moment. Lastly, the Jets offense line can learn a lot from the mistakes made by their Giants' brethren. Everything has to go perfectly, but with Gang Green's defense, a solid running attack and limited non-costly turnovers, Zach Wilson can lead the Jets over the Cowboys. Sunday at 4:25pm on CBS.
LOOK: Counties with the most tornadoes in New York
Upstate NY State Park Named Among Best Hiking Spots in America - See Photos
An Upstate New York state park has been named among the best hiking spots in America for 2023. Have you ever explored this incredible terrain?
Ten New York Yankees Who Cannot Be Back in The Bronx in 2024
With hopes of a playoff berth fading fast for the New York Yankees in 2023, the team needs to focus on 2024. These changes need to be made, and fast.