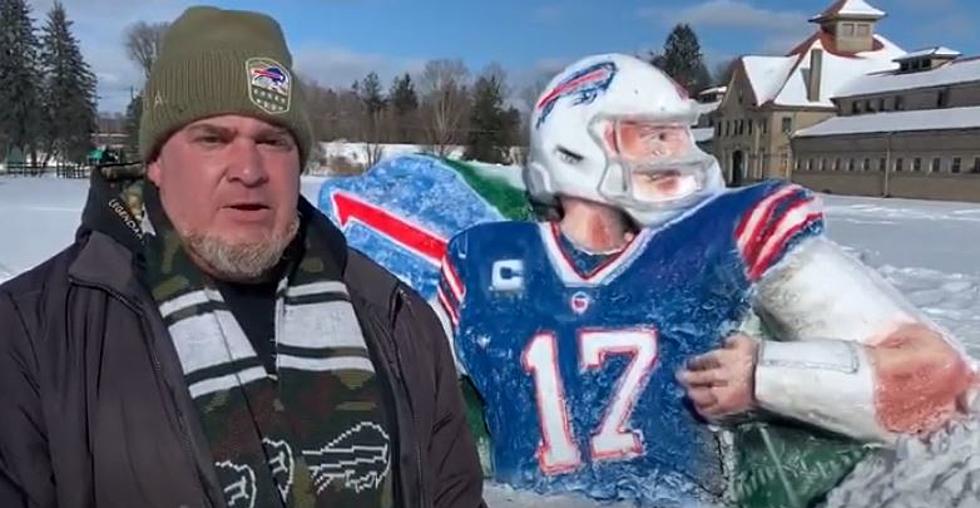 New York Artist Creates Massive Josh Allen Snow Sculpture
Photo Credit: Youtube
It looks like everyone is hopping on the Buffalo Bills bandwagon and when Mother Nature gives you 20+ inches of snow, one local artist knew what he had to do.
Local artist Eric Jones used his amazing talent to create a Josh Allen snow sculpture as big as the Bills quarterback himself.
Jones is not the only person to make lemonade out of the snow lemons that Mother Nature has given people across Western New York.
As you drive around neighborhoods in Clarence, Hamburg, Eden, Tonawanda, and beyond you will see plenty of snowmen covered in Bills gears and rooting on the only team located in New York State.
The Bills are back in action this Sunday as they head out West for a revenge game against the Kansas City Chiefs. The Bills are looking to avenge their loss in the AFC Championship game last season. The kick-off is set for 6:30 pm and you can watch all the action on Channel 4 WIVB.
Amazing Photos From Bills Big Win Over KC
Check out some highlights from the Bills' big win over the KC Chiefs.
The Buffalo Bills 2022 Opponents
The Buffalo Bills 2022 opponents are officially set.
10 Photos Bill Belichick Haters Will Love To See
If you love to hate on Bill Belichick, you will love these photos