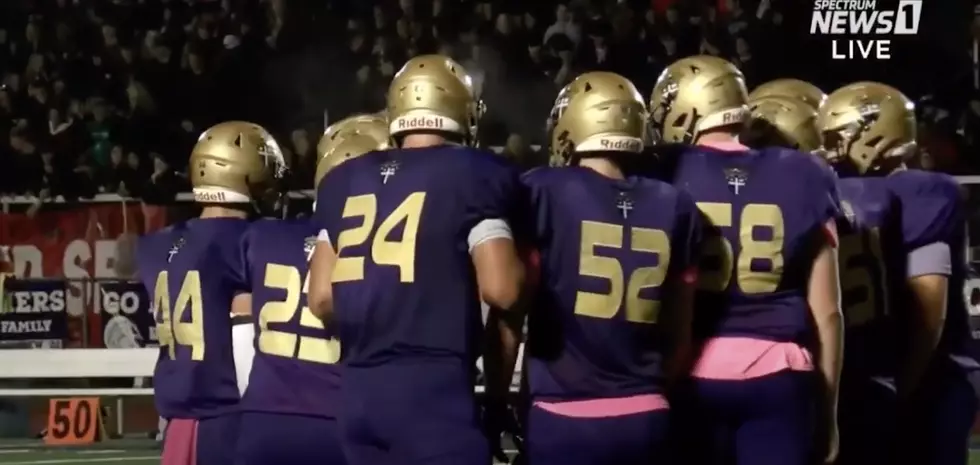 Section 2 Slaps CBA Football For Recruiting Violation
JJ Duke - Spectrum News 1 YouTube.com
Christian Brothers Academy in Albany won its second consecutive Section 2 Class AA football title in November. The Brothers reached the state semifinals but were defeated by Newburgh Free Academy 25-20. Rumblings of recruiting violations usually surround successful programs. Some of it is sour grapes. Some of it is legitimate.
On Wednesday, the Section 2 athletic council voted to put the CBA football program on probation for the next 3 years, stemming from a recruiting incident. According to Will Springstead of leaderherald.com, Section II Executive Director Ed Dopp said the incident started with a recruiting allegation and "undue influence by the football team." The report said that CBA President Dr. James Schlegel self-reported the violation on November 8th of last year, allegedly involving a Saratoga Springs student-athlete.
Following the decision, CBA football coach Bob Burns gave his side of the story to leaderherald.com. "One of my lower-level coaches reached out to a guy that he was friends with, was an acquaintance of, and he had asked the guy if he was interested in possibly sending his kid to CBA. And the assumption was that, because my lower-level coach was a coach at CBA, that it had to do with football. I think it got misconstrued that way. I'm a little bit confused at the fact that if someone reaches out to someone and says, 'Hey, are you interested in sending your kid to CBA?' how is that recruiting?" The Section 2 athletic council unanimously voted that infraction was indeed a violation.
This is not the first trip down the violation road for CBA with infractions in 2015 and 2019. Section 2 reportedly investigated recruiting violations in 2021, though no violations were found, the council expressed "serious concerns." Christian Brothers Academy will be on probation for three years and suspended its football team for one game in Week 0 next season.
Rent Ace Frehley's Former Mansion
Have you ever been inside of a rockstar's home? Now you can Rock and Roll All Night when you rent one of Ace Frehley's former mansions via
Airbnb
. You don't need to know how to play guitar, you just need around $800 each night and the place, just over the New York border, is yours. Let's take a look around.
Dinner In A Dungeon? This is New York's Beardslee Castle
Beardslee Castle in Little Falls is one of the most magical dining experiences you will have in New York State.
Every Country Artist Performing In Upstate NY In 2023
We are set for a big year of Country shows in 2023, and here is a complete list of artists already scheduled to perform in the year ahead in the Capital Region and all over Upstate New York. Don't miss your favorite Country stars - keep checking back here as we will be adding lots of shows in the weeks and months ahead.