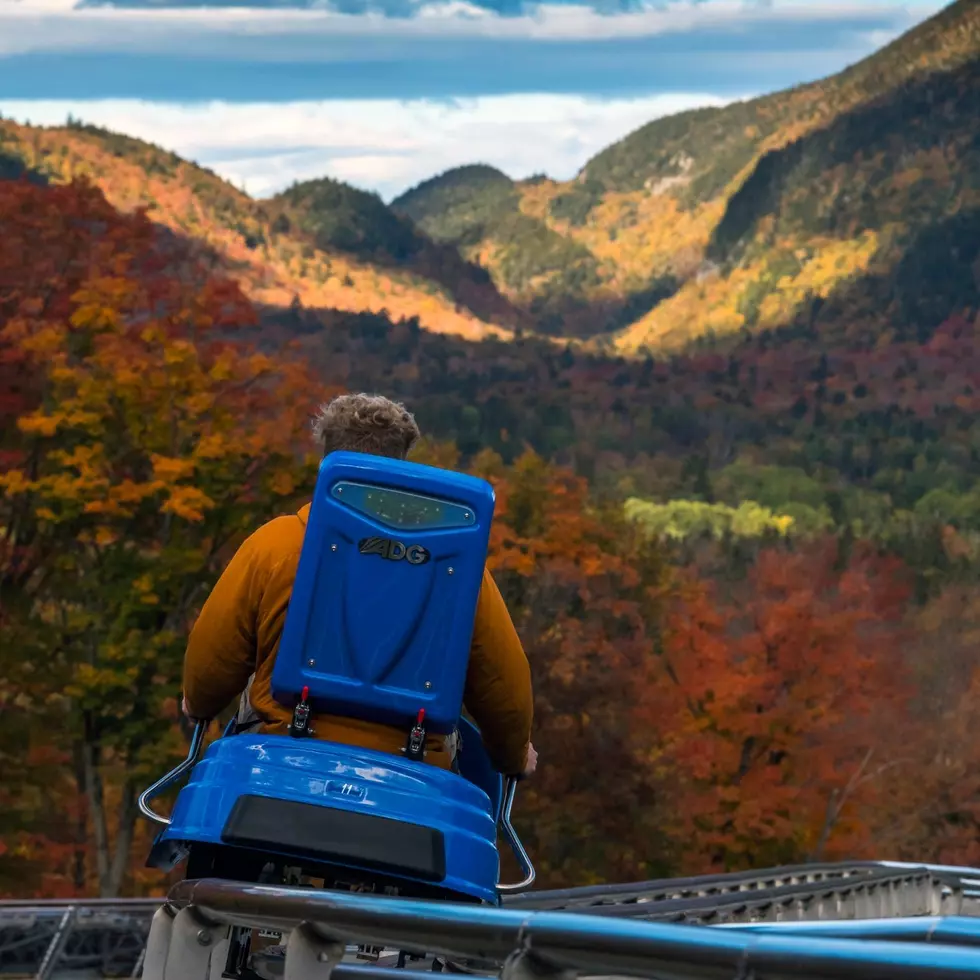 Take in Stunning NY Fall Foliage While Riding America's Longest Mtn Coaster
Lake Placid Legacy Sites Facebook page
Wanna take a thrilling mountain coaster ride while enjoying spectacular fall views? The cool thing is you control how fast you go on the longest mountain coaster in North America.
The Cliffside Coaster in Lake Placid
When you ride the Cliffside Coaster you are actually riding a piece of Olympic history. It is located at the 1980 Olympic Sports Complex at Mount Van Hoevenberg in Lake Placid. You ride the actual 1980 Olympic Sliding Track and you are in the driver's seat. You are in control through the sharp corners of a long winding track featuring cliffside banks.
The Cliffside Coaster is Open Year Round!
Sure it's fun to ride the Cliffside Coaster in the summertime but the spectacular fall foliage gives this ride a little something extra special.
The Cliffside Coaster is open Friday through Monday from 10 am until 5 pm. Adult tickets are $55. Junior riders are $10.
Drivers must be at least 9 years old and 52″ tall
Passengers must be at least 3 years old and 36″ tall
18 years old to ride with a passenger
The maximum weight per cart is 300 lbs
To reserve your tickets and for information about weather conditions click HERE.
Other attractions at the Lake Placid Olympic Sports Complex include the Sky Flyer Zipline, ADA-compliant gondola, and the new frost rail systems located on the ski jumps.
TLC show 'American Chopper' Orange County Choppers Headquarters in Newburgh Abandoned & For Sale
WARNING: Under no circumstances should you enter this property. By doing so you risk bodily harm and/or prosecution for trespassing on private property.
In 2003, a father-son business reality show hit the Discovery Channel. It was called American Chopper and it followed the custom motorcycle building business of the Teutul family out of Newburgh, NY. Paul Sr. owned the shop with sons Paul Jr and Mikey working in the business. There was a slew of cast and characters. The center of the show wasn't just the amazing custom motorcycles built for celebrities and others, it was the volatile relationship between Sr. and Jr. The show ran for 12 seasons before the two could no longer get along. It ended up in lawsuits and the two not talking for ten plus years. In the past few years, the business moved to Florida. This left the 61,000-square-foot headquarters for sale and abandoned. Take a look at what remains of Ocean County Choppers.