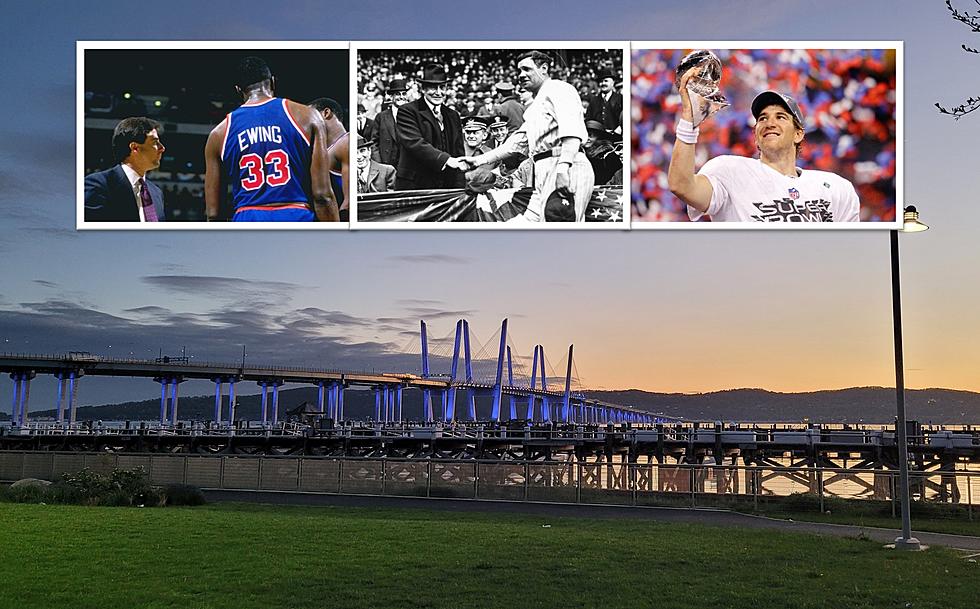 Ten Names of New York Sports Legends Worthy of Replacing the 'Cuomo Bridge'
Getty Images
New York's Mario Cuomo Bridge is on the verge of being re-named, and while we know that this may happen, we're still not sure what the next name would be.
Here's what we know so far: as written in this story on our website yesterday, former Governor Andrew Cuomo named the new bridge after his father, but that upset many from the Hudson Valley who wanted to keep the Tappan Zee name from the old bridge.
Politicians are calling for a name change in 2023, and with that in-mind, we're here to continue helping the brainstorming process by presenting a few more names of our own.
This time around, we're bringing the names of sports legends to the table as candidates.
---
The Mario Cuomo Bridge Needs a New Name, and We're Here to Help
Yesterday, we presented ten names of celebrities that are worthy of consideration to replace Mario Cuomo as the namesake of the Mario Cuomo Bridge, which was the name given to the newly-constructed Tappan Zee Bridge in 2017. Then-Governor Andrew Cuomo made the original naming decision, and now, a name-change is getting bipartisan support.
Today, we're here to present ten more names, but this time, we're nominating New York sports legends who deserve the recognition.
The criteria for this list of names is simple: you had to have played for a New York pro sports team, and must have had a huge impact on the franchise.
We nominated one franchise cornerstone player from each of the ten New York teams (including the Buffalo teams) whose name should be considered as a replacement for Cuomo on the Tappan Zee Bridge, should a change ultimately be made.
Which superstar New York athlete did we leave off of our list?
Ten New York Sports Legends Worthy of Replacing 'Cuomo Bridge'
With the news that New York's 'Mario Cuomo Bridge' may be renamed, we believe the names of these ten Empire State sports legends should be used as replacements.
Ten Upstate NY Celebrities Whose Names Should Replace 'Cuomo' on Bridge
With news that the 'Mario Cuomo Bridge' is due for a name change, we think these ten celebrity names, all with ties to Upstate New York, should be considered.