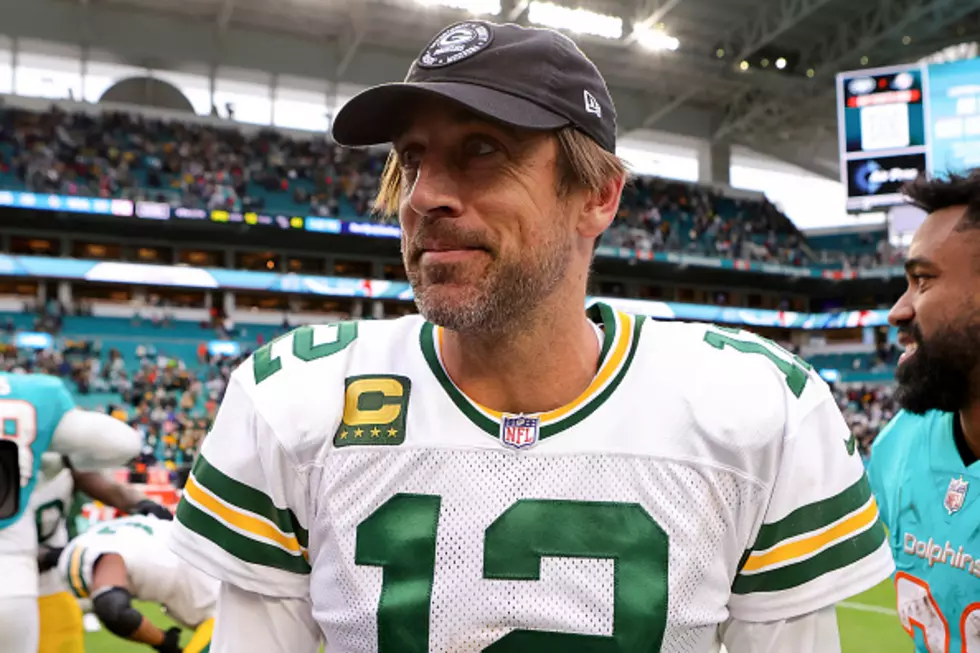 This Is Why Aaron Rodger Will Be Next New York Jets QB…
Getty Images
NFL experts felt that the New York Jets were an average quarterback from making the playoffs this season. I agree. General manger Joe Douglas and head coach Robert Saleh have drastically improved an awful roster, especially on the defensive side of the ball. Rookie stars, wide receiver Garrett Wilson and running back Breece Hall, are attractive weapons on the offensive side. Is that enough to lure a future Hall of Fame quarterback to Gang Green? Maybe one looking to cash in one more time?
ESPN's Jeremy Fowler reported on Sunday that the Jets are expected to "scour the earth" for a new quarterback along with Zach Wilson. Would the Jets front office be interested in bringing Aaron Rodgers to New York? Well, the Jets are historically famous for repeating mistakes, so that checks. Woody Johnson wanted Brett Farve in 2008. The Jets traded a conditional 4th round draft pick for the aging star. Farve led Gang Green to a 9-7 record and head coach Eric Mangini was promptly fired. It was a mess.
So, let's explore the possibility of a trade between the Packers and the Jets. First, would the Green Bay trade Aaron Rodgers and the $100 million guaranteed money he is owed if he plays? The answer is a simple YES. With QB Jordan Love waiting in the wings at a much cheaper price, the Packers would relish spending money to bring in more talent around the young quarterback and improve the defense.
Next, would Aaron Rodgers want to go to the New York Jets? According to Jenna Lemoncelli of nypost.com said Rodgers touched on the subject on his weekly segment of the Pat McAfee Show that he's "open to all honest and direct conversations" with the Packers about his future. The quarterback expanded his thoughts, "...number one, if I want to play. Number two, it's got to be mutual on both sides. What does a team look like with me? What are the proposed direction of players they want to bring in and where I fit in and the prospects moving forward? You want to be part of a team that's going to win a championship." Well, that may eliminate the Jets right there but, we'll keep playing along for fun.
Finally, let's talk about the Jets' side of the equation. First, does Joe Douglas have enough salary cap space for Rodgers? The Jets are right up against the projected salary cap of $228 million for 2023. They have money that they can trim to accommodate Rodgers but it will hurt the depth on both sides of the ball that Douglas did a great job building up this year.
Second, do the Jets have enough trade capital to get Rodgers from the Packers? Yes but...Green Bay is expected to want multiple first round picks for Rodgers. The Jets don't have multiple first round picks this year but own the 13th overall pick in 2023 and still own all of their future first round picks.
Finally, should the Jets make this move? NO. Rodgers faded in almost every statistical category in 2022. His focus on football has seemed to take a turn, along with admitted psychedelic drug use in the offseason. The future Hall of Famer's performance appears to be on the decline. Even if he still has more gas in the tank, his salary would cost the Jets to go backwards in overall roster talent. Lastly, if the trade blows up and Rodgers is a dud, the Jets are without two top draft picks and will continue to be mired in a playoff drought for years to come. With that said, Jets billionaire owner Woody Johnson loves to be around stars. More so, Johnson thrives on those stars being on his team, like he did with Brett Farve. Therefore, regardless of the implications, Aaron Rodgers will the New York Jets quarterback in 2023.
Rent Ace Frehley's Former Mansion
Have you ever been inside of a rockstar's home? Now you can Rock and Roll All Night when you rent one of Ace Frehley's former mansions via
Airbnb
. You don't need to know how to play guitar, you just need around $800 each night and the place, just over the New York border, is yours. Let's take a look around.
Dinner In A Dungeon? This is New York's Beardslee Castle
Beardslee Castle in Little Falls is one of the most magical dining experiences you will have in New York State.
Every Country Artist Performing In Upstate NY In 2023
We are set for a big year of Country shows in 2023, and here is a complete list of artists already scheduled to perform in the year ahead in the Capital Region and all over Upstate New York. Don't miss your favorite Country stars - keep checking back here as we will be adding lots of shows in the weeks and months ahead.