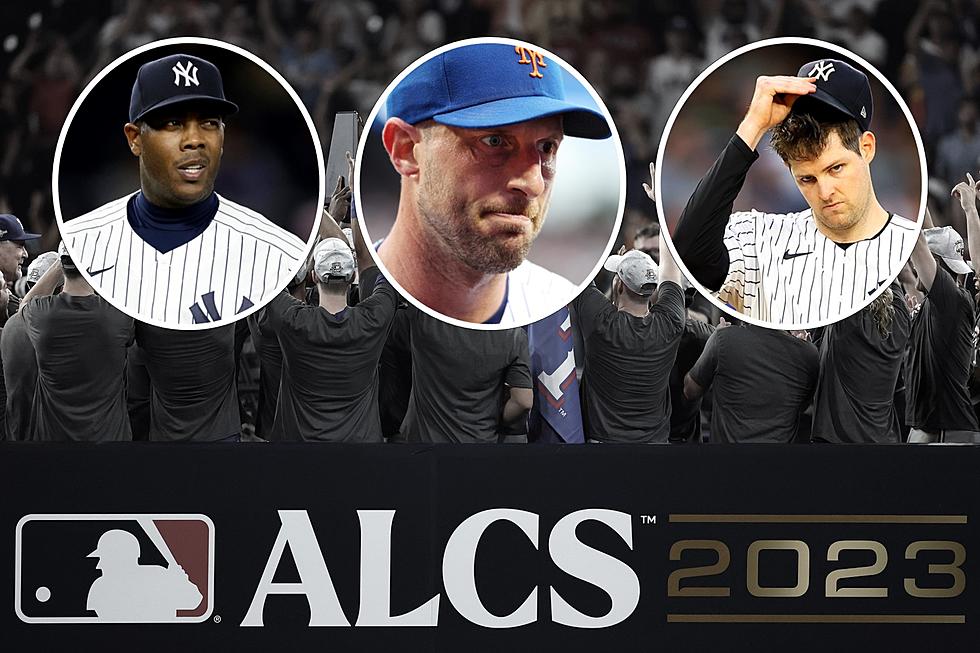 Three Ex-New York Pitchers Rub Salt in Wounds of Angry NY Baseball Fans
Getty Images
Last night was a dream-come-true for players, and fans, of the Texas Rangers.
The Rangers dominated the Houston Astros in Game 7 of the American League Championship Series en route to their first World Series appearance since 2011. As the Rangers celebrated, players and fans of the Houston Astros sulked, as their in-state rivals posed for a photo on their field as winners of American League Pennant.
Because of how the game played out, you can probably add another group of people who were likely miserable watching all of this: fans of New York baseball. 
---
Trio of Ex-New York Hurlers Lead Texas Rangers to ALCS Victory
Not one, not two, but THREE former New York pitchers played key roles in the Texas Rangers' Game 7 victory against the Houston Astros on Monday night. Max Scherzer, former New York Met, started the game on the mound for Texas, and it got more painful from there.
Though he wasn't stellar, he did his job, and proceeded to hand the ball to Jordan Montgomery, a southpaw formerly of the New York Yankees. After a brief intermission, New York fans were once again tortured, as Aroldis Chapman handled business in the later innings.
That's 60% of the pitchers used by the Rangers, all of whom wore a New York baseball jersey within the past two seasons.
Look, there were different reasons for why each pitcher no longer pitches in New York. For Max Scherzer, the Mets' plan failed spectacularly, and once they decided they would not win a World Series with their current group, they sold off their veteran players for prospects and salary cap space.
For Aroldis Chapman, he was falling apart at the seams in high-leverage situations with the New York Yankees. He needed a change of scenery, and ended up getting two for the price of one, as he started 2023 with Kansas City.
Of all three pitchers that threw for the Rangers on Monday, however, I would imagine that Jordan Montgomery's performance must have inflicted the most pain. Montgomery was traded, one-for-one, for Harrison Bader, an outfielder whom the Yankees would end up cutting from their roster roughly one year later.
Meanwhile, since the original deal, Montgomery has continued on his career trajectory, becoming a mid-to-top-of-the-rotation option for both St. Louis and Texas this season.
The performances of Scherzer, Montgomery and Chapman last night served as a harsh reminder of the current state of New York baseball. Hopefully, it can also serve as rock-bottom, as both franchises look to out together better rosters for the 2024 campaign.
Ten Positive Stories from Disastrous '23 New York Baseball Season
The 2023 MLB season was an ugly one for New York's baseball teams. Both the Yankees and Mets severely underperformed compared to expectation, and both franchises enter the 2023 offseason with far more questions than answers.
Amidst the sadness and chaos, however, fans were able to enjoy these ten positive storylines at Citi Field and Yankee Stadium. Scroll below to see more.
Gallery Credit: Dan Bahl
Ten New York Yankees Who Cannot Be Back in The Bronx in 2024
With hopes of a playoff berth fading fast for the New York Yankees in 2023, the team needs to focus on 2024. These changes need to be made, and fast.
Gallery Credit: Dan Bahl