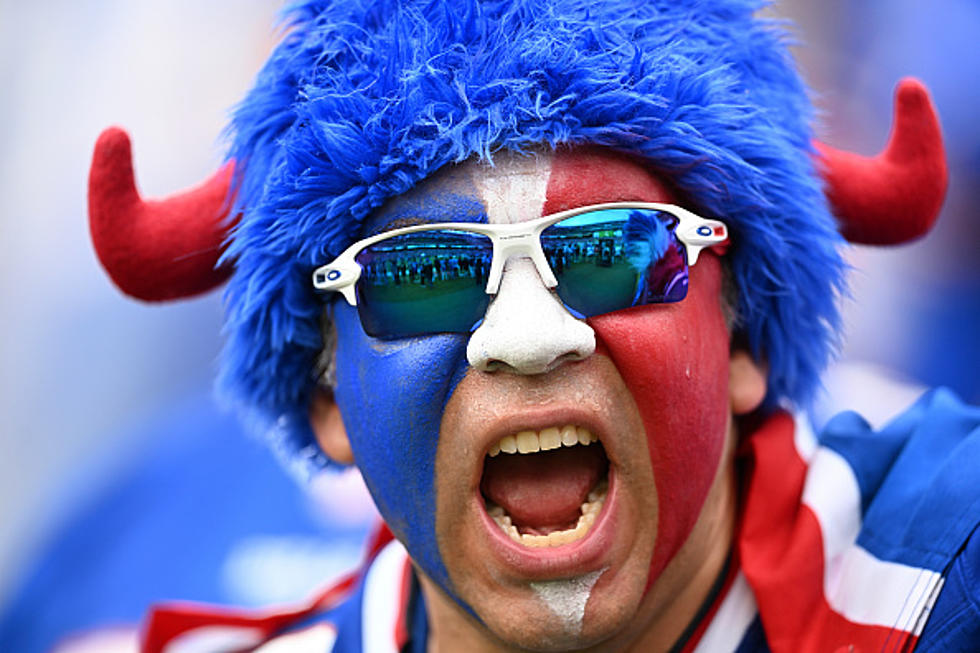 104.5 The Team's 'Intern Mike' Locks In Week 4 'Hot Picks'
Getty Images
It is time for 'Intern Mike' Giarraputo's 'Hot Picks' for Week 4 of the NFL season. Okay, we gave 'Intern Mike' a critical evaluation of his picks from last week on 'The Drive with Charlie & Dan.' However, he still has a winning record and is poised for a big week.
After picking against to of the league's best quarterbacks last week, 'Intern Mike' spent a rainy Sunday at MetLife Stadium watching Bill Belichick remove any oxygen left in his beloved Jets' tank. Intern Mike's season record fell to 8-6-1. On Monday, the young Adam Schefter of Siena's Loudonville campus began crunching the numbers, looking for a big rebound. Here is 'Intern Mike' Giarraputo with his Week 4 'Hot Picks':
Pittsburgh Steelers @ Houston Texans, 1:00 PM, CBS
The Texans have excelled on the offensive side of the ball this year, with rookie C.J. Stroud dealing through the first three games of the campaign. For Pittsburgh, an ugly Week 1 loss to San Francisco has been all but forgotten, as they've looked sharper and sharper on defense, with T.J. Watt leading the charge. For Houston, it will be a monumental challenge to stop this ferocious pass rush for four quarters. I'm all in on what Houston is doing right now as a franchise, but this is an extremely tough spot for the young team.
PICK: Steelers -3
Minnesota Vikings @ Carolina Panthers, 1:00 PM, FOX
These are two teams in the same desperate position, facing an 0-4 start to the season with a loss on Sunday. The Vikings have been a far better football than Carolina thus far, with Kirk Cousins putting up elite numbers in September. Minnesota star receiver Justin Jefferson has, remarkably, been even better this season. The Panthers will take on Jefferson without their standout CB Jaycee Horn. Expect Jefferson to continue to put up video game numbers in this one, en route to Minnesota's first win.
PICK: Vikings -4
Miami Dolphins @ Buffalo Bills, 1:00 PM, CBS
This is, no doubt, the most intriguing game of the week. The Dolphins have been the best team in all of football over the first three weeks of the season, lighting it up through the air. After a shaky Week 1 performance at Metlife, the Bills have done more than gotten back on track in the last two weeks. Buffalo's defense has been arguably the leagues' best, allowing just 11.7 points per game. Now, while Miami is undoubtedly the best of the bunch that they've faced, I expect the Bills to be well prepared to contain their divisional rival.
PICK: Bills -3
Cincinnati Bengals @ Tennessee Titans, 1:00 PM, FOX
For Cincinnati, it hasn't been an ideal start to this year's campaign. Joe Burrow and his offense have looked like a shell of themselves, averaging just 12 points per game. Burrow has seen success against this tough Titans defense throughout his young career, sporting a 3-0 record vs Tennessee. The Titans continue to have struggles on their offensive line. I expect the Bengals front seven to be more than equipped to handle Ryan Tannehill and his offensive unit.
PICK: Bengals -2.5
Arizona Cardinals @ San Francisco 49ers, 4:25 PM, FOX
The 49ers have looked nearly perfect to kick off the 2023 season. The Niners are winners of 13 straight regular season games. They welcome-in an Arizona team whose certainly feeling good about themselves, after a gutsy win over Dallas on Sunday. This game will likely prove to be too tall of a task for the Cardinal's first year head coach Jonathan Gannon. Between the Niners pass rush, and their seemingly unlimited speed on the offensive side of the ball, this should be all San Francisco.
PICK: 49ers -14
There are 'Intern Mike' Giarraputo's Week 4 'Hot Picks'. Hopefully, 'Intern Mike' can make you look smart this weekend at your favorite NFL watching establishment. Enjoy!
12 Beloved Toys Named Finalists for Upstate NY Toy Hall's Class of '23
Twelve beloved toys were recently named finalists for the Upstate New York-based Toy Hall of Fame's Class of 2023. Which toys do you believe should be inducted?
LOOK: Counties with the most tornadoes in New York
Upstate NY State Park Named Among Best Hiking Spots in America - See Photos
An Upstate New York state park has been named among the best hiking spots in America for 2023. Have you ever explored this incredible terrain?