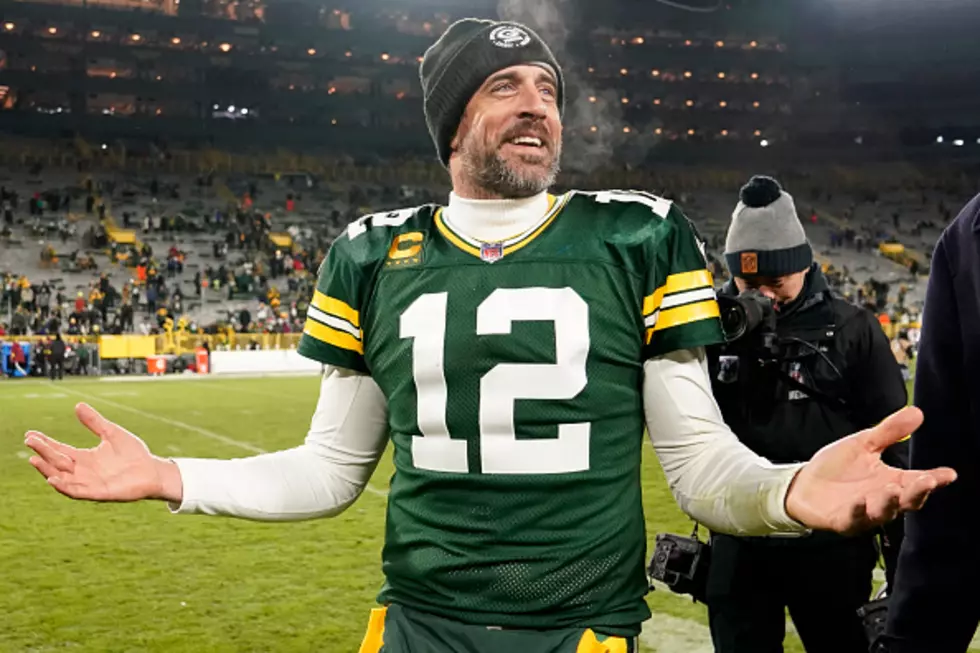 Aaron Rodgers Green With Love For New York Jets New OC
Getty Images
The Aaron Rodgers rumors were swirling around the New York Jets long before they hired Nathaniel Hackett as their new Offensive Coordinator. Hackett was Rodgers' OC in Green Bay in 2020 and 2021, when the 39 year-old quarterback won back to back MVP awards. What does the Packers' legend think of the Jets new play caller?
According to friend of The Drive with Charlie & Dan, Antwan Staley of nydailynews.com, Rogers likes him a lot. "Love Hack. Hack is my guy," Rodgers said during his weekly spot on Tuesday's Pat McAfee Show, "Love him and Megan and the kids. They're really special to me. We really bonded when he was in Green Bay. He made it fun. He made the room fun. He made the weeks fun." Does that mean that Rodgers wants to leave Green Bay and come to the Jets?
"It's going to be a little more time for my decision," Rodgers elaborated. "I feel confident that in a couple of weeks. I'll feel definitely more strongly about one of the two decisions." Rodgers made a comment that indicated that he may not be too happy with the Green Bay Packers.
Regarding his current team, Rodgers quipped, while getting ready for the Pebble Beach Pro-Am this weekend, "It sounds like there's already conversations going on that aren't involving me. That's very interesting. Honestly, I've been insulated to a lot of that. I was in Nashville and I'll be up here this week playing in the tournament. So, I'm not part of those conversations right now." However, he did promise, "When I make up my mind one way or the other, you guys and the Packers and everyone else will know at some point." That sounds like a definitive, 'whenever I feel like it.' The Jets won't but should use caution making this deal.
NEW YORK MYTHS, MONSTERS, AND URBAN LEGENDS
The Mysterious Missing Submarine Found on the Bottom of Lake George
Abandoned New York Home with 2 Vintage Vehicles Left Behind
This home is beautiful and filled with antiques but wait until you see what was left in the garage.