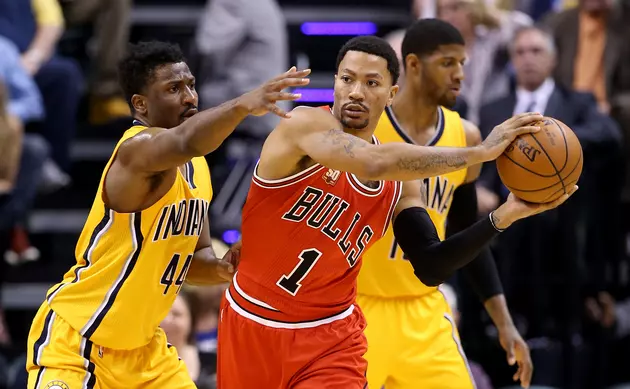 Bulls Trade Rose To Knicks
Credit: Andy Lyons/Getty Images
The NBA was in the spotlight yesterday as a number of teams made trades across the league. The New York Knicks were one of those teams.
On Wednesday afternoon, the Knicks and Chicago Bulls completed a trade sending Derrick Rose, Justin Holliday, and a 2017 2nd round pick to New York in exchange for Robin Lopez, Jerian Grant, and Jose Calderone.
The Knicks lose a pair of bright talent in Lopez who was fantastic on the boards and Grant who looked as though he could develop into a good NBA player. But adding Rose is a huge win for the Knicks. It's a low risk, high reward move that all depends on the health of Rose. Should Rose be healthy next season, there is no doubt his addition to the Knicks roster will certainly help the team win more games next season and immediately gives them the possibility of making the playoffs.
"This is an exciting day for New York and our fans," Hornacek said in a statement. "Derrick is one of the top point guards in the NBA who is playoff-battle-tested. He adds a whole new dynamic to our roster and immediately elevates our backcourt."
The Bulls seem to be in a bit of a rebuilding mode. Head coach Fred Hoiberg struggled in his first season as the Bulls head coach and the team looked a bit old and injured in some cases. Adding depth and trade assets is exactly what the team has to do to get back to being an elite team in the eastern conference. Either way, it's a hard move for the Bulls to make, but one that was necessary.
"Everyone knows him as the local kid who became MVP for his hometown team, but not everyone got to know him like I did," Bulls chairman Jerry Reinsdorf said in a statement yesterday. "While he is a terrific basketball player, he is an even better person with a tremendous heart."
Rose now joins a roster that is incomplete, yet better. Losing Lopez and Grant will hurt the Knicks, but the addition of Rose adds another star that the team desperately needed. The Knicks now have a 'Big 3' consisting of Rose, Carmelo Anthony, and Kristaps Porzingis.
"I think they [Anthony and Rose] fit like yin and yang," former NBA player John Salley said on Mike and Mike this morning.
The next move may be the biggest. The Knicks still have holes to fill at center, in their back court, and on their bench. Depth is going to be key should Rose be able to make it throughout the season healthy.
Joakim Noah, Dwight Howard, and Bismack Biyombo are possibilities at center as all are available free agents. The Knicks have enough cap space to fill a few of their needs, but it's all about getting value out of their additions.